Success is in the cards for UFC's Theodorou
You would expect to see Canadian UFC fighter Elias Theodorou in the Octagon having his hand raised or on social media breaking down the latest card. You wouldn't expect to find him holding a ring card for all-female promotion Invicta, but you will at Invicta 28 on March 24. Perhaps it's time to expect the unexpected from Theodorou.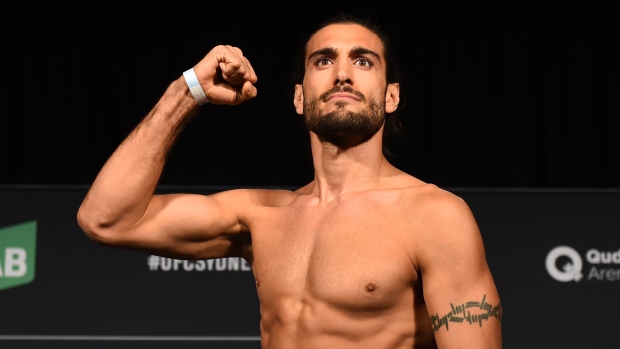 There are places you would expect to find Canadian UFC fighter Elias Theodorou, like inside the octagon where, when we saw him last, he had his hand raised against Dan Kelly at Fight Night Sydney last November.
You would expect to find him on Twitter, where he's constantly breaking down the latest cards and interacting with fans and engaging debate about the sport.
On March 24 however, you will find him in a place you might not have thought to look, inside the cage at Invicta 28 as the first ever "ring boy" in the history of the all
"I'll be providing my assets as a person, but also starting a conversation in regards to equality," Theodorou told TSN.ca. "In the true pursuit or equality, the answer is more not less. I think you have to look at some of the recent blogs and articles where bloggers are asking if it's time to remove ring card holders, specifically female and I say no. The answer isn't less, it's more. Let's add ring card boys, like yours truly."
The controversy Theodorou alludes to has been raging throughout sport, whether it is some NHL teams no longer using ice girls or Formula One's recent decision to remove its grid girls.
The Canadian fighter believes there is another solution to the problem.
"What I'm trying to express is that there should be more and that's what I'm planning to do at Invicta 28, in a classy, professional way that isn't going to be a distraction, but instead an addition to Invicta," said Theodorou.
As you would expect, there has been a lot of response and opinion on Theodorou's Invicta plan – much of it positive, but some of it negative. He, as is his way, is taking it all in stride.
"The response has been 70/30," said Theodorou. "A lot of the media outlets have been positive about it, because I think part of the way I present myself online is lighthearted. The trolls, the haters and the Russian bots, I try to kill them with kindness and try to show them through my eyes, but if they don't get it, I'm just busy doing me."
Invicta 28 will not be the first kick at the ring boy can for the UFC middleweight, as he actually made his card carrying debut at a Montreal Fight League event.
If you'd like to see the footage from that outing, you can find a short video feature on Theodorou's new YouTube channel: Mane Event TV, another place where you can find him. His plan is to post content such as his open mic debut, which it turns out wasn't a complete disaster.
"I didn't get booed off stage, which is always a positive and I got a couple laughs here and there," said Theodorou. "Other things I'm going to do are going to touch on bullying, trolling online. I'm going to do a couple parody music videos, fight stuff and everything in between. I think there's a huge opportunity to just have fun and do the many things I do."
So if he's on your small screen, he might as well be on your big screen as well, right?
To that end, Theodorou is also planning to break into the film industry in a movie called Last Hit that will see him portray an MMA fighter forced into an early retirement and into the competitive world of eSports.
With all of that on his agenda, Theodorou is also a partner in the UFC gym in his hometown of Mississauga, Ont., which he sees as a great way to give back to his community with an eye on taking MMA to many places around the province.
"I wanted to bring mixed martial arts to Mississauga and then the game plan is to bring MMA to everywhere in Ontario," said Theodorou. "Obviously it's great coming back to where I grew up and being a part of that gym and attaching myself to all they've accomplished in the short time that they've been open. There's a culture there, a family in regards to all the teammates, training partners and weekend warriors that jump in there every day."
With all of these balls in the air, the 15-2 fighter still has his eye on the prize in the UFC's middleweight division and believes he has a lot of room to improve and a lot of time to hone his skills as he continues to chase the gold.
"The median age of my weight class is 37 and I'm 29," said Theodorou. "I didn't start any martial arts when I was 10 in a wrestling gym or at five in karate. I started in my first year of university, so there is a lot for me to learn and a lot for me to grow and I'm enjoying every step of the way."