Sunday Night Football preview: Mahomes, Chiefs back in the spotlight versus Bengals
Expect a pile of points when Kansas City hosts Cincinnati under the bright lights at Arrowhead Stadium.
Domenic Padula (@dpadula12)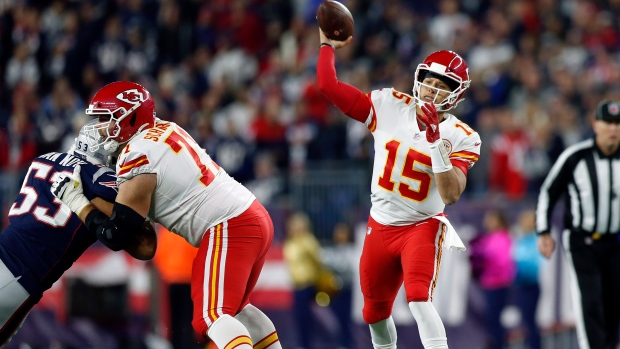 The Kansas City Chiefs have produced the AFC's highest scoring offence with an average of 35.8 points per game this season.
Patrick Mahomes and company will get another opportunity to showcase their firepower in prime time when they host the Cincinnati Bengals under the bright lights at Arrowhead Stadium on Sunday Night Football in Week 7.
Kansas City is coming off a 43-40 loss to the New England Patriots that ended its season-opening win streak at five. Even after they scored 40 points and registered 446 total yards, it's clear the Chiefs offence has room for improvement.
Kansas City was held to three field goals and outscored 24-9 in the first half at New England. The second half was a much different story as the Chiefs scored 31 points and fought all the way back to nearly upset the Patriots before a game-winning field goal by Stephen Gostkowski sealed their fate.
While the comeback bid ultimately fell short, the Kansas City offence will have a chance to build on that second-half performance versus Cincinnati on Sunday.
The Chiefs offence has produced at an incredible rate so far this season. Mahomes has already thrown for 1,869 yards and 18 touchdowns through six games. He is on pace for 4,973 passing yards, which would shatter the single-season franchise record mark of 4,591 passing yards set by Trent Green back in 2004.
Tyreek Hill has played a big role in Mahomes' success with 34 receptions for 567 yards and six scores. Hill is on pace for 1,512 receiving yards, which would surpass the single-season franchise record mark of 1,391, set by Derrick Alexander in 2000.
Meanwhile, running back Kareem Hunt has picked up his production, averaging 151.3 yards from scrimmage over the last three weeks. Factor in the production of tight end Travis Kelce and wide receiver Sammy Watkins and it's no surprise that Kansas City has one of the most explosive offences in the NFL. What might be surprising is the fact that the Chiefs offence has the potential to be even better.
Consistency, converting in the red zone and eliminating turnovers are the three key areas Mahomes and company will focus on when they host the Bengals.
The consistency part is obvious. After all, scoring 31 second-half points should be enough to beat most teams. However, with a defence that ranks dead-last in the NFL, giving up an average of 468.2 yards per game, the Chiefs can't afford slow starts like the one they had last week against the tougher opponents on their schedule.
There is no doubt about the big-play potential of this offence. However, Kansas City could definitely be more consistent when it comes to maintaining possession over longer drives that end up in the end zone.
Converting red-zone possessions in to touchdowns is the next area where the Chiefs could be better. Kansas City converted just two of its five red zone trips against New England. After scoring on 14 of their first 17 red-zone possessions, the Chiefs have converted just four of their last nine.
The final area where Kansas City needs to be better is limiting turnovers. After throwing 14 touchdowns and zero interceptions over the first four games of the season, Mahomes has thrown four touchdowns and four interceptions in his last two starts.
As a first-year starter who is expected to do as much as he is, Mahomes is going to make mistakes throughout the year. However, if the 23-year-old can limit the turnovers the way he did the first four weeks it will be a major positive for the offence.
Expectations will be high for both offences when they take the field on Sunday night. The Over/Under is currently at 58 points, which would be the second-highest total of the season.
Cincinnati, coming off a crushing 28-21 loss to the Pittsburgh Steelers that included giving up a game-winning 31-yard touchdown pass to Antonio Brown with 10 seconds left on the clock, has relied heavily on an improved offence of its own to get to 4-2.
The Bengals rank sixth in the NFL with an average of 29.0 points per game this season. Cincinnati should be able to score a substantial amount of points against one of the league's worst defences. The big question is whether or not the Bengals will be able to slow down the Chiefs' high-powered attack.
One thing is for sure: There should be plenty of scoring when Cincinnati and Kansas City clash on Sunday Night Football.