Suns' Morris twins indicted on felony aggravated assault
A Maricopa County grand jury has indicted the Phoenix Suns' Marcus and Markieff Morris on felony aggravated assault charges. Court documents released Tuesday show the twins are accused of joining three other men in beating a man on Jan. 24 at a Phoenix recreation centre.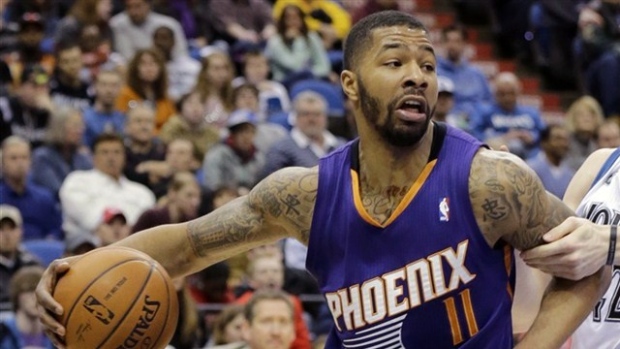 PHOENIX - A Maricopa County grand jury has indicted the Phoenix Suns' Marcus and Markieff Morris on felony aggravated assault charges for allegedly beating a man outside a city recreation centre in January.
According to a Phoenix police report, Erik Hood said five people including the Morris brothers repeatedly punched and kicked him.
Police say it is alleged that Hood, 36, was assaulted for sending an inappropriate text message to the Morris brothers' mother.
The names of the other three men are redacted in court documents released Tuesday.
The 6-foot-9 twins became teammates in 2013 when Marcus was traded to the Suns.
Their first court appearance is set for May 7.
"We have been advised by our attorneys not to discuss this case or make any statements about it. We are sorry for the distraction this has caused to our fans and the Suns," Marcus and Markieff Morris said in a statement released through the team Tuesday.
President of basketball operations Lon Babby said the Suns were "disappointed to learn that Marcus and Markieff Morris have been charged.
"This is a serious matter and we will treat it as such," Babby said. "However, at this time, we think it is most appropriate to continue to monitor the legal process as it unfolds before responding further."
According to the police report, Hood was leaving a high school basketball game on Jan. 24 when he was approached by a friend of the brothers.
Hood told police the man was speaking to him when he was punched in the back of the head.
Hood ran to his car but fell down. Hood told police that the man who had approached him held him down while four men, including the Morris twins, kicked and hit him repeatedly, according to the police report. All five then left the area in a Rolls-Royce Phantom as bystanders began to appear.
A friend of Hood's drove him to a hospital where he was treated for a fractured nose, abrasions and a large lump on his head.
In a Feb. 10 interview with a police investigator, both brothers denied involvement in the incident. But authorities said a witness positively identified both brothers as participants in the attack.
According to Hood's account, he formed a strong bond with the 25-year-old brothers when they were in high school.
Hood, who graduated from the same Philadelphia high school as the brothers, said he sometimes coached them and even shuttled them to practices.
But things soured about a year before they were drafted into the NBA. The brothers cut off all contact with him after their friend found texts from Hood indicating he wanted their mother to be his girlfriend, according to Hood.