Survey: Habs strongest pro brand in Canada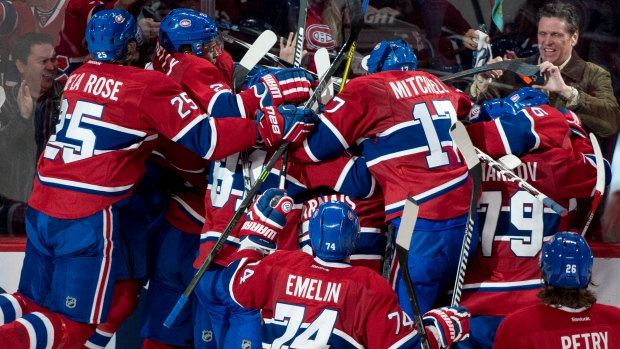 Is it Toronto's iconic blue Maple Leafs logo? What about the green wave that marks Saskatchewan Roughrider fans?
When it comes to the brand strength of Canadian professional sports franchises, according to a recent survey, another team tops them both: the bleu, blanc et rouge of the Montreal Canadiens.
An independent poll by Insightrix Research polled 2,700 Canadian sports fans - 300 in each of nine major cities - in what was called a "sports brand equity index." Fans were asked questions regarding five key metrics: first team that comes to mind, respect for the team, perception of the most loyal fans, team popularity and stadium/arena atmosphere. Each of these attributes had an assigned weight based on their impact on the team's brand equity.
Fans were also asked to predict the outcome of the survey in each metric, which the company says gives a more accurate measurement of the brand's strength.
The Canadiens came out on top, with the Maple Leafs second and the Roughriders third. Toronto's Blue Jays and Raptors finished fourth and fifth, respectively.
Mario Caceres, senior research executive for Insightrix, discussed the Maple Leafs' high placement on the list despite the club's lack of recent success on the ice.
"It's amazing to see a team that has not won anything in such a long time come in second across Canada," he said. "Winning helps, but it's not the only factor a team's brand should focus on."
Of the 10 spots on the list, six were taken by NHL teams, with the Edmonton Oilers the only franchise left off. The Montreal Alouettes were the only CFL team besides the Roughriders to make the list.
The complete list is below:
1. Montreal Canadiens
2. Toronto Maple Leafs
3. Saskatchewan Roughriders
4. Toronto Blue Jays
5. Toronto Raptors
6. Winnipeg Jets
7. Vancouver Canucks
8. Calgary Flames
9. Ottawa Senators
10. Montreal Alouettes