Sweden defeats Canada in world men's final
Sweden's Niklas Edin beat Canada's Brad Gushue 7-3 to win the men's world curling championship in Las Vegas. Edin avenged a loss to Gushue in last year's world final in Edmonton.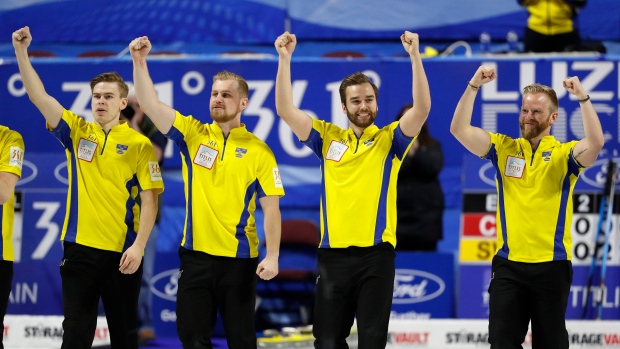 LAS VEGAS — Canada's Brad Gushue fell a win short of a second straight men's world curling championship and settled for silver Sunday.
Sweden's Niklas Edin avenged a loss to Gushue in last year's world final by dominating Canada 7-3 in the championship game in Las Vegas. Gushue shook hands after eight ends.
"Real disappointed, obviously," Gushue said. "It wasn't our best effort, and Niklas and his team played great today.
"I guess the only positive thing to look at is that even if we had played a great game, they probably still would have won with how well they played. They were certainly the best team today."
Edin's third career world title is Sweden's eighth in the 60-year history of the tournament.
The 32-year-old from Ornskoldsvik, Sweden, also won gold in 2015 in Halifax and 2013 in Victoria.
"We have a couple guys who haven't won the world championship, so it's amazing for our team to really be on top, after the Olympic loss, especially, and losing the world final last year as well," Edin said.
"They were way better than us last year, but I think this year, it was our turn."
Edin, third Oskar Eriksson, second Rasmus Wranaa and lead Christopher Sundgren were silver medallists at the Winter Olympics in Pyeongchang, South Korea in February.
They lost 10-7 to John Shuster of the U.S. in the Olympic final.
Gushue, vice Mark Nichols, second Brett Gallant and lead Geoff Walker out of the Bally Haly Golf and Country Club in St. John's, N.L., were attempting to become the fifth team to win back-to-back world titles.
Canada's Randy Ferbey (2002-3), Don Duguid (1970-71), Ron Northcott (1968-69) and Ernie Richardson (1959-60, 1962-63) were the others.
But with the 86-year-old Richardson and former Canadian Prime Minister Stephen Harper watching at the Orleans Arena, Gushue trailed 5-0 after five ends against a Swedish team that excels at defence.
Edin's strength is big-weight takeouts and forcing the opposition to take a single point in ends in which he doesn't have last-rock advantage.
The Swedes had hammer to start the final. After blanking two ends, they scored two in the third and stole three points in the next two ends to lead 5-0.
Gushue was light on a draw to the four-foot rings in the fourth end to give up a pivotal steal of two.
His attempted runback double takeout in the fifth to score two missed Sweden's shot stone to give up another steal.
The Swedes didn't open the door for Canada to get back into the game with their granite-clearing hits.
Gushue's tournament was more stressful than a year ago in Edmonton, where Canada went undefeated en route to the world title.
The four men were also in a confident, relaxed zone last month in Regina where they lost only one game en route to a second straight Canadian title.
In Las Vegas, Gushue struggled with reads of ice that he felt was often different from one day to the next. Each member of the team took their turn having an off game requiring his teammates to prop him up.
Nichols played through the grief of his mother's recent death just prior to the tournament. His shooting percentage of 87 was the best among thirds in the preliminary round.
Helen Nichols died a week before the tournament began at the age of 63.
The Orleans hotel and arena complex is situated west of the strip. All curlers, fans, officials and volunteers were together all the time at the hotel, arena and pool.
There wasn't enough of a mental break from the event between draws for Gushue's comfort.
But the skip said he eventually came around to embracing what he couldn't control and accepting his team could win without playing what he called "a real clean game."
"I think with how we played this week, and struggled through with everything that happened leading up to it, it's still positive," Gushue said. "Certainly disappointed because we came here to win, but Niklas and his team were certainly deserving.
"At the end of the day, second in the world is pretty good, but it's a little short of what we were hoping for."
Gushue will return to the 2019 Tim Hortons Brier in Brandon, Man., as Team Canada. The 2019 men's world curling championship will be in Lethbridge, Alta.
Canada was shut out of team curling medals at the Olympic Games for the first time in Pyeongchang.
Gushue's silver and Jennifer Jones winning the women's world title in Sudbury, Ont., somewhat restored Canada's reputation as a curling powerhouse.
But Canada will face more challengers in the future.
The Asian countries are coming in curling. With South Korea just hosting a Winter Olympics and China the next host country, those countries and Japan are putting more resources into the sports and their teams.
The American men winning Olympic gold sparked an increased interest in the sport in the United States, which could reap more podium results in the future.
The Scots skipped by 23-year-old Bruce Mouat beat South Korea 11-4 for bronze Sunday in the skip's world championship debut.