Taking stock of the U.S. college free agent class
It's a fair-to-middling year for U.S. college free agents Hockey Insider Bob McKenzie writes, but that won't stop every NHL team from spending countless hours and much energy scouting and wooing players who are by no means guaranteed to play in the league.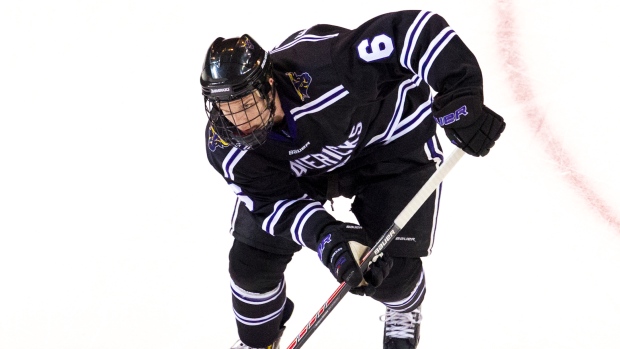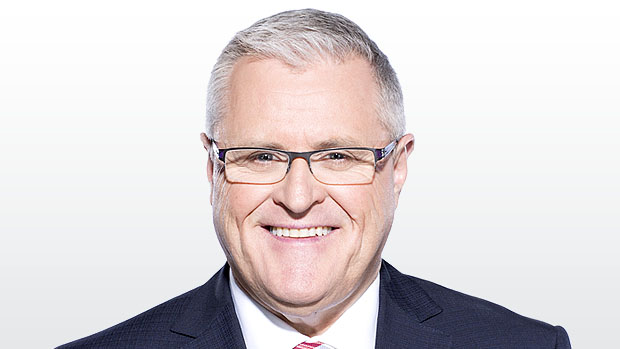 It is, by all accounts, no better than a fair-to-middling year for U.S. college free agents.
That won't stop 30 NHL teams from spending countless hours and much energy scouting and wooing players who are by no means guaranteed to play in the NHL.
"Nothing to lose," one NHL scout said. "If you can get one to hit, it's worth it."
Most of the college teams are on their Christmas break, but NHL teams have, for the most part, identified the players worthy of their attention. It's far from an exact science. One team's top target is another team's "are you kidding me?"
That said, and bearing in mind this is far from a scientific poll, it would appear Minnesota State University junior defenceman Casey Nelson is generating more interest than most.
Nelson is a 23-year-old, 6-foot-2, 182-pound right-shot blueliner from Wisconsin Rapids, Wisc.
"Decent size, good skater, moves the puck, definitely has a chance," one NHL scout said.
Nelson has three goals and 12 points in 19 games played this season. He attended Philadelphia's prospect camp last summer.
Beyond Nelson, a pair of smallish goal-scoring wingers and a goaltender led the way in a highly informal/random poll of scouts.
University of North Dakota senior Drake Caggiula probably could have signed an NHL contract after last season – I wrote about him here – but the Toronto-area prospect (grew up in Pickering, moved to Whitby) opted to return for his final college season. The 5-foot-10, 185-pound, 21-year-old has 13 goals and 27 points in 19 games.
University of New Hampshire sophomore winger Andrew Poturalski, a Buffalo-area product, has been on fire for the Wildcats this season, scoring 14 goals and 30 points in 15 games. He's 5-foot-10 and 190 pounds. Scouts seem divided on whether he has that special quality – usually speed – that allows a smaller player to survive and thrive in the NHL, but he's still getting lots of attention. Poturalski turns 22 on Jan. 14.
The goalie most in the college UFA spotlight this season is Yale junior Alex Lyon, a 6-foot-1 Minnesotan who is 6-3-2 with a .932 save percentage in 11 games. It will be interesting to see if he opts to turn pro at season's end. Since he's already 24, if he were to stay at Yale and graduate, he'd be a 25-year-old free agent in 2017, which means he'd be too old to sign an entry-level contract in the NHL. Which is to suggest there are no compensation limitations once out of the entry-level phase.
A handful of other collegians received multiple mentions as targets from NHL scouts. They include:
- University of North Dakota junior defenceman Troy Stecher from Richmond, B.C. At 5-11 and 191 pounds, with three goals and 13 points in 20 games, scouts are hoping the 21-year-old Stecher could develop like Jared Spurgeon.
- Union college junior forward Mike Vecchione, who had 19 goals and 50 points in 39 games last season for the Dutchmen but is off to a slower start this season with five goals and 11 points in 14 games. Vecchione, who is 5-10, 195 and turns 23 in February, attended (his hometown) Boston's summer prospect camp.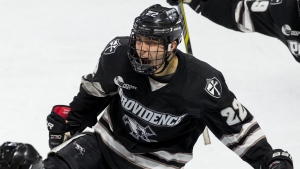 - Providence College senior forwards Nick Saracino and Brandon Tanev. Saracino is a 23-year-old, 5-foot-11, 185-pounder who has four goals and 17 points in 15 games. He had 14 goals and 38 point last season. Tanev, who turns 24 on New Year's Eve, is the younger brother of Vancouver defenceman Chris Tanev. Tanev has five goals and 13 points in 15 games for the Friars.
- Brown University senior forward Nick Lappin, a 23-year-old with seven goals and 17 points in 10 games for the Bears.
- Colgate senior forward Mike Borkowski, a 23-year-old, six-foot, 175-pound Ottawa native with seven goals and nine points in 17 games for the Red Raiders.
There were other names mentioned by scouts as UFA possibilities, and there's still plenty of time for the collegian landscape to shift, but the 11 listed above are those garnering the most early interest.
Bigger Fish To Fry
One NHL scout cut to the chase on the biggest reason to be paying close attention to U.S. college hockey this season.
"We're all watching the guys who aren't free agents now but could be free agents by the summer," he said. "They're the big fish."
The "guys" he's talking about are, of course, Harvard's Jimmy Vesey, Providence's Mark Jankowski and Boston University's Matt Grzelcyk, amongst others. I wrote about them here three weeks ago.
One name I didn't mention then, but probably should have is Boston College freshman winger Miles Wood.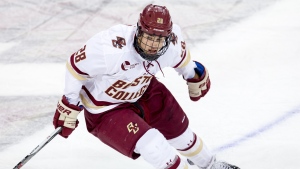 Wood is the son of former NHL forward Randy Wood and was drafted out of Noble and Greenough prep school by the New Jersey Devils in the fourth round (100th overall) of the 2013 draft.
Unlike Vesey, Jankowski, Grzelcyk et al, Wood can't be an unrestricted free agent this summer, but if he decided to return to Boston College for his sophomore season next year, he could use the CBA to be UFA in the summer of 2017. New Jersey's minimum four-year hold on Woods' rights included two years of prep school hockey and, potentially, only two years of college hockey, if the player decided he wanted to pursue free agency. If Wood decided to stay in school for four years, the Devils would hold his rights until graduation.
Wood is quite a story. As a 20-year-old freshman, he's emerged as one of the NCAA's more noticeable players. He and fellow freshman Colin White, Ottawa's first-round pick last summer, have been high-impact players on the No.-4 ranked team in the country. White has eight goals and 23 points in 16 games to lead the Eagles in scoring; Wood has seven goals and 19 points in 15 games to sit third on the team.
"They've been the two best players on that team," an NHL scout said.
Wood played one fewer game than White because he missed the Eagles' last game before the break, victimized by the well-document norovirus outbreak at a Chipotle restaurant near Boston College that caused more than 140 people to get sick.
Even though Wood is listed at "only" 6-foot-1 and 185 pounds, he plays a physical power forward type game and has high-end speed to go with it. NHL scouts and college coaches rave about Wood's "pro-style" complete game and project he has a chance to a be top-six NHL forward or, failing that, a really good third-line winger who has the ability to play "up" in the lineup with better players.
Either way, the expectation is the Devils will push very hard this off-season to get Wood to turn pro. New Jersey GM Ray Shero knows better than most what Wood is capable of. Shero's son, Chris, is also a Boston College freshman.
The Devils also know if Wood doesn't turn pro with New Jersey this summer, going back for his sophomore season at BC will leave the door wide open for him to pursue free agency in the summer of 2017.
WHL Late Bloomer Drawing Interest
Free agents in major junior hockey aren't as plentiful as in U.S. college, but the same dynamic is at work.
That is, 30 teams fiercely chasing one late-bloomer who may or may not be an NHL player.
On Insider Trading last week, I mentioned scouts are flocking to see Swift Current Bronco Jon Martin, the 20-year-old overage winger from Winnipeg who has 25 goals in 29 WHL games this season.
Martin is a big man – 6-foot-2 and 218 pounds – who over the course of four WHL seasons in Kootenay demonstrated a willingness to play a hard, physical game. He can hit, fight, do whatever it takes, but he didn't catch anyone's eyes in those four years for his offensive exploits. In four full seasons for the Ice, he scored a quite modest 32 goals and 68 points; not as impressive as his 340 penalty minutes over the same time.
Put it this way, when the Vancouver Canucks invited him to each of their last two rookie tournaments in Penticton, it wasn't for his skill. He was brought in for his muscle and the ability to protect less physically mature Canuck prospects.
This season, though, he's been a revelation for the Broncos. According to Bronco general manager and head coach Mark Lamb, not only is Martin shooting out the lights this season, he's doing it all.
"He has been unbelievable," Lamb said. "Scoring like that is one thing, but playing a physical, heavy game along with his leadership is something every coach wants."
Even though he'd only been with the Broncos for a few weeks after an early-season trade from Kootenay, which had a surplus of overage players, Martin was voted captain by his Swift Current teammates.
Now, NHL scouts are trying to determine whether he's a legit pro prospect or a mature 20-year-old, who's able to physically dominate much younger and less physically mature competition with a game that won't translate at the next level.
The knock on Martin is his skating is, at best, average, but 25 goals in 29 games along with pro size and toughness is not to be overlooked.
In other words, he's going to get signed by an NHL team and the betting is he'll likely have more than one offer to choose from.