Tanguay scores in regulation, shootout to lift Avalanche over Maple Leafs
Alex Tanguay scored in regulation and had the decisive goal in the shootout, lifting the Colorado Avalanche to a 4-3 victory over the Toronto Maple Leafs on Thursday night. Matt Duchene also scored in regulation and the shootout for the Avalanche, which ended a three-game skid.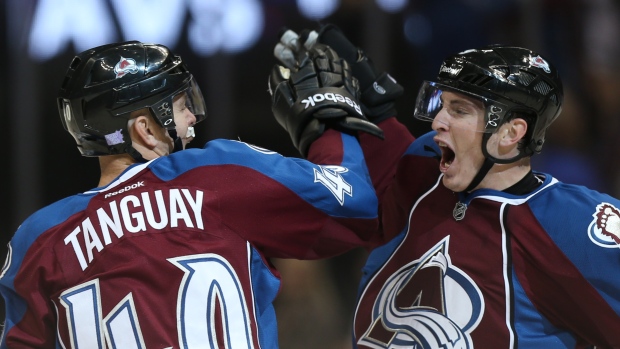 DENVER - The Toronto Maple Leafs filed into their locker room after the first period and saw Daniel Winnik walking around and feeling fine.
That sight softened the blow of what ended up as a 4-3 shootout loss to the Colorado Avalanche on Thursday night.
Knowing their teammate was fine after a scary headfirst fall in the opening minute of the game helped calm the Maple Leafs. They rallied to tie the score late but Colorado's three shooters scored in the shootout to end a three-game losing streak.
"He was in the room when we come off the ice," Toronto coach Randy Carlyle said. "He was walking around, he's fine. It's one of those situations where you're expecting a lot worse and he isn't any worse for wear."
Alex Tanguay also scored in regulation and had the decisive goal in the shootout. Nathan MacKinnon had the other shootout goal and Nick Holden scored his first goal of the season.
"We wanted it tonight. We need to want it more than the other team," said Matt Duchene, who had one of the shootout goals to go with one in regulation. "That's what we did last year. It's been tough at times this year, that's when you really have to be a man and step up and make it happen."
Reto Berra had 33 saves through overtime in his first start in six games.
"It's an important win for us. We had a great game, an outstanding start of the game," coach Patrick Roy said. "We were outstanding with 12 shots in the first 10 minutes. Plenty of good chances and looks at the net and their goalie had plenty of good saves."
That was overshadowed by Winnik's injury suffered when he collided with Avalanche defenceman Jan Hejda near the Colorado blue line. He fell awkwardly on the right side of his head and shoulder and flipped onto his front. He lay motionless while trainers from both teams secured him on a backboard and took him off the ice.
The team reported on Twitter that Winnik was "alert and moving all of his extremities" while being examined by the team doctor. The team said Winnik was not transported to the hospital but he did not return.
"That was one of the most scary things I've been a part of and watched live," Toronto defenceman Dion Phaneuf said. "Anytime a teammate gets hurt it's something that effects you, but when you see the stretcher come out and he's motionless that's something you don't want to go through as a team. We're really happy to see him up walking around and he seems to be fine."
Tyler Bozak scored in regulation and had Toronto's only goal in the shootout. Phil Kessel and Richard Panik also scored for the Maple Leafs.
Duchene gave Colorado a 3-2 lead with a wraparound goal at 11:45 of the third. Toronto pulled goalie Jonathan Bernier with 1:29 left and Panik scored 16 seconds later on a shot off defenceman Nate Guenin's skate to send it to overtime.
Bernier finished with 31 saves.
"It seems like that's our luck this year," Duchene said. "We do so much to score and we can't get anything to go, we only get a few to go and they pull the goalie and we have guys in great position and it hits (Guenin's skate) and goes in. It was going four feet wide."
Winnik's injury came immediately after Holden scored 31 seconds into the game to give the Avalanche an early lead for the second straight game.
Toronto was able to overcome Winnik's injury and get back in the game. Kessel tied it with his seventh of the season when he batted a puck out of the air and past Berra with 3:40 left in the period.
"The next few shifts you're trying to get back into it," Phaneuf said.
Bozak gave Toronto the lead when he scored a power-play goal at 4:43 of the second. Colorado had killed off 29 consecutive penalties before Bozak's tally. Tanguay responded a minute later when he got a stretch pass from Zach Redmond behind the Maple Leafs' defence and beat Bernier on a breakaway.
Toronto controlled play in the final minutes of the second. The Leafs nearly scored when the puck went under Berra and stopped in the crease but was lost under a pile of bodies.
Toronto then held the puck in Colorado's zone for nearly two minutes but couldn't score.
Toronto lost defenceman Jake Gardiner later in the first when he took a puck off his right leg and missed the rest of the game. Team officials said he suffered a lower body injury.
"He has a deep bone bruise. It's not broken," Carlyle said. "Hit him in the spot with equipment."
NOTES: The NHL suspended Toronto RW Carter Ashton for 20 games without pay on Thursday after failing a drug test. Based on his salary, Ashton will forfeit $169,185. ... Avalanche D Brad Stuart (hamstring) will miss at least two weeks. ... Maple Leafs D Morgan Rielly was scratched. ... Colorado RW Daniel Briere was a healthy scratch for the fifth straight game.