Leafs' Ashton suspended 20 games for violating PED policy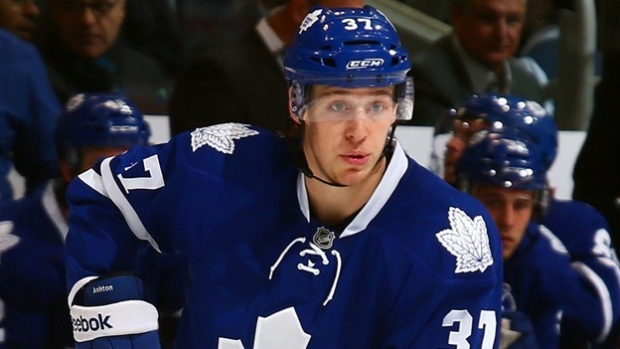 Toronto Maple Leafs forward Carter Ashton has been suspended 20 games for violating the NHL's performance-enhancing substance policy.
"The suspension is accompanied by mandatory referral to the NHL/NHLPA Program for Substance Abuse and Behavioral Health for evaluation and possible treatment," per an NHL release.

Ashton will forfeit $169,185 during the suspension.
The 23-year-old Ashton released a statement regarding the suspension, claiming he suffered an asthmatic spasm in late August during summer training and was given an inhaler by another player. Ashton kept the inhaler and used it a second time early in training camp after another asthma attack.
"Unfortunately, I incorrectly assumed that there were no problems associated with the use of this inhaler and I used it without checking to see whether its contents were permissible under the NHL/NHLPA Performance Enhancing Substances Program," Ashton said in his statement.
"I now recognize that I ingested Clenbuterol, a prohibited substance, through the inhaler. However, at no time was I seeking to gain an athletic advantage or to knowingly violate the terms of the program. I used the inhaler in response to exercise-induced asthma, a condition that my doctor with the Toronto Maple Leafs has since diagnosed and he has prescribed me with an inhaler."
Ashton has been held pointless in three games with the Maple Leafs this season, spending the majority of the season to-date in the Leafs' press box.
"As a professional hockey player, I recognize that I am responsible for what I put into my body, and I will not appeal my suspension. While I am extremely disappointed that I have let my teammates, our fans and the Maple Leafs organization down, I will work very hard during my suspension to stay in game shape so that I can help out the team when I am able to return."
Team President Brendan Shanahan released a statement Thursday, backing the League's decision. He added that no further comments would be made out of respect for Ashton and the "process involved."
Acquired from the Tampa Bay Lightning at the 2012 NHL trade deadline, Ashton has spent parts of the past three seasons with the Maple Leafs, registering three assists in 50 games. He was originally selected in the first round (29th overall) by the Tampa Bay Lightning in the 2009 NHL Entry Draft.