Tarasenko on injury: 'I'm ready for the season'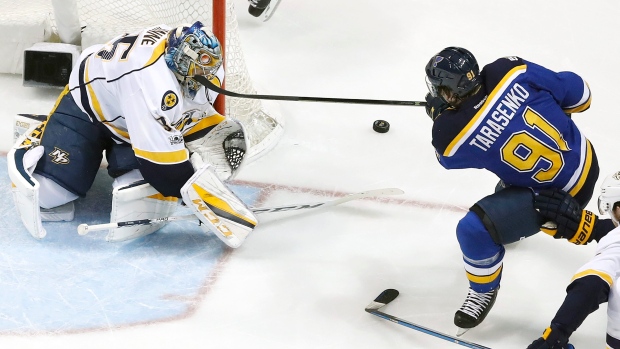 Vladimir Tarasenko skated with the St. Louis Blues Monday for the first time since having surgery on his left shoulder in April and it appears his recovery is going as planned.
"I need to talk about it with the doctors more, but I'm cleared to skate with the group, but only with some contact right now," Tarasenko told the Blues website. "But I can shoot. I feel great and I feel stronger. I'm ready for the season."
Tarasenko was injured in the final game of the regular season in a collision with Colorado Avalanche forward Gabriel Landeskog midway through the first period in what turned out to be a 5-2 loss. He had surgery four days later but was not supposed to be officially evaluated by the Blues until training camp.
At the end of June, Blues head coach Mike Yeo told the St. Louis Post-Dispatch that Tarasenko's recovery was on track. He was originally given a four-to-six month recovery timeline.
"I just follow the instructions, just what the doctors say," Tarasenko said. "This last three and a half months was pretty tough, both mentally and physically, too. Lots of rehab stuff, and it was the longest break ever between seasons [for me]. But you just listen to the doctors and therapist and what they tell you and just follow the plan."
It was another strong season for the 26-year-old, scoring 33 goals and adding 33 assists. It's the fourth year in a row he has reached the 30-goal plateau and the fourth straight season he has led the Blues in scoring.
When healthy, Tarasenko will rejoin a Blues team that looks largely different from last season, with the additions of forwards Ryan O'Reilly, Tyler Bozak, David Perron and Patrick Maroon.
"I think [they] will fit perfectly in our team, especially after last year's disappointment," Tarasenko said of his new teammates. "We have to play better to reach our goal, finally. ... It's going to be a fun year. I can't wait to get together with all the new guys and start the season."
The Blues finished last season at 44-32-6, missing the playoffs for the first time in the last seven seasons. They will open the regular season against the Edmonton Oilers.