Tavares, Marner building chemistry at Leafs camp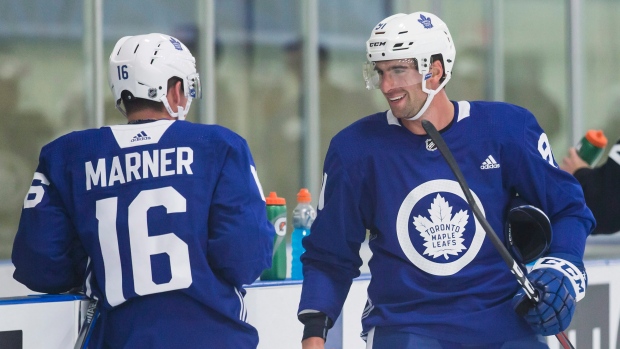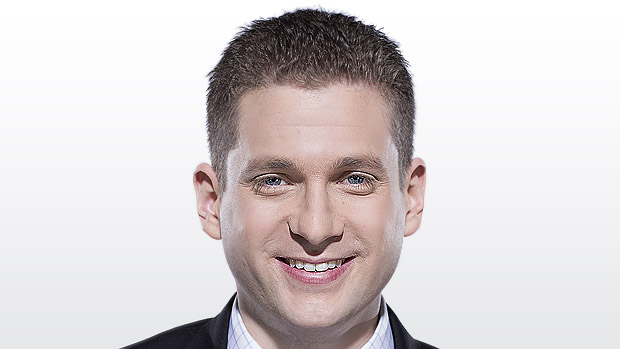 John Tavares is still getting used to life as a Leaf.
"It's all new so it's hard to say that it's normal, but I think being on the ice, playing the game, how I approach it is all normal to me," he said after the second day of on-ice sessions at Toronto's training camp.
Saturday featured the second straight scrimmage for Tavares and new linemate Mitch Marner and the pair linked up on a goal for the first time. Marner gained the zone and fed Tavares who beat Calvin Pickard, much to the delight of the couple thousand fans who had waited in long lines to get a glimpse of the big free-agent acquisition.
"He's obviously extremely quick and he sees the ice very, very well," Tavares said of Marner. "He's in and out of holes very quickly so sometimes I know he's in some spots and all the sudden he's somewhere else. It's a great asset of his, it's so much harder to defend. So, just getting used to how he uses that."
What stands out to Marner so far?
"Just his down-low strength, how smart he is with the puck when he gets it down low, how he can make plays out of nothing and just how deceptive he is with the puck as well."
Tavares and Marner should see a lot of each other this season as head coach Mike Babcock revealed he plans to use them on the penalty kill specifically near the end of opposing power plays. Tavares played on the penalty kill for the Islanders and Marner did it when he was with the London Knights.
"He can do all the skating and I can just sit back and watch," said Tavares with a chuckle. "His skating ability and how quick he can be on people and pressure (them) ... hopefully I can read off that and be in passing lanes and (force) low-percentage shots for the other team. And sometimes you're fortunate to get some chances the other way with how aggressive power plays can be sometimes.​"
"I think if you PK you know how to take away the angles better," Marner noted, "so it helps you at even strength as much as on the penalty kill."
Babcock said the other forwards in play for shorthanded time are Zach Hyman, Connor Brown, Kasperi Kapanen and whoever wins the fourth-line centre job (Par Lindholm or Frederik Gauthier).
The Leafs scored four shorthanded goals last season, tied for 25th in the NHL.
---
While Tavares is enjoying a fresh start with his hometown team, he was reminded of his past earlier this week. Ex-Leafs general manager Lou Lamoriello, now running the show on Long Island, was asked how the Islanders franchise would deal with the aftermath of their captain's defection and raised some eyebrows with his forceful response.
"There's no aftermath. Players come and go," Lamoriello told The New York Post. "It's different if they had won championships. It's different if they had had a lot of success. They haven't done much — and I don't say that with any disrespect. Haven't been to the playoffs the last couple years. Things haven't worked out the way everybody would have liked them to, from what my understanding is.
"So, an aftermath? There's no such thing in my mind. What the players we have here should be thinking about is not making the playoffs last year and that's what the goal should be. Teams win, not players. Individual players win some games, but teams win championships. And that's what we have to create."
The Islanders made the playoffs just three times in the nine seasons Tavares was there winning only one series. Tavares served as captain the last five seasons. His response to Lamoriello's comments?
"Obviously, we fell short of where we wanted to get to and we didn't have as much consistent success as we would've liked and being the captain there as long as I was, I should shoulder a lot of that responsibility of not doing a good enough job in leading that team. It's always something that, you know, I wish I could've done a better job, but I know I gave it everything I had and, looking back, I have no regrets in the way I performed."
---
Patrick Marleau celebrated his birthday on Saturday and the now 39-year-old shows no signs of slowing down.
"Genetically he's just got it," said Nazem Kadri, who played on a line with Marleau most of last season. "He's just one of those guys with super loose hips, he's able to stay in great shape and he's just a true professional ... it seems like he comes back every summer in even better shape. I'm not quite sure how he does it."
"I feel, actually, pretty good," Marleau, a veteran of 1,575 NHL regular season games, confirmed with a smile. "The number may keep going up, but I still feel pretty good."
When he inked a three-year deal last off-season, some questioned whether Marleau could maintain his production, but in his first season as a Leaf he scored 27 goals matching the exact total from the previous year in San Jose.
"It helps when you can skate like the wind," said Auston Matthews, "because that's kind of today's game, right. You got to be able to skate and he's obviously still able to do it at his age. He's 39 today and he can still fly. It seems like he's even getting faster. I feel like it just comes naturally to him. Just mechanics, the way his body's built and his strength, he's got big legs, just powerful, he makes it look easy. Skating up and down the ice kind of looks effortless for him. It's like he's not even breathing out there."
What's the secret behind his smooth stride?
"I still work on it," Marleau said. "I enjoy doing it so that's probably one of the reasons it's been able to stick with me as long as it has. It's fun."
What does he enjoy about the process?
"I've always been a little bit good at it," Marleau said sheepishly while shrugging his shoulders. "So I guess if you like those types of exercises in the off-season, plyometrics​ and those sorts of things, (that) helps you keep it."
---
Last year, Marleau took Matthews and Marner under his wing early in the season and the trio formed a close bond. And the pair of youngsters have helped tutor Marleau on the latest trends to help him better relate to his four kids.
"He's getting better," Matthews said with a grin. "He's learned a lot. He's got a long way to go. He's catching up with his kids and all the stuff they're learning at school with their friends and he's got the language down. He's like a kid again."
On the ice, Matthews played with Marleau sparingly at even strength last season although they did work together on the same power play unit. This season they are expected to start on the same line.
"He knows how to score," Matthews said. "I'm excited to play with him. We have a great relationship off the ice and hopefully that translates on the ice as well."
"Having the puck a lot," said Marleau when asked what excites him about playing with Matthews. "Getting the puck back, I think he has a great stick just like Mitchy, steals a lot of pucks and when the team thinks they're going the other way he can get the puck back and get you those odd-man rushes and get those chances."
---
Notable combinations at Leafs training camp so far:
Marleau-Matthews-Ennis
Hyman-Tavares-Marner
Leivo-Kadri-Brown
Johnsson-Lindholm-Kapanen
Engvall-Gauthier-T. Moore
Grundstrom-Cracknell-Timashov
Rielly-Hainsey
Gardiner-Zaitsev
Dermott-Ozhiganov
Borgman-Holl
Rosen-Carrick
Marincin-Liljegren
LeBlanc-Subban