Tavares to Islanders fans: 'I gave it everything I had'
Heading back to New York on Thursday to face the Islanders on their home ice for the first time since departing for Toronto in the off-season, John Tavares says he's at peace with his Islanders legacy and wants fans who may still be angry to know he gave the team everything he had during his nine-season run, Mark Masters writes.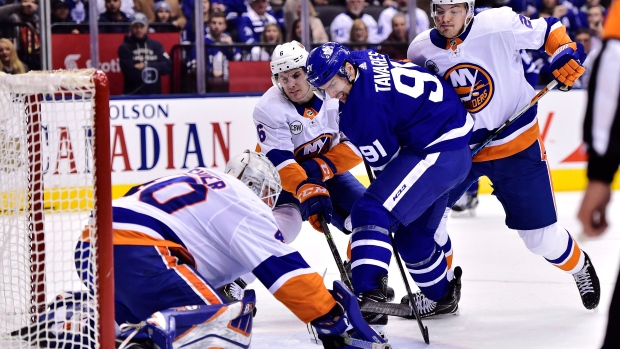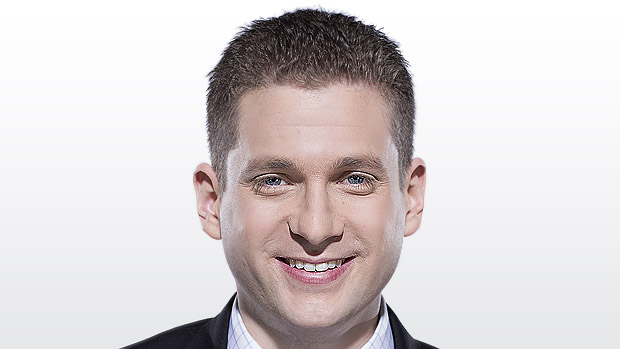 TSN Toronto reporter Mark Masters checks in daily with news and notes on the Maple Leafs, who practised at MasterCard Centre on Tuesday.
The time is almost nigh for John Tavares. The former New York Islanders captain will return to Nassau Coliseum on Thursday for the first time since his decision to leave in free agency and sign with his hometown team in Toronto. Some fans remain sour about how Tavares left, but the first overall pick in the 2009 draft is at peace with his legacy.
"I really embraced being an Islander," he said. "I loved it. It was a great place to play. I never didn't enjoy my time there even when times weren't going well. I did everything I could to just help the team hopefully win a Stanley Cup and unfortunately we weren't able to do that and I take responsibility, especially being the captain, not doing a good enough job consistently. But I gave it everything I had and that's all I tried to do is just try to be the best player and person I can be, you know, not perfect, but you certainly learn a lot."
On the ice, Tavares delivered as advertised with the fifth-most goals in the NHL during his nine-season run while twice being nominated for the Hart Trophy. However, the Islanders made the playoffs just three times winning only one series in that stretch.
After Tuesday's practice, Tavares seemed resigned to the fact he'll likely face a negative fan reaction in his return to the old barn in Uniondale where he made his NHL debut and scored his first NHL goal.
"Yeah, I mean, you have a sense for what it might be like so whatever it is, it will be, I'll just try and go out there and try to play," he said.
Even for an even-keeled guy like Tavares, the coming days are bound to be emotional.
"I grew a lot in my time there and really thankful for the impact a lot of people had on me," he said. "I'm not trying to overthink it. I just try and go out there and be myself and play and help the Maple Leafs."
----
Before getting to Thursday, Tavares has a date with Connor McDavid. The Edmonton Oilers captain will be returning from a two-game suspension on Wednesday night and playing in his hometown for just the third time as an NHLer.
How do the Leafs slow him down?
"It's a great question," Tavares said with a smile. "Ah, you just got to try and make it as difficult as possible for him to have to really earn his chances and it's a lot easier said than done, no question. So, as much as you can, make him defend and really work to get the puck, it's that much more energy and that much more focus he has to put into some of those thing … he's missed the last couple games and you expect him to be shot out of a cannon tomorrow."
Matched against Buffalo's top line last night, Tavares and linemates Mitch Marner and Zach Hyman struggled to contain Jack Eichel.
"I thought Eichel was dominant last night against us," head coach Mike Babcock said, "and had us on our heels at times and McDavid's got that higher octane of speed and it's going to be a challenge for us … we'll have to be above the puck and try not to turn it over when he's on the ice."
"His speed, it's not just that, it's the way he uses it," Tavares observed. "His ability to read the play, anticipate, is arguably the best in the league. And then his ability to keep his speed and maintain it for as long as he can and doing it with the puck and then being able to make plays at that top-end speed and be able to see the play two, three steps ahead, that's what really separates him. You do your best to get on top of him and not give him any room."
----
Just like on Friday, defenceman Jake Gardiner sat out practice and his status for tomorrow's tilt is questionable.
"I don't know for sure," said Babcock when asked if Gardiner will be ready to play. "We've talked about this for a bit now and so obviously it's lingering. If you watch Jake's game, he hasn't been as active as he normally is, skating like he normally can so we need him back. I don't know what that means tomorrow. We got have a lot of people in that back room that will get that figured out and let me know."
Gardiner missed the last two games before the all-star break with back spasms. Prior to the injury he was averaging 21:40 of ice time per game, but since returning he's down to 19:31.
Igor Ozhiganov, the odd man out since the Jake Muzzin trade, is expected to draw in should Gardiner be unable to play against Edmonton. Gardiner's status on Saturday was also in doubt to the point where the Leafs dressed Ozhiganov in warm-up as a precaution.
----
The Leafs had three goalies on the ice at practice as York University's Alex Fotinos split a net with Frederik Andersen during some drills.
"They wanted me to take it easy a little bit," Andersen said. "Trying to preserve some energy. It's been a few games in a row where we've played some tough games."
Andersen laughed when asked if he had seen the accidental cutaway in last night's game. The feed on TSN4 briefly switched to the studio after Andersen stoned Rasmus Dahlin to preserve Toronto's one-goal lead late in the third. Andersen's phone and social media mentions were flooded with the still shot of the analyst looking shocked by the save.
"He was pretty surprised," Andersen said with a grin. "I don't know if he was expecting that to go in. Looked like we caught him off guard with that. But it had probably been a long day for him breaking all the trades and all that. I'm sure he'll have a good laugh about that."
----
Auston Matthews is pushing his team to raise its game down the stretch.
"We're hitting that kind of point in the year where we need to take another step and really dial it in," the 21-year-old centre said in the dressing room following Monday's win.
Tavares was asked in what areas the Leafs can do that.
"You have to continue to push yourself to continue to get outside our comfort zone," he said.
Babcock has prodded the group to play heavier despite not possessing the same size as other rosters.
"I think Little John [Andreas Johnsson] has come a long way in that area," the coach said in his post-game presser Monday. "We need Kappy [Kasperi Kapanen] to do more of that, but we have a lot of guys. William [Nylander] can really cycle the puck, he needs to commit to doing it. Matthews is way more physical on offence than he used to be and that's important as well. We just need to continue to grow that throughout the group. I think (Trevor) Moore, for the size of him, has a real heavy keister and hangs on to the puck pretty good there. We need more of that."
Tavares is urging his teammates to dig in at practice.
"You get to this time of year and there's a lot of days you don't feel so great," he said, "and it's just having that mindset and really focusing on pushing ourselves in practice on a daily basis and making sure we're doing all the little things on and off the ice to play and play at a high level."
And in that regard Tavares led by example on Tuesday.
"He's a competitor," said back-up goalie Garret Sparks. "He made me stay out there a little bit extra today just because he wasn't able to beat me earlier in the practice so he had to get a couple by me before he got off the ice. That's just the type of guy he is. He's not going to take, 'No,' for an answer."
----
Wearing No. 19, Nic Petan rotated in on the fourth line in his first practice with the Leafs on Tuesday. Petan hasn't played since Dec. 22 and Babcock suggested it may take some time before the former Winnipeg Jet gets up to speed and into the lineup.
TSN's Kristen Shilton has more on Petan here.
----
Lines at Tuesday's practice:
Forwards
Hyman-Tavares-Marner
Johnsson-Matthews-Kapanen
Marleau-Nylander-Brown
Ennis-Gauthier-Moore
Petan
Defencemen
Rielly-Hainsey
Muzzin-Zaitsev
Dermott-Ozhiganov
Holl
Goaltenders
Andersen
Sparks
Nazem Kadri (concussion) was on the ice helping warm up the goalies before practice, but did not stay out for the main session. It was the first time we've seen him on the ice since the injury was sustained a week ago.