Team Carruthers bounce back with victory at Karuizawa International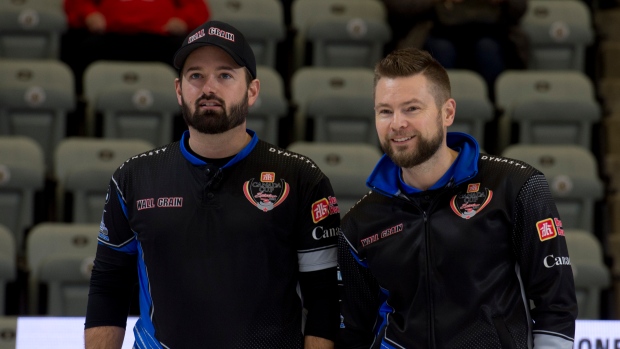 Team Reid Carruthers are back in the win column just before their Christmas break.
After struggling to get much going the past few weeks, the Winnipeg rink put together a perfect run at the Karuizawa International in Japan, capping it off with a 7-6 victory over host Team Yuta Matsumura in the championship game early Sunday morning.
Carruthers, third Mike McEwen, second Matt Wozniak (who was filling in for Derek Samagalski this week) and lead Colin Hodgson went 7-0 over the four-day event. And they appeared to enjoy their week in Japan, posting photos on Twitter throughout the tournament.
Olympic gold medalists Team John Shuster of the United States finished third at the event.
Team Carruthers, who brought Manitoba rival McEwen into the fold this season, has struggled for the past few months on the World Curling Tour prior to their trip overseas.
They went winless (0-6) at the Canada Cup in Estevan, Sask. in early December and then followed that up with a 1-3 performance at The National on the Grand Slam circuit the following week in Newfoundland. This was just their second playoff appearance in seven events played since capturing the StuSells Toronto Tankard in early October.
This is a positive end to the 2018 calendar year for Team Carruthers (29-24) as they now set their sights for the Manitoba provincial playdowns, slated to run from Feb 5.10 in Virden.
On the women's side of the draw, Russia's Team Anna Sidorova picked up their first win of the season with an 8-3 victory over Japan's Sayaka Yoshimura in the gold medal game. Sidorova lost to Yoshimura in the round robin opener, but went on to win six straight en route to the top of the podium.
Canada's Team Laura Walker fell to Team Chiaki Matsumura in the third place game, 7-4.