Team Europe shocks Team USA in WC opener
The only World Cup of Hockey entry without an anthem or a real identity settled on "Seven Nation Army" for a goal song, an apt track for a roster playing for eight flags. The Eight Nation Army just slayed an international hockey superpower.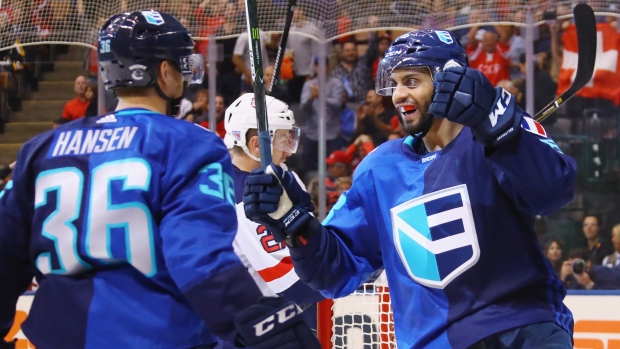 TORONTO — The only World Cup of Hockey entry without an anthem or real identity settled on "Seven Nation Army" for a goal song, an apt track for a roster playing under eight flags.
The Eight Nation Army just slayed an international hockey superpower.
Team Europe flipped the World Cup of Hockey on its head on Saturday, upsetting Team USA with a stunning 3-0 shutout in the sparsely attended first game of the tournament at Air Canada Centre.
It was the first loss for Team USA to any team other than Canada in international best-on-best play since the 2006 Torino Olympics, a span of 12 games.
"We've put ourselves in a spot now we're chasing. We're chasing the tournament," Team USA coach John Tortorella said. "It's a spot we didn't want to be in. It's a very dangerous spot, but we are here."
No one, certainly not the thousands of paying customers who passed on the game, would have predicted the result. This was a Team Europe squad, the oldest and maybe slowest in the tournament, which trailed Team North America by a 9-1 margin after four periods last week in exhibitions.
Many pundits picked Team Europe to finish last among the eight teams in the tournament. Well, Team Europe coach Ralph Krueger reminded on Friday to "expect the unexpected."
"We didn't see ourselves as just a sideshow, not ever," Krueger said after the win. "This group has always been building to do this … I thank the kids for spanking us so hard early (in the exhibitions). That's when identities are born: at difficult times. If you're a loser, you don't have character, you collapse and if you're loaded with character like we are, you come together.
"I think it set us up for some fun now in the tournament."
The pan-European collaboration knocked off the sluggish Americans by playing a simple style that seems to work so well for overmatched nations in international play. They were patient, trapped and clogged up the neutral zone.
"We defended the house really well, too," Christian Ehrhoff said.
Europe was also incredibly opportunistic with their chances. They bested Team USA netminder Jonathan Quick with three goals on their first nine shots.
Krueger said Team Europe "knew it was going to take a perfect night." And they got one.
Marian Gaborik, Leon Draisaitl and Pierre-Edouard Bellemare all scored for Team Europe. On Gaborik's pretty first period strike, he was assisted by Frans Nielsen and Mats Zuccarello - one goal created by three players from Slovakia, Denmark and Norway.
That's when The White Stripes' "Seven Nation Army" blared on the sound system. It played twice more in the second period, including after Draisaitl's goal, which came on a rare 2-on-0 break with Team USA defenders barely trying to catch up.
A surprised Draisaitl said it had been since his pee wee days that he saw so much time on a rush.
"I probably missed it, too," Draisaitl joked.
Team USA coach John Tortorella could do little more than stare down the bench in disbelief. Pucks frequently squirted by the American defenders into the neutral zone; the Americans also struggled mightily with turnovers.
"It's not the start we had drawn or anticipated," Team USA forward Zach Parise said, flatly.
Just about everything Team USA had been billed as before the tournament started failed to materialize. They weren't rugged or tough to play against. They generated few top quality scoring chances, despite considerable time with the puck in the second half of the game. For most of the afternoon, Team USA played like the environment inside the arena: quiet and without much intensity.
The game plan seemed to backfire in Team USA's faces, providing ammo for plenty of criticism lobbed about their roster construction and whether they had even dressed their best lineup on Saturday. Dustin Byfuglien, the leading American-born scorer among NHL defenceman last season, was a healthy scratch.
"We made the decision before the game this was our best lineup," Tortorella said.
Perhaps it was Tortorella's best lineup, but definitely not his team's best effort.
And now, one game in, it's getting late early for the United States. The loss has created the ultimate theater for their matchup against archrival Canada on Tuesday night. Team USA will need to either beat Canada or have to rely on help and prayers to keep their tournament alive beyond nine measly periods.
"We just need to stay together and not blow ourselves up here," Tortorella said. "Have a couple of good days of practice and get ready for our next opponent and try to do better."
Contact Frank Seravalli on Twitter: @frank_seravalli