Team McEwen parting ways after 11-year run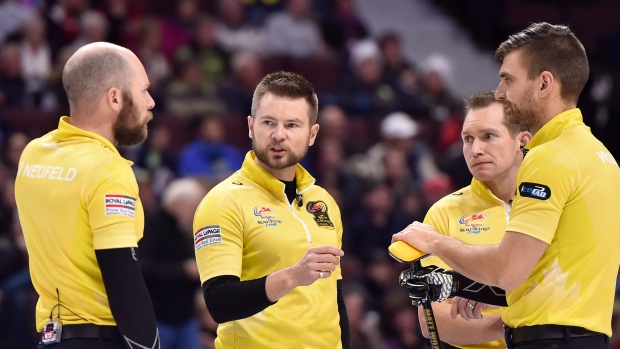 Winnipeg's Team Mike McEwen announced on Tuesday that they will be parting ways at the conclusion of the 2017-18 season after an 11-year run as a foursome.
See below for the team's full statement on the decision to break up.
After 11 years of friendship, personal growth, and amazing experiences, we will be parting ways at the conclusion of the 2017/18 season.
We want to thank our families for their tremendous sacrifice and support that allows us to chase our dreams. Thank you to our friends and fans all over the world as it's amazing to be noticed and loved for what we do in our sport. We hope along the way we inspired many of the next generation of curlers. Thank you to our sponsors who have been such an integral part of our yearly success - right from our early beginnings you helped give us the tools and opportunities to grow and flourish.
Many of our best memories as adults were made during this run as a team. We weren't just a team, we were so much more. From weddings, to new family additions, to celebrating tremendous wins and crazy heart thumping shots, to persevering from our biggest defeats with continued learning and support of one another... we did it all together.
We will part ways with fond reflections and we hope continued success for whichever direction each one of us should choose, on or off the ice.
Look for us on the ice in our final events of the season in the Grand Slam of Curling series. We'll play our hearts out and just maybe we can say farewell with one last title!
Skip McEwen, third B.J. Neufeld, second Matt Wozniak and lead Denni Neufeld joined forces for the 2007-08 season and have been together ever since.
The rink from the Fort Rouge Curling Club in Winnipeg are four-time World Curling Tour money winners (2015, 2014, 2012, 2011) and have won six Grand Slam titles.
After many unfortunate results at the Manitoba playdowns, Team McEwen finally qualified for their first Brier in 2016. They made it to the Canadian championship once again last year in St. John's and won a bronze medal by beating Team Brad Jacobs. At this year's Brier, McEwen and company had to beat Team Jason Gunnlaugson in the Wild Card game in order to make it to the main draw. They would finish the week at 7-4, just missing the playoffs.
In December, Team McEwen made it all the way to the final of Roar of the Rings Olympics trials where they fell to Kevin Koe's squad.