Teammates say Matthews in good spirits after shoulder injury
Auston Matthews worked hard to put an injury-plagued sophomore year behind him, which is why Saturday's shoulder injury seems like it could be quite demoralizing. But teammates report that Matthews is holding up OK so far.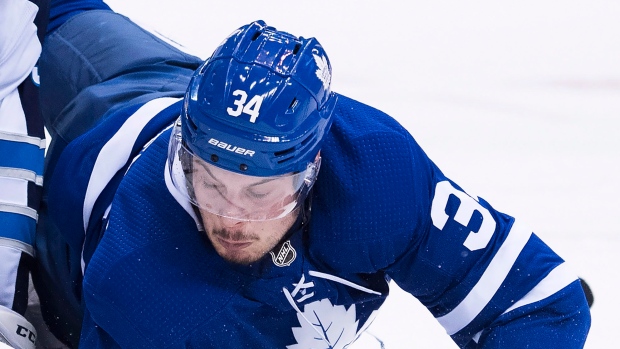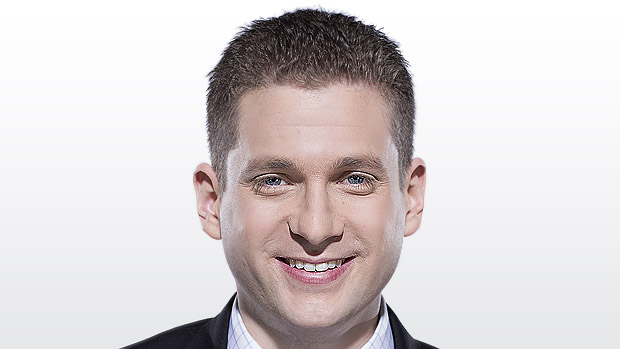 Auston Matthews worked hard all summer to put an injury-plagued sophomore year behind him. And the Toronto Maple Leafs centre was flying early this season, looking faster and fitter than ever before while producing 16 points in 10 games. That's why this latest shoulder injury, sustained in Game No. 11 on Saturday courtesy a big hit by Winnipeg Jets defenceman Jacob Trouba, seems like it could be quite demoralizing for the 21-year-old.
But teammates report that Matthews is holding up OK so far.
"You're always a little frustrated the next day," said John Tavares. "It's still kind of a little bit of a whirlwind, I think, at least when I've been through it. I know it just kind of gets you out of the normal routine you've been in. It's an adjustment, but (he was) certainly upbeat and said he was feeling better than expected today so seemed pretty positive … I know he's already got the right attitude, turning the page and working to get back."
Everyone who spoke with Matthews on Sunday morning had a similar takeaway. His good buddy Mitch Marner noted that Matthews appeared to be in "good spirits."
"He's good," agreed coach Mike Babcock. "I think any time, initially, when you first get hurt it's like panic mode for a little bit and then you get up the next day and feel a lot better than you expected. It's a good thing, but until he's checked out, though, this is just you and me talking."
The Leafs expect to have more information on the severity of the injury on Monday.
—-
Without Matthews, the Leafs pulled off a dramatic come-from-behind win over the Jets on Saturday night. Patrick Marleau, Nazem Kadri and Marner, a dynamic trio down the stretch last season, were reunited and created two goals. Meanwhile, Kasperi Kapanen shifted to the Tavares line with Zach Hyman and that group produced the winning goal.
Babcock kept those lines together at practice.
Tavares had stated his desire to play with Marner during the free-agent process, but is embracing the opportunity to line up beside Kapanen.
"You can see his confidence really building," Tavares raved. "We're starting to realize his skill-set and how he can make a major impact out there, really feel like he can be a dominant player. His explosiveness with his skating ... he's very dynamic in being able to change direction and create space for himself so I'll just try to get him the puck in space so he can skate into it and get that shot off."
Kapanen called it "an honour" to play with someone like Tavares.
"I've been watching him for a long time," the Finn noted. "He's just a guy who holds onto pucks well and makes plays. And he's got a great shot. It's going to be exciting."
Kapanen's emergence, in the absence of his good pal William Nylander, has helped Toronto get off to an 8-3-0 start this season. He was promoted to the Matthews line in the third game of the season and has responded with six goals and four assists, including an incredible blast on the game winner Saturday.
In the third period, Kapanen also got a chance to fill in for Matthews on the top power-play unit and practised on the left flank again on Sunday.
Babcock is reluctant to heap too much responsibility on a young player and was quick to prod the 22-year-old to be better after practice.
"His game wasn't as good yesterday and we talked about that," the coach said.
"Just a bit sloppy," Kapanen admitted. "I felt the puck was kind of bouncing for me a bit. I just didn't feel like myself, but you're going to have games like that. You just have to battle through."
—-
Marner actually called his shot on the first Leafs goal on Saturday night, which sparked the comeback.
"I knew kind of throughout the second and third period, I was telling everyone that was the play, when we get to that post kind of look out front, get a guy going to the net. I told Nazzy (that) going into the third and luckily it worked out."
It wasn't just luck. Kadri and Marner already have a built-in chemistry thanks to their torrid stretch drive alongside Marleau last season.
"I feel like we didn't skip a beat," said Kadri, who has now scored in consecutive games. "It was actually very nice. As soon as that line was put together, we (were buzzing) every shift. They're great guys to play with."
"The chemistry was still there," Marner noted, "which is obviously nice. We want to be good on the rush and in the O-zone, I think we did that well last night so have to keep that going."
—-
The big change at Sunday's practice involved Andreas Johnsson who slotted in as the left winger on the third line beside Par Lindholm and Connor Brown. After an impressive NHL debut last season and an incredible Calder Cup run with the Marlies, the 23-year-old Swede has been out of sorts to start this year sitting as a healthy scratch on five occasions, including the last two games against the Jets.
"He's got to play heavy," Babcock said. "When he has the puck, where does the puck end up? So, in other words, do they have it or do we have it? That's the priority. That whole line we had today with him, Lindholm and Brown, it's a challenge for all of them. You got to find a way to have the puck and hang on to the puck and play in the O-zone and attack the net and get on the inside. That will be the challenge."
Johnsson also returned to his bumper spot in the slot on the second power play unit at Sunday's practice.
Lindholm, who has played the last eight games on left wing, will shift over to centre, his natural position. The 27-year-old NHL rookie started this year as Toronto's fourth-line pivot.
"It's different being the third-line guy than the fourth-line guy but, still, I thought he was real solid for us," Babcock said. "I think Par plays great for us. Very intelligent player and he's only going to get better as he understands the league more."
—-
Defenceman Travis Dermott is ready to return to game action after an illness forced him out of the last two games, but Babcock will stick with Martin Marincin for Monday's showdown against the Calgary Flames.
—-
Lines at Sunday's practice:
Marleau-Kadri-Marner
Hyman-Tavares-Kapanen
Johnsson-Lindholm-Brown
Ennis-Gauthier-Leivo
Rielly-Hainsey
Gardiner-Zaitsev
Marincin-Ozhiganov
Dermott-Holl
Andersen
Sparks
Power play units at Sunday's practice:
Rielly
Kapanen-Kadri-Marner
Tavares
Gardiner
Ennis-Johnsson-Leivo
Marleau