Ten points to ponder as Canucks open training camp
Vancouver hockey fans will likely have to wait until the Canucks hit the ice for the first day of training camp to start any getting answers about the team's 2018-19 lineup but there are 10 pre-season points to ponder ahead of Friday's first on-ice session, TSN Canucks Reporter Jeff Paterson writes.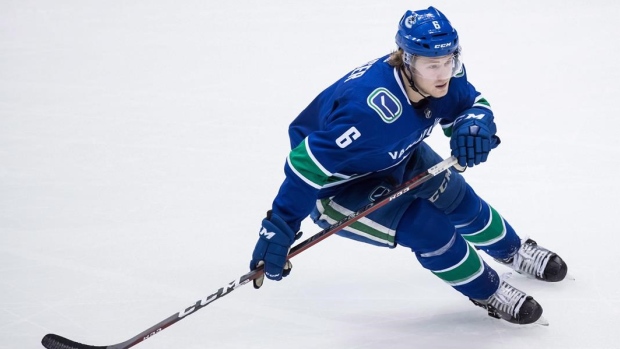 VANCOUVER – With weigh-ins and media availability Thursday unlikely to yield many clues, Vancouver hockey fans will likely have to wait until the Canucks hit the ice in Whistler on Friday for the first day of training camp to start getting answers about how the team may line up when the season opens on Oct. 3. In the meantime, here are 10 pre-season points to ponder ahead of Friday's first on-ice session at Meadow Park Sports Centre:
1) Where can Travis Green improve as a head coach in his second year behind the Canucks bench? When hired just over a year ago, Green expressed interest in the amount of data collected and available at the National Hockey League level. He dropped several clues last season about paying close attention to the numbers, but how will he use them moving forward? Will Green use advanced statistics to aid in his decision-making to optimize line combinations and defensive pairings? The numbers can tell him who played well together and perhaps more importantly who did not.
2) Can Jacob Markstrom pick up where he left off at the end of last season when he posted a 5-0-1 record with a 1.96 goals-against average and a sterling .937 save percentage allowing just 12 goals on 190 shots? Or were those numbers the product of a tighter system in front of the 28-year-old netminder and aided further by the fact workhorse Alex Edler averaged nearly 27 minutes a night over that span? Markstrom started 57 times last season and appeared in 60 games overall. He goes to camp as the clear-cut number-one goaltender in the system, but questions remain about whether there is still room for his game to grow or if those final few weeks of last season were merely a mirage when there was nothing on the line?
3) Is there a true battle for the backup job? If Markstrom is the main man in goal, then what's happening behind him on the depth chart? Anders Nilsson won only one of his 15 starts after Dec. 1 last season. Thatcher Demko also won once in that timeframe – but that was his NHL debut and his only big-league appearance. Nilsson back-stopped Sweden to a gold medal at the World Championship in May and perhaps that helped him regain his confidence. But Demko is clearly the goalie of the future. So does the future start now? Can Demko win the backup job with a strong showing over the next few weeks or do the Canucks go with Nilsson and allow Demko another year of development in the American Hockey League? What if Demko is considerably better than Nilsson at camp and in the preseason? The Canucks talk often about making room for youngsters who outperform veterans. I'll be curious to see if that promise holds true between the pipes.
4) How, exactly, will the same group of blueliners produce more offence than last season? Travis Green was emphatic at his year-end media availability about needing more production from the Canucks defence corps. One way to address the issue would have been to change personnel in the off-season. That did not happen. Not even a little. Quite remarkably, the team returns the same eight defencemen that underwhelmed a year ago and now the challenge is clearly to squeeze more out of the group. There will be plenty of talk in the weeks ahead about systems and activating defencemen to join the attack. But are any of the eight defencemen under contract really likely to make sizable gains in production this season? Ben Hutton would seem to stand the best chance considering he had zero goals and just six assists last season. But Hutton has to get into the lineup in order to contribute and that's not a sure bet, given the way his season played out last year.
5) It's not a great time to be a Canuck forward if your name starts with the letter G. Gaunce, Goldobin, Gagner, Granlund. Even Gaudette. Can anyone be certain how any of those players slots into the Canucks depth chart to start camp? And how many of those are locks to be in the opening night lineup? Gagner and Granlund are likely to be here based on their contractual status, their versatility and the fact they have performed and produced in the NHL in the past. But are they wingers? Are they centres? Does either of them project in a top-six role to start the season? It's even murkier for Gaunce and Goldobin who both likely have to play their way onto the team with strong preseasons. And then what about Gaudette? The reigning Hobey Baker Award winner didn't look out of place in his five-game taste of NHL action at the end of last season and was arguably the best all-around player at the Young Stars prospects tournament in Penticton last weekend. Still, with the log jam in front of him and the addition of Jay Beagle, Antoine Roussel and Tim Schaller as free agents on July 1, Gaudette may have to start the season with the Utica Comets in the American Hockey League.
6) What happened to the secondary-trade market Canucks general manager Jim Benning talked about after the draft in Dallas in June? There was much speculation (and I think plenty of hope) that the Canucks may work a deal or two on the draft floor in Big D. That didn't happen, but Benning expressed optimism that a secondary trade market would develop. Earlier this week, the Montreal Canadiens and Vegas Golden Knights made a significant deal while the Bruins and Rangers completed a smaller swap, so teams are trading. But the Canucks go into camp in Whistler without having made a dent in the trade market since last year's deadline. Does that indicate the players they'd be inclined to move have little or no value? Will they find a way to alleviate the glut of forwards on the training camp roster? Remember, the Canucks are hosting the 2019 NHL Entry Draft next June and Benning is on the record indicating he'd like to add more picks.
7) With the departure of Daniel and Henrik Sedin, what will the Canucks' power play look like? Remember that after mid-November last season, this was a top-five power play in the league. So, Newell Brown has his work cut out for him re-inventing the Canucks' PP. It would be ideal if Elias Pettersson could step in and fill Henrik's role in the right faceoff circle with Brock Boeser camped out on the left side of the ice. That would give the Canucks two shooting options to keep defences guessing and giving Alex Edler a good problem to have trying to decide how to distribute the puck from the top. Bo Horvat and perhaps Loui Eriksson could round out the first unit by standing their ground in front of the net. But what does that leave for a second unit ­– Sven Baertschi, Sam Gagner, Brendan Leipsic, Markus Granlund and Derrick Pouliot? (We mentioned above that there is no guarantee Gagner or Granlund will be on the team.) Could you find room for Jake Virtanen – with one career power-play goal in 140 NHL games – in front of the net? After that it gets awfully thin. Antoine Roussel has scored seven career power play goals, but he averaged just five seconds of power play time per game last season. Do the Canucks revert back to the Willie Desjardins era and look to Brandon Sutter who scored eight power play goals in three seasons under the previous coach? The construction of the power play – particularly the second unit – deserves plenty of attention in the coming weeks.
8) How will the Canucks line up down the middle to start the season? Horvat is the team's top centre right now and there can be no debate about that. Ideally, the Canucks would love Pettersson to develop into a legitimate first-line centre with Horvat behind him on the depth chart. The plan is to start Pettersson in the middle at training camp and gauge his ability to adapt to NHL life. Can he handle the workload as a centre and can he hold up his end of the bargain defensively? The Canucks sure hope so because that would give them options. If the Pettersson experiment isn't ready for prime time, then who slots in behind Horvat? Is it Gagner or Granlund? Does Gaudette get a look there? Or does Brandon Sutter play much higher in the lineup than he ought to? That's not an ideal scenario for Sutter or the hockey club. And what does the arrival of Jay Beagle mean for Sutter in terms of his matchup and defensive role? There are some who believe the Canucks may look to go with two scoring lines and two checking lines this season. But for a team that struggled to produce offence last season (29th in the NHL in even-strength goals for), it seems hard to believe that the Canucks would devote six forwards to defensive responsibilities and expect the other six to be able to carry the scoring load. That sounds like a plan to limit opponents and hope they win games 2-1. I think we saw how that worked for a couple of seasons prior to the last one.
9) Is Boeser absolutely, completely, 100 per cent healthy? The last time Canucks fans saw the Calder Trophy runner-up in person he was being taken off the Rogers Arena ice on a stretcher. Not exactly good times for Boeser, the organization or the fan base. Then came word that in addition to the back injury sustained on March 5 against the New York Islanders, Boeser was going to have a procedure performed on the wrist he'd injured in Tampa Bay in February. That's a lot for anyone to deal with in one off-season let alone a 21-year-old scoring star expected to put the organization on that injured back and carry it on many nights moving forward. Boeser returned to the ice and looked no worse for wear winning MVP honours in Minnesota summer league last month. But that's a non-contact league for professionals looking to get a sweat on ahead of training camp. Now comes the real test for Boeser. All indications are both his back and wrist have healed and he's ready to go. But after bursting onto the scene last season and scoring a team-high 29 goals, Boeser will not sneak up on opponents and no one will take him lightly. He'll likely see tougher matchups this season and he'll be tested both physically and mentally. In his short time in Vancouver, Boeser has shown that very little fazes him, so he'll likely take the added attention in stride. But it's clear the Canucks need him to score from the start of the season so it's vital that he has a strong training camp and carries that into the preseason schedule.
10) How quickly will the Canucks get down to manageable numbers? They're taking 59 players into camp who will skate in three groups for the first three days in Whistler. That's fine. But keeping 20 defencemen and six goaltenders around doesn't seem ideal even with a hectic start to the preseason next week. The Canucks play homes games on three consecutive nights next week (against the Edmonton Oilers, a depleted Flames roster of those left behind from Calgary's China junket and the Los Angeles Kings) before heading to Calgary for a fourth game in five nights. So sure, the Canucks will need bodies to fill out the rosters of those early games on the preseason schedule. But, hopefully, they'll get down in numbers by the midway mark of the preseason so that true battles can emerge – and be settled – in the second week of exhibition action.