Texans' Clowney on Bortles: 'He trash'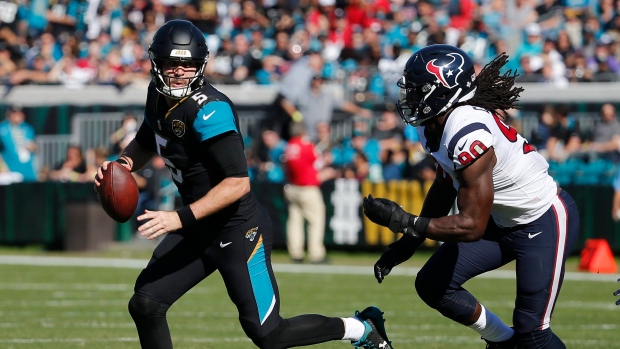 Blake Bortles completed 21 of 29 passes for 326 yards and three touchdowns in the Jacksonville Jaguars 45-7 rout of the Houston Texans on Sunday.
After the game, however, Texans outside linebacker Jadeveon Clowney was less than complimentary about the fourth-year passer.
"He trash," Clowney told the Houston Chronicle when asked if Bortles had improved from previous meetings.
Bortles was selected two picks after Clowney, third overall, in the 2014 NFL Draft and has posted career-best marks in completion percentage and quarterback rating this season.
Through 14 games, he owns 19 touchdowns to eight interceptions and has completed 61 per cent of his passes for 3,147 yards.
"They beat us on both sides of the ball," Clowney added. "Ain't no defense, they beat us. Oh man, they got us. They were definitely the better team."
The Texans defence allowed 464 yards to the Jaguars in the loss and posted just one sack and one tackle for a loss.
"It's crazy, it's embarrassing," Clowney said. "It's embarrassing to the whole organization."
Clowney's teammates Brian Cushing and Johnathan Joseph did not share his opinion of Bortles on Sunday.
"He's definitely more confident," said Cushing, who posted the team's lone sack. "He stays in the pocket. He's throwing the ball better, guys are open. You can tell his pocket awareness is much better than it has been in previous years."
"He definitely did his job," Joseph added. "He stepped up for them and made some plays. That's big for them."
Clowney, 24, owns a career-best nine sacks in 14 games this season.
The Jaguars clinched a playoff spot with Sunday's blowout victory.