The 7-Eleven Power Rankings: Golden Knights still rolling
Presented by: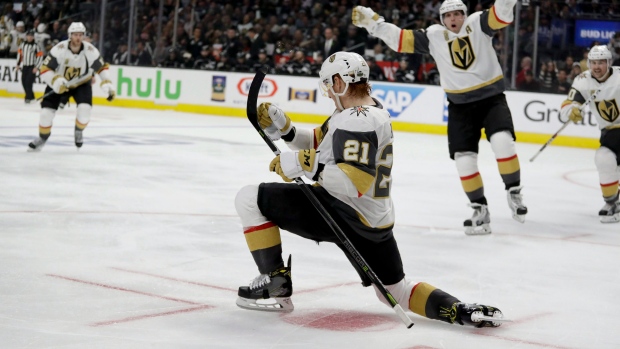 Marc-Andre Fleury and the Vegas Golden Knights refuse to hang 'em up.
After becoming the first expansion team in NHL history to sweep their first playoff series, thanks to two shutouts from the 33-year-old Fleury with his remarkable .977 save percentage and 0.65 goals-against average, the Golden Knights move on to face the San Jose Sharks in Round 2 and are the top-ranked playoff team for the second consecutive week in TSN's 7-Eleven Power Rankings, according to consensus rankings formulated by the TSN Power Ranking panel of Ray Ferraro, Jeff O'Neill, Jamie McLennan, Craig Button and Darren Dreger.
With their convincing 4-1 series win over the Minnesota Wild – the first playoff-series victory for this Atlanta/Winnipeg franchise – the Jets move up three spots this week to No. 2 as they prepare to face the Nashville Predators in the second round. Winners of the Presidents' Trophy, the Preds slip two spots to No. 5 this week after needing six games to eliminate the pesky Colorado Avalanche (No. 11), who move up from their No. 13 position last week.
With their sweep of the Anaheim Ducks, the No. 3 Sharks jump three spots this week from No. 6 a week ago after Martin Jones recorded a .970 SV% and 1.00 GAA in four games. The Tampa Bay Lightning, meanwhile, remain at No. 4 for the second straight week after ousting the No. 13 New Jersey Devils in five games to round out our top-5 playoff teams this week.
The Pittsburgh Penguins, led by Sidney Crosby and Jake Guentzel who share the playoff scoring lead with 13 points apiece, move up two places to No. 6 in our rankings after ousting the No. 12 Philadelphia Flyers in six games. The Penguins face the winner of the Washington-Columbus series in the next round.
After putting the Toronto Maple Leafs on the brink of elimination last Thursday, the No. 7 Boston Bruins slip five spots this week from No. 2 a week ago after dropping Game 5 to the No. 10 Leafs, who climb four spots this week. Game 6 goes Monday night at the Air Canada Centre, with the series back in Boston on Wednesday if the Bruins can't close it out in six.
The No. 8-ranked Capitals (No. 10 last week) face the No. 9 Blue Jackets (No. 7 a week ago) in another Game 6 Eastern Conference showdown on Monday in Columbus after battling back from a 2-0 series deficit. Braden Holtby has won three straight for the Caps, stopping 102 of 109 shots he's faced, after replacing Philipp Grubauer in Game 2. Columbus coach John Tortorella, however, has boldly guaranteed his team will be back in Washington for Game 7 on Wednesday.
The worst playoff teams this week include the Wild (No. 14), who drop five spots from No. 9 a week ago after a subpar performance in net from Devan Dubnyk (.908 SV%, 3.39 GAA); the low-scoring Ducks at No. 15, who held the lead just once (for 9:01) during their four-game sweep by the Sharks; and the Kings, who finish off their 2018 playoff dead last at No. 16, the same position they held in last week's playoff rankings despite receiving outstanding goaltending from Jonathan Quick (.947 SV%, 1.55 GAA).


2017-18

51-24-7

Playoff Record

4-0

LAST WEEK

1
In their sweep of Los Angeles, Vegas allowed just three goals, becoming the sixth team in the last 38 years to allow that few goals in a four-game series. Marc-Andre Fleury has a 0.65 GAA.

2017-18

52-20-10

Playoff Record

4-1

LAST WEEK

5
The Jets not only won their first playoff series in franchise history, Vezina finalist Connor Hellebuyck carries a two-game shutout streak into Round 2 against Nashville after being lifted in the Game 3 loss.

2017-18

45-27-10

Playoff Record

4-0

LAST WEEK

6
Fifteen different players had a point in their sweep of Anaheim, and none of them were named Joe Thornton, still recovering from knee surgery and ruled out for the Round 2 series opener.

2017-18

54-23-5

Playoff Record

4-1

LAST WEEK

4
The Lightning beat the Devils in five, with all four of their wins coming by at least two goals. Nikita Kucherov set a team scoring record for one series with 10 points (five goals, five assists).

2017-18

53-18-11

Playoff Record

4-2

LAST WEEK

3
For the second straight playoffs, Austin Watson has followed up a low-scoring regular season with a high-scoring playoffs. After 19 regular-season points (76 games) he has seven in six playoff games.

2017-18

47-29-6

Playoff Record

4-2

LAST WEEK

8
Jake Guentzel scored four goals in the series' winning game for the Penguins, who don't take the easy route. They've won nine series in a row, but seven of the nine went at least six games.

2017-18

50-20-12

Playoff Record

3-2

LAST WEEK

2
David Pastrnak had 11 points, tied for the second most ever (Gretzky, 15) in the first four games of a series, but he and Boston's big line were shut out in Game 5 despite a 45-21 shot edge.

2017-18

49-26-7

Playoff Record

3-2

LAST WEEK

10
After losing the first two games, both in overtime, the Capitals have won three straight, with two in OT. After returning to his starting role, Braden Holtby has all three wins, stopping 39 shots in Game 5.

2017-18

45-30-7

Playoff Record

2-3

LAST WEEK

7
Alex Ovechkin isn't the only one who can guarantee wins. After a Game 5 overtime loss in Washington, coach John Tortorella says the Blue Jackets will be back there for Game 7.

2017-18

49-26-7

Playoff Record

2-3

LAST WEEK

14
Just when it looked like the Maple Leafs were headed to elimination, they battled a furious comeback effort by Boston in Game 5. They can thank Frederik Andersen (42 saves – 19 in the third period).

2017-18

43-30-9

Playoff Record

2-4

LAST WEEK

13
You can't accuse the Avs of giving up. In Game 4 they scored the only goals of the third period to make it a game (3-2 loss) and in Game 5 they scored twice in 2:41 late in the third for a 2-1 victory.

2017-18

42-26-14

Playoff Record

2-4

LAST WEEK

11
When the Flyers lost, they left no doubt about it. In their four losses to the Pens, they were outscored 25-6. It wasn't a traditional playoff, as the winning team scored at least five goals in all by one game.

2017-18

44-29-9

Playoff Record

1-4

LAST WEEK

15
For the Devils, their victory ends up being just making the playoffs for the first time in six years and winning a game, as well as keeping the other scores close against the powerful Lightning.

2017-18

45-26-11

Playoff Record

1-4

LAST WEEK

9
Making the playoffs is one thing, being successful another. The six-season playoff streak ties the Wild for the longest (Anaheim) but they've been eliminated in Round 1 four of those six times.

2017-18

44-25-13

Playoff Record

0-4

LAST WEEK

12
Not only were the Ducks outscored 16-4 in their loss to San Jose, they held the lead just once. They scored just one goal beyond the 7:51 mark of the second period in all their games.

2017-18

45-29-8

Playoff Record

0-4

LAST WEEK

16
Jonathan Quick had a sensational save percentage (.947) in the first round, and lost all four games. That's the best SV% by a goalie through four losses in a playoff series in NHL history.