The case for moving JA Happ now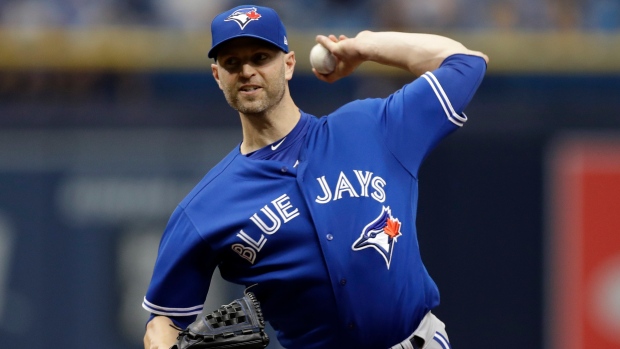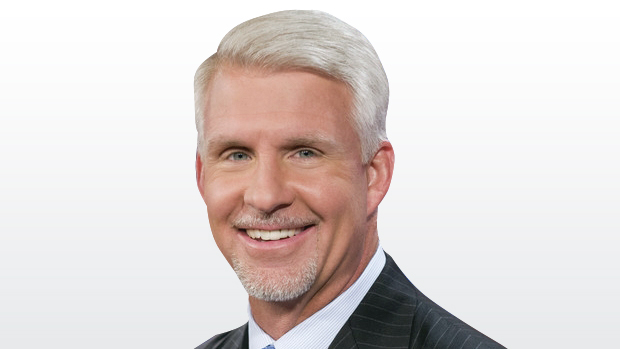 One of the most intriguing off-season acquisitions for the Blue Jays this past winter was outfielder Randal Grichuk.
He showed legitimate power in the past, as well as solid outfield play and a good arm as a member of the Cardinals. He has above average tools to play the game that hadn't yet translated into the skills to become a consistent everyday player.
Grichuk is what baseball people call a tease. He shows flashes of brilliance, but it comes and goes. You could close your eyes and picture a power-hitting, run-producing corner outfield bat for years to come, but it just isn't a reality yet. It was right for Jays fans to get excited about his potential, but also appropriate to withhold a complete buy-in.

The 2018 season started miserably for Grichuk. He was only hitting .106/.208/.227 with one homer and six RBI when he injured his knee in a game on April 29. He had struck out in 21 of his 56 at bats. He chased pitches out of the zone. He missed pitches in the zone. He was awful. Nobody was saying it out loud but he was likely headed to the bench soon and not long for the big leagues at that rate.

He was in a dark hole with no way out at the plate. But the injury in some regards may have saved him as the time away let him hit the reset button physically and mentally.

While he was rehabbing his knee, he was rehabbing his swing and thinking too. One of the things he worked on was trying to stand taller in his stance. This would hopefully free up his lower body to be able to rotate to get to the fastball better, particularly inside. He had been locking himself up, not able to get to the heater. The opposition was busting him inside to make him overly conscious of that pitch and then going away with breaking stuff and off-speed pitches to get him to swing and miss and chase off the plate.

When the 26-year-old outfielder has been locked in at the plate in the past, he has hit the fastball well. This April prior to his injury, he hit only .075 (3 for 40) on the fastball. Since his return, he's hitting .389 on fastballs. His adjustment has worked. He is catching up to the inside fastball. Plus, he is much more aggressive when he gets the fastball.


Certainly, when a hitter gets hot, he can't believe he is getting so many good pitches to hit. The Braves kept trying to beat him inside with fastballs and he kept clearing hips and hands and driving the baseball. I am not sure why any pitcher would throw him a fastball - he has never been a great breaking ball or off-speed hitter.

The league will likely adjust soon and go back to pitches with a wrinkle. The next step for him is learning how to hit the breaking ball better. The first step in hitting a breaking ball is learning how to take it. Lay off of it. Don't swing at it. That means pitch recognition is critical. Once he can lay off the pitch and not chase it out of the zone he will find himself getting more 1-0, 2-0, 2-1, 3-1 counts. The fastball counts.

The biggest concern on Grichuk is that he has gotten to this critical point as a hitter a number of times in his career. He has had some success and then lost it. He has struggled and then found his stroke, only to lose his discipline again. That's why the Cardinals gave up on him and traded him for set-up man Dominic Leone. GMs don't tend to trade middle relievers for corner outfielders. The Cards had resigned themselves to the fact that he wouldn't get over the hump and figure out his consistency at the plate.

He will be 27 in August. The clock is ticking on his career. He has so many strengths: power, solid defender, good arm, good base runner, etc. But players get paid to hit and they're everyday players when they can hit. So far, he's at best a semi-regular player. Maybe this time will be the charm and he will grab hold of the proper thinking, stance, load, pitch recognition and launch angle and not let go of it.

So, go ahead and close your eyes and dream because it's got a chance to be a good one. I just hope you wake up someday and it's real.
---

The Jays are hoping Marcus Stroman's return from the disabled list goes as well as Grichuk's return. The diminutive right-hander hasn't been himself all season. It started with shoulder inflammation in spring training and a rush for opening day. He never had the command of his sinker-ball that allowed him to be so successful last season. It makes me wonder whether he was ever completely healthy.

Stroman was also battling some mechanical issues that I have detailed in a previous article: His glove hand and pitching hand were going up to the sky when his leg was moving upward above the pitching rubber. Instead, his hands should have been separating and the ball hand coming down out of the glove starting the loop of his arm moving toward delivery of the baseball. His flaw was not allowing him to get on top of his sinker out in front of his body. This led to an elevated pitch with less movement, making it much more hittable.

It is hard to know what came first. Did the poor mechanics lead to shoulder fatigue? Or did shoulder fatigue lead to the poor mechanics in an effort to generate more power in his pitches? I believe he wasn't quite right physically and he tried to dig deeper to generate more oomph in his pitches and he got off kilter with his delivery. It doesn't really matter which came first as his time on the DL should have allowed him to fix both issues.

The Jays will be cautious with his innings upon his return to make sure he builds strength appropriately. The Jays aren't in a playoff race so health is more important than innings pitched right now. The plan should be to get Stroman back on track physically, mentally and mechanically. The right-hander is a great competitor. He will want to battle and win at any cost. They can't take any risks with him though. He needs to be at a peak level the next time the Jays have games that have playoff connotations for their club. Unfortunately, that won't likely be until next year.
In order to work Stroman back into the rotation, I would pull Jaime Garcia (2-6, 6.16 ERA) out of the rotation. I would either put him on the disabled list or put him in the bullpen and have him work on a few things to get back on track. He has not thrown well. He has found too much of the middle of the plate in hitters counts this year. He has walked far too many and is sporting an awful 1.61 WHIP. This means that Sam Gaviglio stays in the rotation to get a more serious look in that role. It is important to reward performance in an organization. It sends a message to everyone.
---
Spitting Seeds
The Jays have to be concerned about Aaron Sanchez's finger as he had to be removed after one inning on Thursday night against the Angels. He suffered a contusion to his right index finger on his pitching hand before arriving to the ballpark. As I was watching the game and didn't know about the finger injury I was concerned that maybe his blisters had returned. Sanchez walked Mike Trout and the ball was coming out of his hand awkwardly. At least it explains the performance, but it is another setback for the young right-hander. The injury was even more painful as Sanchez was pitching in front of friends and family.

The Blue Jays are 28-2 in games this year in which they have scored five runs or more. As disappointing as the pitching was at times early this year, the offense has been the main culprit to their struggles at times.

JA Happ delivered another gem this week against the Atlanta Braves. He is the first Jays' starter to pitch into the ninth inning this season. Happ (9-3, 3.56 ERA) is pitching some of the best baseball of his career and it couldn't come at a better time for the Jays. He is 5-0 in his last seven starts…and he's emerged as the best starting pitcher available at the trade deadline. Rangers starter Cole Hamels continues to throw well as an option for contenders, but Hamels is making $20 million and has a $20 million option for next season with a $6 million buyout. Plus, he has a limited no-trade clause. I wouldn't be surprised if he is traded before July 1. His value will never be greater this year than it is right now. There are multiple clubs interested: The Yankees, Mariners, Nationals, Braves, Diamondbacks, Dodgers and Brewers. Any club that gets him now instead of on July 31 might get seven more starts from him. For some clubs that could be the difference between winning a division or settling for a wild card. For others it may mean winning the wild card or not making the playoffs at all.

Marco Estrada (4-6, 4.66 ERA) outpitched Nationals ace Max Scherzer last Saturday and has only allowed three earned runs over his last three starts. If Estrada can string together several more starts like that he could become a trade chip for the Jays as well. He has a nice post-season pedigree (3-3, 2.64 ERA) and is a great teammate in the clubhouse. He isn't a front-end of the rotation option, but he could be a difference maker on a club with a deep bullpen. Upgrading the 3, 4 or 5 spot in the rotation is worth doing too in a pennant race. He can at least get through a lineup a couple of times and give his club a chance. His contract is reasonable and he always has the chance to dial up a gem like he did last Saturday.

The Jays will be willing to move any of their veteran relievers at the trade deadline. The guy they will have to make a decision on is Ryan Tepera (4-2, 2.70 ERA) if a GM comes calling. He has emerged as the closer for the time being with Roberto Osuna still out dealing with his domestic assault charge. The Jays have Tepera under their control for through 2020. But if the right deal comes along they may have to consider it. My experience tells me a deal is unlikely because for now his value to the Jays is as a closer while for a pennant contender he would only be a 6th - or 7th -inning guy. That difference in value makes a deal prohibitive.

Commissioner Rob Manfred gets it. I love the idea of playing a major league game in Omaha, Nebraska before the start of the College World Series. Next year, the Royals and Tigers will play a game on June 13 at TD Ameritrade Park. In his efforts to cultivate a younger fan base, this is a nice move (jJust as he had done last year when the Cardinals and Pirates played in Williamsport, PA at the home of the Little League World Series). That's why the Yankees and Red Sox will be playing a two-game series in London next summer as well.

Giants closer Hunter Strickland broke his hand this week when he punched a door after blowing a save. It is bad enough that he broke his hand, but it's even worse that it is his throwing hand. We all know you punch with your non-throwing hand. The amazing thing is that he doesn't believe he has an anger problem. He said, "I don't think I have an anger problem, but sometimes I let my emotions get the best of me." This is the same guy that plunked Bryce Harper last season because he believed Harper stood and watched a home run too long back in 2014. In the 2014 World Series against the Kansas City Royals he yelled at Salvadore Perez as he crossed the plate after a home run by Omar Infante, assuming Perez was stealing signs. His most recent beef was with Lewis Brinson, centre fielder for the Marlins. Strickland didn't like that Brinson over-celebrated a sac fly in a preceding series against the Giants. Strickland threw up and in on Brinson, which motivated the youngster to deliver a big hit on the Giants closer. I would hate to see if he did have an anger issue. The first step in dealing with a problem is admitting you have one. Strickland needs someone to be honest with him: He has a problem.

Whereas the starting pitching market at the trade deadline will be a bit light there will be some big bats potentially available. Here is a list of trade candidates among the position players:
Trade Bait - Position Players
| Pos | Player | Team | Contract Status |
| --- | --- | --- | --- |
| C | JT Realmuto | Miami Marlins | Free Agent 2021 ($2.9M) |
| C | Jonathan Lucroy | Oakland A's | Pending Free Agent ($6.5M) |
| 1B | Justin Bour | Miami Marlins | Free Agent 2021 ($3.4M) |
| 1B | Jose Abreu | Chicago White Sox | Free Agent 2020 ($13M) |
| 2B | Brian Dozier | Minnesota Twins | Pending Free Agent ($9M) |
| 2B | Jed Lowrie | Oakland A's | Pending Free Agent ($6) |
| 2B | Scooter Gennet | Cincinnati Reds | Free Agent 2020 ($5.7M) |
| 3B | Josh Donaldson | Toronto Blue Jays | Pending Free Agent ($23M) |
| 3B | Adrian Beltre | Texas Rangers | Pending Free Agent ($18M) |
| 3B | Mike Moustakas | Kansas City Royals | Pending Free Agent ($15M) |
| SS/3B | Manny Machado | Baltimore Orioles | Pending Free Agent ($16M) |
| OF | Adam Jones | Baltimore Orioles | Pending Free Agent (&17M) |
| OF | Cory Dickerson | Pittsburgh Pirates | Free Agent 2020 ($5.95M) |
| OF | Billy Hamilton | Cincinnati Reds | Free Agent 2020 ($4,6M) |
| UT | Josh Harrison | Pittsburgh Pirates | Free Agent 2021 ($22M remaining) |


This has a chance to be a dramatic and exciting trade deadline.