The Mitchell Report: Gaviglio shines but Jays fall to A's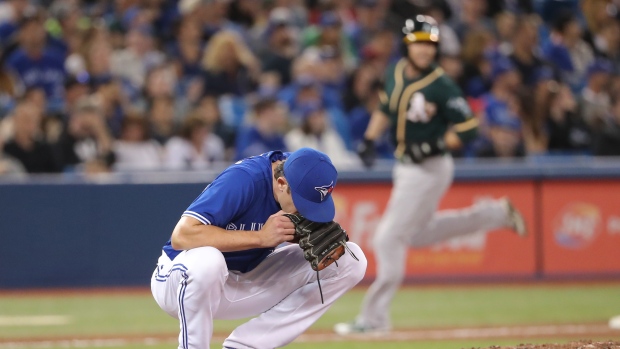 Starter Sam Gaviglio threw 5.1 scoreless innings but Chad Pinder's go-ahead grand slam in the 8th inning was the difference as the Oakland Athletics took down the Toronto Blue Jays 5-4 at Rogers Centre. TSN Baseball Reporter Scott Mitchell provides his key takeaways from the game:
GAME 46, MAY 19: ATHLETICS AT JAYS
RESULT: 5-4 loss
RECORD: 22-24
STREAK: L3
1—Gaviglio shines in first start
Not that the Jays had many other options to turn to, but Sam Gaviglio earned himself a longer look in the rotation by spinning 5.1 innings of scoreless baseball Saturday afternoon.
The 6-foot-2 right-hander scattered six hits, but it was his command that led to his success, as walked just one and struck out six, living on the edges of the plate — and taking advantage of home plate ump Shane Livensparger's forgiving strike zone — all day long.
Gaviglio relied on a sinker-slider-changeup mix, with a few curveballs mixed in, and threw 61-of-88 pitches for strikes, topping out at just 90.3 mph.
Gaviglio is currently lined up to start the series opener in Philadelphia next Friday, which kicks off a nine-game road trip.
2—Bullpen blows it
Unfortunately for Gaviglio, there was no "W" attached to his strong outing, thanks to the bullpen.
After being so good this season, pitching to a 3.22 ERA prior to Saturday's blowup, which was the second-best bullpen ERA in the American League, John Axford and Tyler Clippard combined to give up five earned runs in the eighth inning.
The meltdown quickly turned the 4-0 lead Gaviglio left with into a 5-4 deficit, one that would hold up and leave the Jays on the verge of a sweep.
The big blow was the grand slam Clippard gave up to A's second baseman Chad Pinder, which bumped his ERA from 1.17 to 1.90.
They were the first earned runs Clippard had allowed since April 19.
3—Morales looking for ways to bust slump
Batting gloves to no batting gloves.
Glasses to no glasses.
Clean shaven to bearded.
Kendrys Morales has tried just about everything to change his luck over the past couple of weeks, and on Saturday he debuted a new high socks look.
It seemed to work to an extent, even if the double he hit in the bottom of the sixth inning was botched by A's centre fielder Dustin Fowler.
The hit was just Morales' fourth since May 2, so he'll definitely take it.
Morales finished 1-4 to bump his slash line to an ugly .150/.239/.270 on the season.
4—Urshela provides some pop
One day after picking up an RBI single, Gio Urshela was handed another start at shortstop and kickstarted a four-run fifth inning with a two-run homer, his first as a Blue Jay.
With the Jays struggling mightily to score runs — they came into the game averaging 4.0 runs per game in May, down from 5.3 in March/April — Urshela producing out of the No. 9 spot is exactly what they need, and it's a reason to temporarily look the other way when it comes to his iffy defensive ability at the six-spot.
5—Jays get big bat back
It was a quiet afternoon for Teoscar Hernandez, who went hitless in five at-bats, but the important part was the 25-year-old outfielder was back in the lineup after missing two games due to back tightness.
Hernandez seems to be manager John Gibbons' choice to lead off against left-handers, with Curtis Granderson getting the top-of-the-order assignment against righties.
UP NEXT: RHP Daniel Mengden (3-4, 3.75) vs. RHP Joe Biagini (0-2, 7.98) on Sunday, 1:07 p.m.​