The Mitchell Report: In-demand Happ delivers for Blue Jays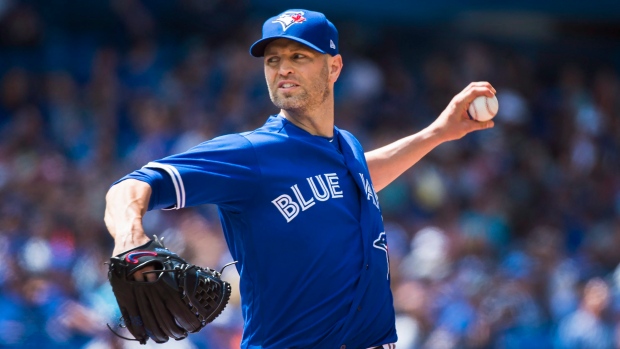 J.A. Happ strikes out eight and walks no one to become the first pitcher in baseball to post four starts of eight-plus strikeouts and no free passes this season as the Blue Jays edge the Braves 5-4 to split their two-game interleague series at Rogers Centre on Wednesday afternoon. TSN Baseball Reporter Scott Mitchell provides his key takeaways from the game:
GAME 73, JUNE 20: BRAVES at JAYS
RESULT: 5-4 win (series split 1-1)
RECORD: 34-39
STREAK: W1
1—Happ just misses first complete game since 2010
J.A. Happ hadn't thrown a complete game in eight years, but he came oh-so close Wednesday afternoon against the Braves.
Other than two mistakes early — solo homers by Kurt Suzuki and Peter Bourjos — Happ cruised into the ninth inning, before back-to-back one-out singles ended his day and forced Ryan Tepera into the game to close it out.
When all was said and done, Happ had allowed four earned runs over 8.1 innings, striking out eight and walking no one to become the first pitcher in baseball to post four starts of eight-plus strikeouts and no free passes this season.
Happ's ERA jumped from 3.48 to 3.56 in his ninth win, but even Tepera said he deserved a better fate than what people are going to read in the box score.
One of the top options on the trade market, Happ is getting current results that back up the track record, and it's sure to have GM Ross Atkins fielding a number of calls on the free-agent-to-be over the next six weeks.
Happ is slated to throw again Monday in Houston, but we're at the point now where each and every start could be his last in a Blue Jays uniform.
2—Early lead provided by Morales' power
Happ was afforded an early lead thanks to Kendrys Morales turning on an Anibal Sanchez pitch in the first inning and sending it into the second deck in right field.
The two-run home run was Morales' sixth of the year, as he continues to dig his way out of an early statistical hole and back to acceptability.
Since his average bottomed out at .143 on May 10, Morales came into Wednesday's matinee slashing .298/.330/.447 in the 28 games since.
Last year through June 20, Morales had 15 homers and an .807 OPS.
This year, his OPS is just .672.
3—Grichuk finally gets over Mendoza Line
Similar to Morales, Randal Grichuk has dug his way out of a big hole, raising his average over 100 points in just 17 days.
Grichuk came into the day right on the Mendoza line, but an RBI double in the fourth inning helped him to a 1-for-4 day, pushing his batting average to .202.
Even through all the struggles this season, his .718 OPS is still higher than Morales, Russell Martin (.616), Aledmys Diaz (.657), Devon Travis (.666) and Kevin Pillar (.705).
With Steve Pearce on the verge of returning from a six-week absence due to an oblique injury, manager John Gibbons will be forced to divvy up playing time with five outfielders on the roster.
4—Tepera saves the day for Happ
Since locking down his first save May 25, Tepera has continued to pitch well in the closer's role, a gig he doesn't look to be giving up anytime soon.
Coming into the day, the 30-year-old right-hander had pitched to a 2.25 ERA over his last 12 innings since claiming the job, locking down four saves.
His experience pitching with runners on base in all sorts of situations came in handy in securing his fifth save Wednesday, despite allowing a pair of hits to turn a three-run lead into a nail-biter.
Tepera, who's making just $574,700 this season, is arbitration-eligible for the first time next winter, and those saves will turn into dollars for the Texan.
5—Donaldson heading to Florida, not California
Prior to the game, Gibbons announced Josh Donaldson will not travel to California for their series with the Angels.
Instead, Donaldson, who was away from the team to attend a funeral Wednesday, will head to the team's Dunedin complex to continue rehabbing the left calf issue that has sidelined him since the end of May.
It's been an awfully slow process and there's currently no timeline for a return.
Gibbons also confirmed Marcus Stroman, as expected, will make his return from shoulder inflammation Saturday against the Angels.
UP NEXT: RHP Aaron Sanchez (3-5, 4.35) vs. LHP Tyler Skaggs (6-4, 2.81) on Thursday, 10:07 p.m.​