The Mitchell Report: Sanchez builds momentum, Jays snap three-game slide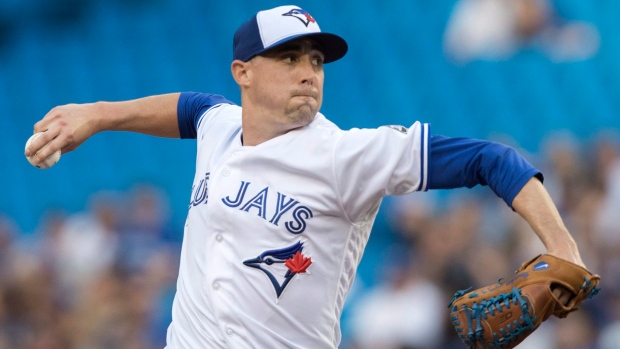 Yangervis Solarte knocks in two home runs from both sides of the plate while Aaron Sanchez ties a season-high with eight strikeouts as the Toronto Blue Jays hold off a late Washington Nationals rally to win the opener of their three-game set 6-5 at Rogers Centre on Friday night. TSN Baseball Reporter Scott Mitchell provides his key takeaways from the game:
GAME 69, JUNE 15: NATIONALS at JAYS
RESULT: 6-5 win
RECORD: 31-38
STREAK: W1
1—Fastball drives solid Sanchez start
Aaron Sanchez continues to build momentum with each and every start, and Friday's performance against a deep Washington Nationals lineup was one of his best this season.
Sanchez battled early, but ended up going six innings, allowing three runs on six hits and tying a season-high with eight strikeouts, a number he's hit in three different starts this season.
Once again, Sanchez's stuff was nasty, as he induced 16 swinging strikes, including 13 of them on his four-seam fastball.
To contextualize that number, the average number of swings and misses starters around baseball get is about 10 every 100 pitches.
Sanchez used a fastball-heavy approach against the Nats, throwing 86 of them in 104 pitches.
He'll take a 4.35 ERA to the mound with him next Thursday to kick off a seven-game road trip in Los Angeles against the Angels.
2—Jays finally have success against a southpaw
Coming into the night, the Jays had lost a franchise record 11 straight when facing a left-handed starter.
It's hard to explain considering the amount of right-handed and switch-hitters in the Jays lineup, but they finally had some success against Gio Gonzalez, swatting a pair of home runs and getting to the Nats southpaw for five runs.
Overall, the Jays are now 9-18 against lefty starters, and 22-20 against right-handers.
3—Solarte powers up from both sides
Homering from both sides of the plate in the same game is tough to do for a number of reasons — opportunity, mostly — but Yangervis Solarte became the ninth Blue Jays hitter to accomplish the feat Friday.
Solarte bashed one into the second deck off Gonzalez as a righty in the third inning, and then touched up Justin Miller from the left side of the box in the seventh inning.
That one proved to be huge in the grand scheme of things, as the Nats left the tying run on base in the ninth inning.
Solarte finished 3-for-4 with three ribbies to push his season slash line to .260/.315/.477 with 14 home runs, four away from tying his career high.
4—Interleague play has been kind to Travis
Devon Travis has struggled mightily this season, even enduring a near-month long demotion to Triple-A, but he welcomed the sight of a National League club arriving in town Friday.
Coming into the game, Travis was sporting a .361 batting average in interleague play — the highest batting average in interleague play of all qualified hitters since 2015 — and it's a sample size that forces you to pay attention.
In 119 at-bats since arriving in the league in 2015, Travis had piled up 11 doubles and six home runs in 32 games against NL opponents.
True to that narrative, Travis clubbed his third homer of the season in the third inning, a two-run shot that erased an early 2-0 Nationals lead.
5—Donaldson still not ready to go
Eligible to return from left calf tightness a week ago, Josh Donaldson still can't leap the final hurdle.
For well over a week now, Donaldson has been throwing, fielding ground balls, and taking batting practice, but he still can't run the bases at a satisfactory speed to get cleared.
"I was here watching him run the bases and he still can't cut it loose," manager John Gibbons said prior to the game.
Donaldson's expected to need at least a game at Triple-A Buffalo before he's activated, but when that will be is anybody's guess at this point.
Donaldson has been out since May 29, and the Jays are just 5-9 without their star third baseman in the lineup.
In other injury news, Marcus Stroman (shoulder) will make his second rehab start at Double-A New Hampshire on Monday, and outfielder Steve Pearce (oblique) is slated to DH at Triple-A Buffalo on Saturday.
UP NEXT: RHP Max Scherzer (10-2, 2.00) vs. RHP Marco Estrada (3-6, 5.09) on Saturday, 4:07 p.m.
VLAD JR. WATCH: Out since June 6 with strained patellar tendon in left knee, Vladdy Jr.'s Double-A slash line stands at .407/.457/.667 with 11 home runs and 55 RBI in 53 games. He's scheduled to be re-evaluated during the first week of July.​