The NHL's college signing season begins
The Chicago Blackhawks have been busy already, signing Yale forward John Hayden and Miami University forward Anthony Louis, Bob McKenzie writes.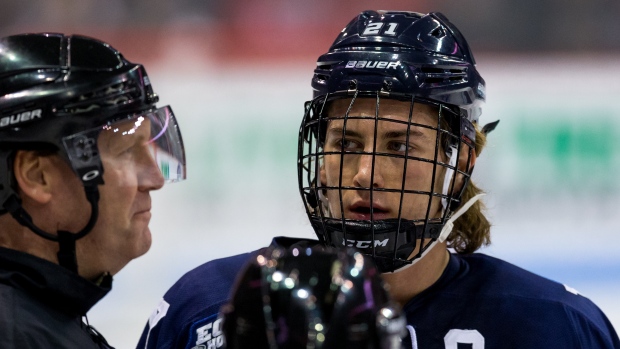 If it's time for the U.S. college hockey playoffs, then it's time for the NHL's college signing season.
The Chicago Blackhawks have been busy already – signing graduating senior forward John Hayden out of Yale on Sunday (he's on the NHL roster and will soon play games) and Miami University graduating forward Anthony Louis Monday (he's off to Rockford of their AHL) – and could get even busier.
The Hawks will also be talking to Northeastern junior forward Dylan Sikura and Omaha-Nebraska sophomore forward Fredrik Olofsson now that their respective college seasons are over. Chicago will gauge their interest in turning pro and then decide what tack to take with them.
Other Hawk prospects in college whose seasons are expected to continue into the NCAA tournament include Western Michigan sophomore defenceman Matheson Iacopelli, Notre Dame sophomore defenceman Dennis Gilbert and Boston University freshman defenceman Chad Krys. Once those players have finished their college seasons, there are bound to be discussions and decisions made on where they'll play next season.
The most pressing order of business right now, though, is NHL teams competing to sign the U.S. college unrestricted free agents whose seasons are over.
The top prize in that regard is Northeastern graduating senior Zachary Aston-Reese, a 6-foot, 204-pound forward who had 31 goals and 63 points for the Huskies in 38 games this season. Pittsburgh, Edmonton, Vancouver, San Jose, Los Angeles and Detroit are among a very large group of NHL teams pursuing him, with a decision expected in the next day or so.
Minnesota State sophomore defenceman Daniel Brickley has decided to return to school for his junior year. He was perhaps the top blueliner drawing free-agent interest.
St. Lawrence graduating senior defenceman Gavin Bayreuther is sorting through his options before signing in the next day or two. Buffalo, Dallas, New Jersey and Colorado are among the teams with high levels of interest in Bayreuther.
Some of the other top college free agents – Mike Vecchione and Spencer Foo from Union College; Neal Pionk and Alex Iafallo from Minnesota-Duluth; Tyler Sheehy and Justin Kloos from Minnesota; and, Josh Healey from Ohio State – are still playing.
Union, Minnesota-Duluth and Minnesota are assured of NCAA tournament berths for games that will be played March 24-26, so those players won't be available to NHL teams until after that. Ohio State could still be in the NCAA field but will need things to fall its way in games this weekend.
Wisconsin would need to win the Big Ten championship this weekend to get into the NCAAs, so anything short of that could mean centre Luke Kunin will be turning pro.
Obviously, no decisions will be made until the Badgers' season is over, but it wouldn't be a surprise if the Minnesota Wild first-rounder were to sign a contract. If that were to happen, Kunin could finish the season with Iowa of the AHL on an ATO and his NHL entry-level contract would kick in next season.
Miami University junior defenceman Louis Belpedio is expected to make a decision this week on whether he'll return for his senior year or forgo it to turn pro with the Wild. He's currently injured (MCL) so there's no sense of immediacy, but he, too, once healthy, could finish this season out in Iowa.
The expectation is that as soon as the season ends for the University of North Dakota, the Vancouver Canucks will be signing sophomore winger Brock Boeser to an NHL contract. That won't be before the March 24-26 weekend.
No official word yet, but it certainly looks as though Canuck prospect Adam Gaudette – 26 goals in 37 games – will be returning to Northeastern University next season for his junior year.
Boston College is by no means guaranteed to make the NCAA tournament – winning the Hockey East title this weekend would give them an automatic berth, though there are other more complicated equations to get there – so if the Eagles are done, there'll be lots of speculation on the immediate future of Ottawa blue-chip prospect Colin White.
Few can imagine the Sens' 2015 first-round pick being back in college hockey next season but whether that translates to an immediate appearance on the Senators' roster now, or in the playoffs, remains to be seen. There are a great many variables – roster spots, health of the Sens, contract considerations – that will go into that decision.
The Detroit Red Wings expect to meet with 2016 first-rounder Dennis Cholowski in the near future to talk about his future plans. He just completed his freshman year with St. Cloud State.
The Wings are also likely to decide this week whether Omaha-Nebraska junior forward David Pope will return for his senior year or turn pro. Pope was a fourth-round pick in 2013.
Of course, as college teams get eliminated in the weeks ahead, more prominent names will come to the fore.
Boston University, for example, has a multitude of big names who could turn pro once the Terriers are done, including: Clayton Keller (ARI); Charlie McAvoy and Jakob Forsbacka-Karlsson (BOS); Dante Fabbro (NSH); Kieffer Bellows (NYI); Jordan Greenway (MIN); Brandon Hickey (CGY); Johnathan MacLeod (TB), amongst others.