The Sedins just keep answering the bell
TSN Hockey Insider Bob McKenzie looks at the long history of Vancouver's star Swedish twins getting verbally abused and challenged by opponents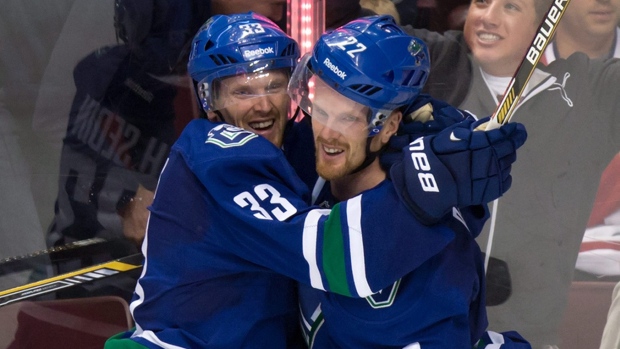 I had the best seat in the house for what may have been the ground zero of Sedin bashing.
It was at the 1999 World Junior Championship in Winnipeg, a tourney I'll always remember for a) the loudest fans I've ever heard; b) Roberto Luongo's coming-out party as an elite goaltender; and c) the Sedin twins being threatened with death and dismemberment.
Quite literally.
Canada was playing Sweden in the old Winnipeg Arena. It was rocking. The game ended up being no contest, a frenzied 6-1 home-team walkover. The beating wasn't limited to the scoreboard.
A Swedish player — if I remember correctly it was a linemate of Daniel and Henrik — was crushed into the boards (Brad Ference's name rings a bell as the perpetrator) and had to be taken from the ice on a stretcher. I was stationed at ice level, right between the two benches, no better vantage point to see and hear everything happening.
Oh, my goodness. I still have nightmares.
As the motionless Swedish player was being wheeled off, the Canadian players targeted the twins for a cacophony of verbal abuse like you wouldn't believe but can only imagine.
Death threats. Decapitation. Dismemberment. It was all liberally spiced with the saltiest language and slurs of all varieties. Nothing was off limits.
The general theme of it was, "You're next."
I do recall looking at the then wide-eyed 18-year-old brothers, who were in their NHL draft year, and wondering what they must have been thinking at that moment.
Were they scared? Intimidated? Or were they simply dumbfounded at their discovery of a whole new species of animal?
All these years later, 17 of them to be exact, has much changed?
Well, yes and no. The Sedins are still getting verbally abused and challenged, though we need not wonder any more about what they're thinking, or how they will respond or what they're made of.
They just keep answering the bell.
Daniel's game-winning goal in overtime against the Florida Panthers on Monday, and his subsequent celebratory fly-by of the Panther bench and stare-down of Shawn Thornton (who had apparently prefaced overtime by making some "inappropriate" comments to the twins that infuriated them) — was a great mic drop moment, Swedish style.
You talk a good game; I play one. Boom. Game over.
Of course, it didn't end there. It rarely does where the twins are involved.
Hall of Fame defenceman Denis Potvin, on the home-team Panthers' broadcast, called Daniel a "low life" and made some disparaging remarks about pointing fingers and peanut butter. Okay then. A near brawl erupted. And afterwards, Daniel said what is said on the ice stays on the ice but what the unnamed player (Thornton) said to two Canuck players (Daniel and Henrik) was clearly unacceptable.
I think I have a pretty good idea of what Thornton said to the Sedins, but since I don't know with absolute certainty I'll take a page out of Daniel's book of restraint and just leave it at that. Potvin's comments were just silly. The real point, I guess, is that, after all these years, Daniel and Henrik Sedin are still getting the business.
"I don't get it," Vancouver general manager Jim Benning said. "I really don't get it.
"Daniel and Henrik play big minutes, hard minutes, against the biggest and best competition in the NHL. They go to the hard areas to make plays and score goals. They aren't finesse players off the rush; they mostly play the cycle game down low in heavy traffic and go to the front of the net. They win battles. They're strong on pucks.
"They don't get injured a lot and when they do, they play hurt. They've played at a really high level consistently through their careers and they're still playing at a high level. They're leaders, on and off the ice. They're excellent players on the ice; they're even better people off the ice, in the community.
"I was in Boston, part of the Bruins, and I know Boston loves its tough hockey players. Well, these guys are tough as anyone — physically, mentally, emotionally. They play the game like warriors. They still always seem to be getting challenged and questioned. I don't get that."
For what it's worth, neither do I.
CAREFUL WHAT YOU WISH FOR
I always get a little queasy when I advocate for anything that might be viewed as "sanitizing" the game, because heaven knows this game is at its best when it's bordering on its worst.
At its core, hockey can be a really savage game. Truth to be told, as "excellent" as the game is now — we have excellent goalies, excellent coaches, excellent athletes, a proliferation of excellence all over the damn place there are too many nights in the NHL when all that excellence becomes pretty perfunctory.
Sunday night and Monday night, thanks to the Florida Panthers' barnstorming tour of western Canada, that definitely wasn't the case.
When Panther defenceman Erik Gudbranson clocked Edmonton forward Taylor Hall with a clean open-ice bodycheck on Sunday night, it set off a most welcome chain of events. The Oilers got really mad. They responded with a lot of hits of their own. The Panthers then responded to that. Suddenly, our very excellent brand of up-and-down the ice hockey became a lot more savage, a lot more emotional.
That's generally a good thing.
But then Oiler Matt Hendricks crushed Panther Aaron Ekblad into the boards with a vicious (unpenalized-but-message-sending) hit that left the star Florida defenceman dazed and confused. We can admire the sentiment — Hendricks is a wonderful old school hockey standard bearer — but we can't very well applaud the outcome, given what we know about head injuries and all. It was definitely worthy of the three-game suspension levied by the NHL the next day.
Therein lies the problem.
We want that emotion; we want some of that savagery that makes pro hockey pro hockey — don't you kids try this at home — but when it crosses a line, as it occasionally does when the engines get revving really high, we fall all over ourselves tut-tutting the behaviour of this guy or that guy or debating the law of the jungle.
It was the same thing with the end of the Florida-Vancouver game and the Thornton-Sedin stuff. On one hand, we want there to be some limits on player decorum, what they can or can't say to each other while trash talking, but the pure entertainment value of the end of that game — Daniel's goal, his fly by, the wild melee, Potvin's comments and the Sedin's post-game remarks — all made for a game that was talked about far and wide that night and the next day, too.
Those two games were a welcome departure from so many of the technically excellent games I've seen this season. Many of us who feel that way can't wait for the next time those teams play each other again, which tells you something right there.
But I'm fully prepared to admit I'm something of a hypocrite, because for as much as I savoured those two games, I still have a tough time reconciling a young star getting hit in the head on what amounts to payback or seeing one of the NHL's greatest ambassadors explain just how far offside some trash talking went.
No one ever said loving hockey would always be easy.
Bob McKenzie is the 2015 recipient of the Elmer Ferguson Memorial Award for excellence in hockey writing.