Top-10 UFC Fights of 2017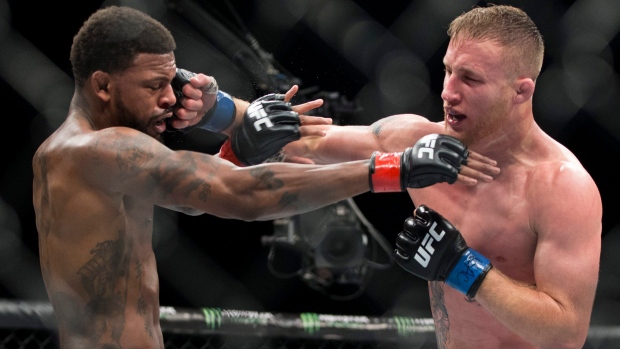 In 2017, the UFC put on roughly 500 fights with some being better than others. With that sample size, which of these fights were truly the cream of the crop, the fights with wow factor that will be remembered beyond this year.
In a year where we saw three titles change hands in one night, two new divisions added and many memorable moments, these are the ten fights that stood out above the rest.
TSN will be airing three nights of fights with three of the biggest pay-per-view cards of the year on consecutive nights. UFC 211 airs on Tuesday, December 19 at 7:00 pm et, UFC 218 on Wednesday, December 20 at 8:00 pm et and UFC 217 at 8:00 pm et on Thursday, December 21 all on TSN2.

10) Frank Camacho vs. Damien Brown at UFC Fight Night 121 on November 19 at Qudos Bank Arena in Sydney, Australia
On an event that contained the longest main card in televised UFC history as a result of six straight fights going the distance and resulting in a decision, the undercard was the highlight.
During the preliminary card, the fans were treated to a fight between Camacho and Brown that featured a combined 258 significant strikes.
With both fighters smiling as they picked each other apart for three rounds in Brown's home country, these fighters put on a show and were rewarded Fight of the Night. Unfortunately for Camacho, the eventual winner by decision, he failed to make weight for the fight and was not eligible to earn the $50,000 bonus as a result.
Regardless, the crowd was going wild and those who arrived at the event early enough to see the fight were rewarded for their commitment.
9) Andrew Sanchez vs. Ryan Janes at The Ultimate Fighter: A New World Champion Finale on December 1 at the Park Theater in Las Vegas, Nevada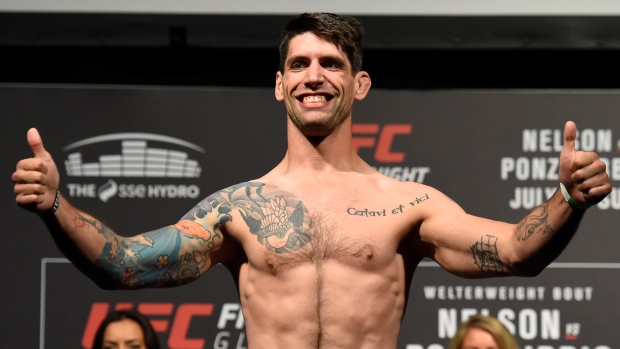 Janes, the lone Canadian on this list, was all but finished in the first round after Ultimate Fighter 23 winner Sanchez knocked him down and pummelled him with strikes. In total, Sanchez landed 57 significant strikes in the round and many felt that the fight should have been stopped.
Referee Mark Smith gave Janes the chance to recover and Janes showed that he was still in the fight when he responded in the second round by landing 97 strikes of his own against an exhausted Sanchez.
With Sanchez on the brink of exhaustion heading into the third round, Janes finished his incredible comeback with a technical knockout win.
The only downside was Sanchez and Janes were not given the Fight of the Night bonus, a decision that was criticized by many.
8) Rashad Coulter vs. Chase Sherman at UFC 211 on May 13 at American Airlines Arena in Dallas, Texas
In an action-packed first round, Sherman picked the Dallas-based Coulter apart with leg kicks to the point where he could barely stay upright.
As Sherman continued to do damage to Coulter's leg, his opponent pushed forward on sheer will and determination.
Sherman and Coulter landed damaging shots on one another until the midway point of the second round when Sherman caught Coulter with a fight-ending uppercut.
Despite the loss, Coulter showed huge heart to hang in there with Sherman in spite of the damage to his leg.
Even though this was a stacked card featuring two title fights and the aforementioned Alvarez vs. Poirier fight, Coulter and Sherman went home with much deserved Fight of the Night bonuses.
7) Lando Vannata vs. Bobby Green at UFC 216 on October 7 at T-Mobile Arena in Las Vegas Nevada
On a night where emotions ran high following a heinous attack that claimed the lives of 58 people earlier in the week in Las Vegas, Vannata and Green set the tone for a great event at UFC 216.
In a back and forth affair, Vannata and Green went toe to toe with a mix of technical striking and footwork that had both fighters in trouble at various points of their three round battle.
With Vannata losing a point after an illegal knee strike that was landed on Green while he was considered a downed opponent, the fight eventually ended in a draw.
After the fight, Green told TSN that he would love for there to be a rematch down the road and anyone who watched this fight would surely agree with that sentiment.
6) Darren Elkins vs. Mirsad Bektic at UFC 209 on March 4 at T-Mobile Arena in Las Vegas
In what may be the biggest comeback in UFC history, Elkins took a beating in the first round against Bektic that every judge scored 10-8 in Bektic's favour.
The second round was also decidedly in Bektic's favour, with all judges scoring it 10-9.
With the third round going Bektic's way, Elkins did not show any sign of quitting and despite being on his back and getting outwrestled, Elkins was able to win a scramble, get to his feet, land some big strikes followed by a head kick that crumpled Bektic.
It was the ultimate show of heart in a fight where Elkins was a huge underdog that earned him a Performance of the Night bonus and his fourth straight win.
5) Mike Perry vs. Santiago Ponzinibbio at UFC on FOX 26 on December 16 at Bell MTS Place in Winnipeg, Manitoba
When two of the most powerful strikers in the welterweight division faced one another, nobody thought that this fight would go to a decision, but neither Ponzinnibio nor Perry had any intention of getting knocked out during their much hyped fight.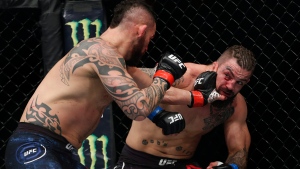 The first round started with Perry landing some big shots on Ponzinibbio, who withstood the onslaught.
The second round was the opposite, with Ponzinibbio throwing the kitchen sink at Perry and he was able to get out of the round.
In the third round, Perry started off aggressively, but was ultimately taken down and controlled by Ponzinibbio, who went on to win by unanimous decision in a fight where both fighters hurt each other badly when neither was willing to slow down.
4) Jessica Andrade vs. Claudia Gadelha at Ultimate Fight Night 117 on September 23 at Saitama Super Arena in Saitama Japan
In an arena that has been hallowed ground for mixed martial arts due to events that had been held during the days of Pride Fighting Championships before women competed on big mixed martial arts cards, it was a treat for the fans at the Saitama Super Arena when two female fighters stole the stage.
Gadelha, who at the time was considered the second best women's strawweight in the world after dominating every opponent not named Joanna Jedrzejczyk, took on Andrade, the last fighter to fall at Jedrzejczyk's hands earlier in the year at UFC 211.
While Andrade was a sizeable underdog against Gadelha, the end result showed that it was not justified. Andrade picked Gadelha apart over three rounds of stand up, back and forth action.
The fight, which was named Fight of the Night, showcased Andrade's striking and takedown abilities as she landed 141 strikes against Gadelha, who was outmatched on the feet.
3) Justin Gaethje vs. Eddie Alvarez at UFC 218 on December 2 at Little Caesars Arena in Detroit, Michigan
In a fight specifically designed to provide sheer entertainment between two of the UFC's most violent brawlers, Gaethje and Alvarez did not disappoint.
The two combined for 277 significant strikes in under three rounds of action as they stood in the centre of the octagon and traded their best shots.
Ultimately, Alvarez was able to outlast Gaethje and after beating him in the first two rounds, he was able to score a knockout victory in the third round with a vicious knee to the head of his opponent, costing Gaethje the first blemish on his then 18-0 record.
Gaethje and Alvarez, two of the UFC's biggest free agent signings in promotional history, each earned a Fight of the Night bonus.
2) Yancy Medeiros vs. Alex Oliveira at UFC 218 on December 2 at Little Caesars Arena in Detroit, Michigan
Before the glory of Gaethje vs. Alvarez took place later in the card, Medeiros and Oliveira were unwilling to take a backseat and provided fireworks of their own during the preliminary card of UFC 218.
Similar to the Elkins vs. Bektic fight, Medeiros was in big trouble in a first round that could have been stopped on multiple occasions and that multiple judges had scored 10-8 in Oliveira's favour.
Despite that, Medeiros fired back in the second round and was ultimately able to tire out Oliveira and finish him in the third round.
With Medeiros hailing from Hawaii and Oliveira from Brazil, it foreshadowed the main event of UFC 218 where Hawaiian Max Holloway was able to retain his featherweight title against Brazilian featherweight legend Jose Aldo.
The main event was exciting, but it was Medeiros and Oliveira and Alvarez and Gaethje that stole the show.
1) Justin Gaethje vs. Michael Johnson on July 7 at The Ultimate Fighter: Redemption Finale at T-Mobile Arena in Las Vegas
Expectations were high when a 17-0 newcomer named Justin Gaethje made his UFC debut and introduced himself to fans that were unfamiliar with some of his incredible fights during his championship reign with the World Series of Fighting.
If they were unfamiliar with him before the fight, it's impossible that they didn't remember his name afterwards.
With Johnson providing the perfect stylistic matchup to spark incredible fireworks in the cage, the two combatants went back and forth nearly finishing the other on multiple occasions during a frenetic fight that clocked in just shy of ten minutes.
Both athletes were put into tough predicaments and it was Gaethje that eventually emerged victorious, scoring a technical knockout victory at the end of the second round, cementing himself as a top-10 lightweight, earning a coaching role on The Ultimate Fighter: A Champion is Crowned and walking away $100,000 richer with both a Performance of the Night and Fight of the Night bonus.
Gaethje has become appointment viewing, he has had two fights in the UFC and both are on this list. I will be keeping a few slots warm for him on next year's list as we look ahead to more entertaining fights for 2018.