The Ultimate Fighter Undefeated: 16 Fighters, 0 Losses, 2 Winners
The Ultimate Fighter is back for its 27th season and with a previously unexplored premise, as it will feature sixteen undefeated fighters. The fighters will compete in the featherweight and lightweight divisions and will be coached by UFC heavyweight champion Stipe Miocic and light heavyweight champion Daniel Cormier.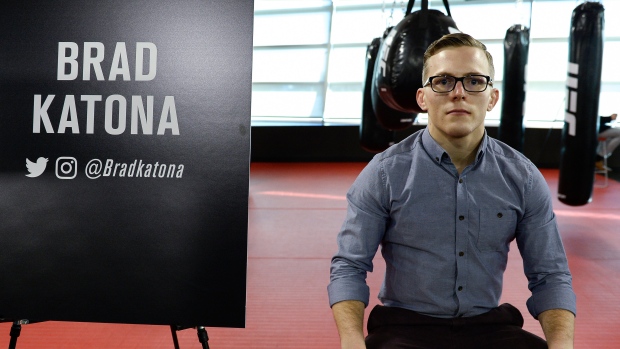 The Ultimate Fighter is back for its 27th season and with a previously unexplored premise, as it will feature sixteen undefeated fighters.
The fighters will compete in the featherweight and lightweight divisions and will be coached by UFC heavyweight champion Stipe Miocic and light heavyweight champion Daniel Cormier, who will square off in the main event of UFC 226 in Las Vegas on July 7. The winner of the show will be determined on the night prior at The Ultimate Fighter 27 Finale at The Pearl at the Palms.
While there can only be two winners, every fighter from the show will still be considered undefeated until the finale as the fights on the show are considered exhibitions on their official records.
The two hour premiere episode airs this Wednesday at 10:00 pm ET on TSN5.
Here is some background information to familiarize you with the cast.
Featherweight:
Brad Katona: Katona is the show's lone Canadian and the 26-year-old, 6-0 featherweight has been fighting in Western Canada's regional scene since he was 23.
Katona has shown his diversity by winning at least one fight by KO, submission and decision.
While his game is well-rounded, he is a decorated striker, having won the gold medal at the Canadian Golden Gloves boxing championship in 2013.
In addition to fighting, Katona also has a Bachelor of Science in Mechanical Engineering from the University of Manitoba.
Ricky Steele: Nicknamed "The Karate Kid", Steele is a 29-year-old with a 5-0 with two of those wins coming in RFA (now LFA), one of the premiere promotions outside of the UFC. All of Steele's wins have come by way of unanimous decision.
As his nickname implies, Steele has a karate background and does his best work from distance. Steele often switches stances and does a good job of stuffing takedowns.
At 29, the Boise, Idaho native is one of the oldest fighters on the show, but he is quite big for a featherweight as his build is comparable to champion Max Holloway. Both are 5'11" and Steele has five more inches of reach than Holloway, which has proven to be an asset for him to keep his opponents at distance, where he does his best work.
Kyler Phillips: Phillips made a name for himself last summer when he appeared on Dana White's Contender Series and made short work of his opponent James Gray using vicious elbows when Gray attempted to take him down followed up by ground and pound, winning in a mere 46 seconds, his fastest finish to date.
Phillips trains at the MMA Lab in Arizona, home to fighters like Benson Henderson, Sean O'Malley and Mackenzie Dern, where he has cemented himself as a top prospect in MMA. The 22-year-old boasts a 4-0 record that includes three finishes.
Phillips is a lifelong martial artist, who started training when he was 3 years old. Nicknamed "The Matrix", Phillips is tough to hit and even tougher to predict, due to his diverse striking and craft submission skills.
Phillips is the next generation of mixed martial artist; a jack of all trades that is great everywhere.
Dulani Perry: Houston's Dulani Perry got a late start to his mixed martial arts career, with his first professional fight coming at age 29.
Perry is coming off of two straight split decision wins in the highly touted LFA promotion. "3G" is used to fighting as a bantamweight and has done a great job of utilizing his wrestling to control his opponents, which impressive considering his karate background.
Perry uses his karate offensively and pushes forward with a bevy of creative striking techniques. He switches stances and utilizes a diverse arsenal of kicks.
Suman Mokhtarian: Mokhtarian has made a name for himself in the Australian MMA scene. He is the owner and head coach of Australian Top Team, which includes his brother UFC flyweight Ashkan Mokhtarian and women's strawweight Nadia Kassem.
Mokhtarian started his professional career at 20 years of age and has amassed an 8-0 record with six of those wins coming by submission. One of those submissions was an exceptionally rare tee pee choke and another was by twister, which is also a seldomly executed submission.
Mokhtarian utilizes a combination of Muay Thai and polished ground work to be an all-around threat to his opponent.
On top of being an undefeated fighter and gym owner, Mokhtarian is also the fight promoter of Urban Fight Night, a New South Wales, Australia-based promotion with 14 events under its belt.
Bryce Mitchell: When you have a nickname like "Thug Nasty", it had better be justified and for Mitchell it certainly is. Mitchell started his professional career with eight straight submission finishes and some of those wins came in high level organizations like the World Series of Fighting (now Professional Fighters League) and Legacy FC (now LFA).
Mitchell is currently the V3 Fights featherweight champion and while his striking is a work in progress, his nickname could also be fly paper, because once he gets top control, his opponent often has nowhere to go.
Mitchell is one of the more crafty fighters on the ground and is able to secure chokes using very unorthodox methods. At just 23-years of age, Mitchell is one of the brightest prospects on the show and regardless of how he does on the series, the UFC should definitely secure his services in a long-term capacity.
Mitchell is the 3rd ranked featherweight prospect on Flo Combat's meticulously curated North American prospect rankings.
Tyler Diamond: Diamond is the latest in the stable of talent to emerge from Team Alpha Male in Sacramento, California, led by former UFC featherweight and bantamweight title challenger Urijah Faber that includes fighters like former UFC bantamweight champion Cody Garbrandt, Andre Fili, Josh Emmett and where bantamweight champion T.J. Dillashaw got his start.
When you think of Team Alpha Male, the first thing that comes to mind is strong wrestling and Diamond has that going for him. Diamond is able to stifle his opponent's striking using strong wrestling and great cardio, which has been a huge asset early in his 10-0 career.
Most recently, Diamond captured the Global Knockout featherweight title with a submission victory and now he will look to be the next great fighter in the lighter weight classes to emerge from the Sacramento-based team.
Diamond is ranked 14th at featherweight on Flo Combat's North American prospect rankings.
Jay Cucciniello: The lone European entry in the featherweight division, the Spaniard Cucciniello has earned all eight of his wins by stoppage, which should make him an exciting fighter to watch in this competition.
Cucciniello trains alongside Luke Barnatt, another European and Ultimate Fighter alumni.
At 31, Cucciniello is one of the oldest fighters on the show and also one of the most unpolished when it comes to striking. He has faced some major adversity in the cage and in one fight against Victor Marinho, he got knocked down twice, but was able to bounce back and knock Marinho down before finishing him with strikes.
With many of his fights coming on regional cards that have not produced a lot of talent, it will be interesting to see what Cucciniello can produce against some of the more polished talent.
Lightweight:
Thai Clark: Nicknamed "The Land Shark", Clark likes to push the pace on the feet and mix in takedowns here and there.
The 6-0 fighter from Texas may struggle with size in this competition as he is built more like a featherweight and that may be his home should he secure a UFC contract.
Clark has a win in Bellator, but it's against a fighter who has dropped four straight fights and he has not faced a high level of competition.
That said, the 28-year-old Clark has a lot of experience, as he started his amateur career at just 21-years of age.
Clark is the 3rd ranked lightweight on Flo Combat's North American prospect rankings.
Joe Giannetti: At 22-years of age, Giannetti is the youngest competitor on the show and he has a lot of upside. Giannetti, who is ranked 5th in the lightweight division of Flo Combat's North American prospect rankings, has submission wins in five of his six fights.
The one knock against the up and coming Giannetti is that he has yet to beat a fighter with a winning record.
Giannetti possesses diverse striking and is dangerous anywhere that the fight goes. Recently, Giannetti was tested against Keenan Raymond, who was winning both rounds of their fight from top position until Giannetti was able to secure a d'arce choke from bottom and get the win, showing his ability to battle adversity.
With the level of competition taking a step up in this competition, it will be a big test to see how far along the young prospect is.
John Gunther: In contrast to Giannetti, the 32-year-old Gunther is the oldest competitor on the show.
Training in Cleveland with UFC heavyweight champion Stipe Miocic and his Strong Style Fight Team, Gunther has a wealth of experience having competed eight times as an amateur before going pro in 2015. Since then, he has amassed a 6-0 record, which includes a knockout win over Devonte Smith, another highly touted lightweight.
Gunther, who is known to sport many interesting moustaches, is a relentless fighter who moves forward and uses his aggressive striking to set up takedowns and follow them up with vicious ground and pound.
In the fight against Smith, he was hit with some big shots on the feet, but eventually wore his opponent out by smothering him.
Jose Martinez Jr.: Martinez is something of a mystery going into this competition. He has fought at four different weights ranging from 155 to 170 pounds against pretty low level competition.
There is very little footage of Martinez online, but from what I have seen, Martinez is not quite as evolved as the other fighters on the show.
He trains at a very small gym about 30 minutes outside of Cleveland and at 28-years of age, it will be interesting to see how much more he can grow as a fighter.
Luis Pena: One of the more eccentric fighters to come along in a while, the man who goes by the interesting nickname "Violent Bob Ross" due to his resemblance to The Joy of Painting host who passed away one day before Pena celebrated his second birthday, is one to watch.
The Italian-born Pena stands at 6'3", which is gigantic for a lightweight. By comparison, he is three inches taller than Nate Diaz, who is one of the tallest fighters in the division.
The 4-0 Pena has won his last three fights by submission and won his professional debut by knockout.
He is the 17th ranked lightweight on the Flo Combat North American prospect rankings.
The 24-year-old has a lot going for him. He is very good at utilizing his reach and is content to keep the fight standing as long as he is finding his range and having success with it.
He is also very crafty on the ground, able to transition well and reverse position when needed. He also has quite the arsenal of submission attacks that he is not shy about implementing.
Richie Smullen: The 26-year-old native of Arklow, Ireland trains with Conor McGregor at SBG Ireland.
Smullen told The Mac Life that he was able to attend the tryouts for this season of The Ultimate Fighter due to his teammate Artem Lobov, himself an alumni of the show, paid for him to go to Las Vegas to try out for the show.
The 3-0-1 Smullen has yet to face any established competition and will enter the competition having finished two of his wins by leg lock submission and another by knockout. His biggest test was his last fight at BAMMA 30 against Rhys McKee, another top European prospect, that resulted in a majority draw.
Despite being scored a draw, Smullen appeared to have more success in the fight and also showed that he was able to get out of tough spots.
He has good takedowns, precise striking and an attack-first mentality.
Mike Trizano: The 25-year-old Trizano most recently fought at featherweight, but at 5'11", that weight cut may have been too much for him in an environment like The Ultimate Fighter and may be where his future lies if he signs with the UFC.
Trizano trains with UFC talent like Jimmie Rivera, Shane Burgos and Julio Arce at Tiger Schulmann's in New Jersey.
Given that he started training at age 17, Trizano is a natural. He has great standup skills and an even more impressive ground game.
His last fight in November that took place on the preliminary card of Bellator 186, Trizano showed an all-around game and a lot of innovation, eventually winning by anaconda choke.
With four of his six wins coming inside the distance, Trizano looks to have a lot of potential.
Allan Zuniga: Zuniga looks to become the first UFC fighter of Costa Rican descent and at 13-0, he has the most professional victories out of any contestant on the show.
Zuniga is also the only fighter on the show to hold a win over a UFC veteran with a win over Marcin Bandel in 2016.
The 25 year old Zuniga started his career at 18 years of age on the regional scene in Costa Rica.
The stocky Zuniga wins fights mostly with a combination of toughness and powerful striking. He'll take a shot to land two of his own and moves forward.
While his height isn't readily available, one of his previous fights listed him at 171 cm (roughly 5'5"), which would make him one of the smallest lightweights in the UFC and the smallest on the show. By comparison, Clay Guida, one of the smaller fighters at lightweight, is 5'7". Height did not stop 5'6" Sean Sherk from becoming a champion, but that was a different era in the UFC.
Zuniga looks to use his experience to his advantage on his path to putting Costa Rica on the map in the promotion.
The Ultimate Fighter: Undefeated premieres on Wednesday at 10:00 pm et on TSN5.