The world has caught up to Canadian curlers
The days of Canada dominating the sport appear to be gone, Bob Weeks writes.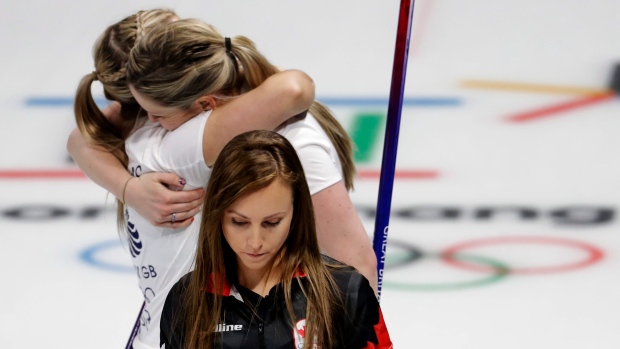 To some, it's shocking. Canada, the powerhouse of world curling, is leaving Pyeongchang without a medal in women's curling and only a chance at a bronze in the men's event.
It's not supposed to be this way. The fact is Canada, many seem to feel, should always be on the top step of the podium when the curling competition is over.
Thank goodness for mixed doubles, then.
But with Rachel Homan's team missing the playoffs and Kevin Koe's squad in a battle for third, the reality is sinking in. Canada is no longer a sure thing to win medals in curling.
Sure, both teams had struggles this week for whatever reason – be it rocks, ice or simply just a bad tournament. Every team has those competitions where things just don't click. Hold this event all over again a week from now and both Canadian rinks could go through undefeated.
That's curling.
But there's also the fact that the world has caught up. In many respects, it's because of the Olympics. Canadian curling fans should accept not only what's happened, but also what's coming, because it's not going to get any easier.
"We've been spoiled as a country," said Brad Gushue, gold-medal winner in 2006. "Our expectations are so high. Coming home without a gold medal is considered a failure.
"But the traditional curling fan probably doesn't realize just how deep these fields are."
Since curling's entry into the Olympic family in 1998, many countries have been pouring money and resources into the sport. Some never had curling ice prior to those Games in Nagano; now they're vying for medals.
South Korea didn't field a team in the 1998 Games. This year its women's squad finished in top spot in the round robin with a record of 8-1.
The women's side is especially tough. It may be a surprise to some, but Canada had gone eight years without winning before Homan captured the world championship last year
What's allowed these international squads to get so good so fast is government support. Most of the rinks in Pyeongchang are working at their sport full time, many with Canadian coaching and many in Canada.
The full weight of a country's backing goes into making those four rock-tossers as good as possible leading into the Games.
"Besides Canada and the U.S., I'd say all the other teams are really professionals," stated Gushue. "They're training eight hours a day and playing as many top events as they can."
Gushue said his Canadian championship rink is still trying to balance work and family with training.
"We have to try hard to find two hours a day to practice," he said. "That used to be a lot of practice. Not anymore. It's going to get harder and harder to compete."
Several past Canadian representatives have also pointed to the timing of the Olympic qualifying as something that hinders the teams wearing the Maple Leaf.
The time between the last rock of the trials and the opening ceremonies is roughly eight weeks. What happens in that period has been described as chaos, a frenetic race to get in enough training along with everything else that comes with being an Olympian.
There are travel arrangements for family and friends along with getting tickets to the events. There's the logistics of being away from home and work for three weeks.
Then there's the wave of media requests, the necessity to hire an agent, the expectation to play in another event such as the Continental Cup, meeting new coaches and liaison people, getting fitted for uniforms and attending a number of well-meaning send-offs from locals.
Oh, and there's also Christmas in there, too.
Gushue also pointed out that all this comes on the heels of winning the trials, an event many consider to be the most difficult challenge in all of curling.
"You've had four years of playing every week and trying to earn enough points to get into the trials," he said. "When you finally win, and realize you're an Olympian, there's a letdown. It's natural."
In fact, said Gushue, if you remove results and look at actual performance of Canada's Olympic representatives over the years, only three teams have really played up to their full abilities throughout the competition: Kevin Martin's 2010 team, the 2014 rink of Jennifer Jones and, with the exception of the final, Mike Harris's team in 1998.
Every other rink, he said, struggled at some point during their Olympic performance.
Every Canadian team battled back, found its stride and managed to get medals, but perhaps this year is a wake-up call that, under the current system, Canadian officials can no longer count on curlers to own the podium.
This doesn't mean Canadian curling is in crisis or that there should be a summit as hockey held a number of years ago. A good first step might simply be holding the trials earlier to allow the representatives a chance to breathe before they step on the Olympic ice.
Another might be for fans to temper their expectations for future Olympics. Canada will continue to be a powerhouse and will no doubt win Olympic medals in the future, but the days of dominating the sport appear to be gone.
For the future of curling, that can only be a good thing.