Theodorou: Anders 'should keep my name out of his mouth' until he's ranked
Toronto native Elias Theodorou, the 14th-ranked UFC middleweight, is furious after middleweight prospect Eryk Anders requested a fight with him and then turned down an injury fill-in opportunity 48 hours later.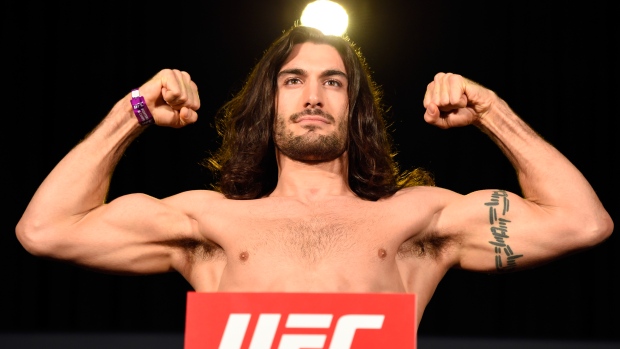 To say that it has been an interesting week for Toronto native Elias Theodorou would be an understatement.
It all started on Saturday night, when middleweight prospect Eryk Anders called out Theodorou, the 14th-ranked middleweight, following Anders' third-round knockout victory over Tim Williams at UFC Fight Night in Lincoln, Nebraska.
Then on Monday, Anders appeared on the Ariel Helwani Show and said that he wanted to fight Theodorou in Toronto in order to move up the rankings. He also acknowledged that calling out Theodorou at a time when Theodorou already had a fight scheduled against Antonio Carlos Jr. in Sao Paulo, Brazil, on Sept. 22 may not have been the classiest move.
The next day, news broke that Carlos Jr. was injured and had to withdraw from the September fight. Theodorou then took to social media to say that Anders had turned down an opportunity to fill in against him next month in Sao Paulo.
"He called me out 72 hours ago and, from what I've heard, unfortunately he did turn down the fight in Brazil," Theodorou told The TSN MMA Show. (link: https://www.tsn.ca/radio/toronto-1050/the-tsn-mma-show-episode-53-1.1164653) "Part of it was the fact that he said something along the lines [that] he can't make weight, you know the weight cut would be hard [to make] in about four weeks' time and that's a far cry from what he said not too long ago; one, calling me out after the fight, and two, basically saying that he'd fight anyone, anywhere, any time and you know, that doesn't include Elias Theodorou September 22 in Brazil."
While Theodorou acknowledged the concerns, especially in regards to the weight cutting, he was annoyed with Anders after he turned down the opportunity to fight him because it was contrary to what he had been saying publicly.
"It's the fact that he has now mentioned my name twice, this Saturday obviously, but he did call me out when I was getting ready for, I believe, Dan Kelly and this is the second time he's used my name as leverage in regards to getting him some eyes and you know he's not. When the chance did come through, he didn't come through," said Theodorou.
"I said it's a little frustrating especially because, as I mentioned, all the booking and the time that's put into it, the camp. I'm ready to go, I could fight today, I could fight tomorrow, I could definitely fight September 22. So, unfortunately, that's not happening."
Theodorou had pushed for the fight with Anders once he found out that his opponent was withdrawing and feels that it would have been a favourable matchup.
"I think with Eryk, he had a great, you know, performance in the last, I would say, 30 seconds of his fight. Other than that, [he] was kind of questionable, he's still got a lot to evolve," said Theodorou. "I look at him as a more athletic Sam Alvey (who Theodorou defeated in June 2016), you know he's a southpaw, he's got a left hand and he's going to try and head hunt. There's a lot of holes that I saw."
Theodorou said he plans on moving on after Anders balked at the opportunity to face him just days after calling him out.
"Just keep my name out of your mouth until you're ranked because you had your chance and you lost it," Theodorou said of Anders. "And, as you said, anytime, anywhere, any place doesn't mean Elias Theodorou on September 22 in Brazil – he had a chance.
"You're going to have to do what everyone else does and get a couple more wins and, more importantly, meaningful wins."
Theodorou said Anders' decision regarding the September fight resulted in plenty of frustration for him during the last few days.
"You know the hassle of booking flights and all that other jazz and I've had to cancel, exchange, etc., etc. It was a hassle, at the very least, this one is home and you know not the same hassles in booking etc., etc., that needs to be done. So, you know someone did call me out for Toronto. I'm hoping he is staying ready just in case Antonio does become a pull-out artist, so we'll see."
After the UFC was unable to secure an opponent for him in Sao Paulo, Theodorou had set his sights on the next Canadian card on the calendar.
"I was trying to get something for October 27 in Moncton, but it seems like that one's kind of all filled up and … you know it makes sense that they want me to fight in Toronto because I'm from Toronto."
As it stands, the likely scenario is that Theodorou has his fight with Carlos Jr. rescheduled for UFC 231 at Scotiabank Centre in Toronto on Dec. 8 and both fighters have the contracts at this time.
"It's looking like that's what it's going to shape up to. Obviously, there's a bit of legal mumbo jumbo that's involved, but same guy, better place, so there you go," said Theodorou.
Carlos Jr. is ranked 11th and presents a far better opportunity to move up the rankings than Anders would have presented. However, Carlos Jr. is likely the more dangerous opponent as the Ultimate Fighter Brazil winner has won five straight fights including four by submission.
"The ground is lava, plain and simple, but I think with that being said, I think there are a lot of holes in his game, he's pretty much Demian Maia-esque in regards to, he hits you, but the whole purpose is to get closer and just, you know, get a hold of you," said Theodorou of Carlos Jr.
"I've worked really hard in the last little bit, so both my coaches, all my coaches, [are] saying this is the best that they've ever seen me and now I have only time on my hands to get better. So I think in many ways Shoe Face (Carlos Jr.'s nickname), he's a tough fighter and he's 11th in the world for a reason and I'm looking to show why I'm even better and I'm going to do that in front of thousands of people from my hometown, and I couldn't be more excited."