There's no taking the Raptor out of Amir Johnson
Amir Johnson's return to Toronto was a celebration of a player who became one of the Raptors' all-time fan favourites over six seasons. TSN's Josh Lewenberg explains what the current Celtic meant to the city and his former Raptor teammates.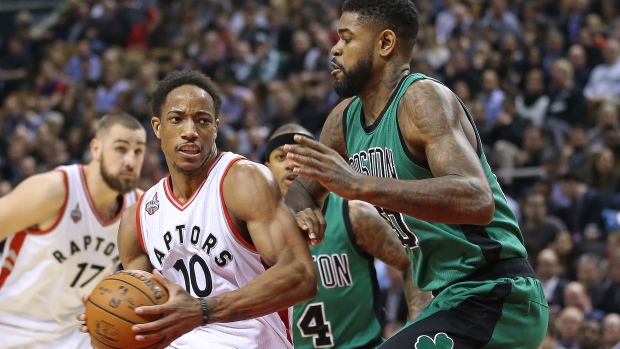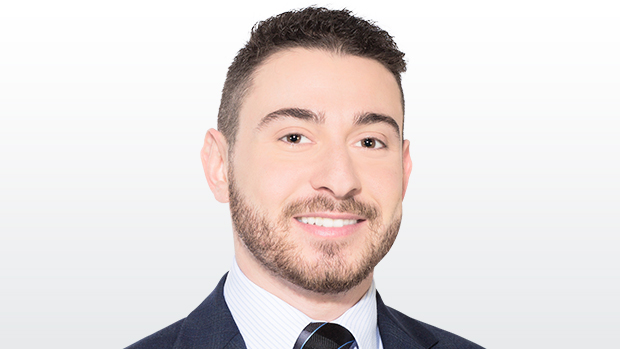 TORONTO - If Amir Johnson was feeling any separation anxiety ahead of his first game back in Toronto, where he had spent the previous six seasons, he tried awfully hard to hide it.
An invited guest at the Air Canada Centre for the first time since 2008, the Celtics forward and former Raptor sat in front of his new and still foreign-looking green No. 90 jersey in one corner of the visitors locker room. He was smiling, because he's usually smiling, and cracking jokes with the media as Jared Sullinger, sitting to his right, asked "has he always been like this?". His shirt read "I still roll with Amir", made for the annual event he hosts for fans in Toronto and, to the dismay of his new team, planned to host again that evening.
He signed a two-year deal with Boston over the summer after the Raptors decided it best to spend that money elsewhere.
When did he know he may have to move on from Toronto? He pretended to misunderstand the question.
How tough was that for him? "It wasn't tough... it's the business... yada yada."
He wasn't biting. Maybe he had moved on after all. Then somebody asked if he was surprised that his old teammate Patrick Patterson didn't step into his vacant starting role.
"Pat has been good for us always off the bench," he said, before noticing and correcting his slip up. "Or, good for Toronto off the bench."
"Any questions about Boston?," he asked moments later. "Anything?"
Regardless of what he says or how hard he tries to mask the natural disappointment of how things went down with that smile of his, it couldn't have been easy for him. Two hundred five players have suited up for the Raptors in their 21-year history and only a small handful, at most, have ever embraced the city, the country like Johnson. Fittingly, the ovation he received upon returning the ACC reflected that.
Johnson has shown Raptors fans a lot of love over the years. He's taken them out to dinner by the hundreds and handed them Drake CDs on one of downtown Toronto's busiest streets, to name just a few. On Wednesday evening they gave some of that love back.
The tribute video Toronto ran for him during a first-quarter timeout was one of the best the team had ever produced and the recipient couldn't have been more deserving. It included clips of him both on and off the court, joking around with teammates, taking part in the zombie walk with fans, taking dance lessons and even singing Whitney Houston. He watched from the Celtics' bench and waved to a sold-out crowd that stood on their feet. Yes, he was smiling. Everyone was smiling. It would have been hard not to.
"It's pretty unique," Johnson said after falling to his old team, 115-109, Toronto's season-best sixth straight win. "To see the fans have a player leave, sometimes they don't show retired players a tribute like that. I thought it was pretty awesome, had me a little teary-eyed a little bit. That was cool."
"Oh man, it was amazing," Kyle Lowry echoed. "I knew he would get an ovation like that and it was well deserved. It was a well deserved ovation. He put his blood, sweat and tears into this organization, into this franchise and I think the fans, the organization, everyone appreciated what that man has meant to this place. For me and DeMar [DeRozan], personally, our friendship [with him] is still growing and it meant a lot to us to see that tribute."
Johnson put it best: that was pretty unique, but so is he. His numbers never jumped off the stat sheet - he averaged 8.8 points and 6.3 rebounds in 451 career games with the Raptors, fifth-most in franchise history - but he played the game hard every night. He dove for loose balls, set hard screens and did all the little things that help a team win - most of it through injuries.
"I think fans appreciate hard work," said Patrick Patterson, who spent a season and a half with Johnson in Toronto. "They appreciate guys who lay it out every single night, who play with their heart and soul. Like I said, he was battling through injuries and he wasn't sitting out. He wasn't in the locker room not particpating, he was out there every single night playing those games no matter how he felt, no matter how badly his body needed rest, he was out there every night with his heart and soul."
However it was more than that. Johnson opened himself up to the public like few professional athletes can or choose to and, as those who know him would tell you, it was effortless. The smile, the humour, the personality, the sincerity - that's just who he is.
"It's rare that you see that with NBA players," said DeRozan, one of Johnson's closest friends and teammate throughout his entire tenure in Toronto. "Where he interacts, he could be out and touch fans and he did that with his personality. Everybody's seen it, not just within the organization and within the locker room, he shared that same charisma with the fans. That's rare. When you get a guy like that and when it's genuine, that goes a long way."
"Amir plays with pure heart," Raptors head coach Dwane Casey added. "There's no agendas. He's about the team, he's about winning, he's about giving everything on the court, he's about his teammates, so that's why he's such a fan favourite and a teammate favourite, because he lives and plays with a pure heart. That's the best way to explain Amir Johnson to me."
Most of all, he loved Toronto. Still does, evidently. That's something that fans don't take lightly. They've seen so many players come and leave happily over the years. Tracy McGrady bolted at his first opportunity, Chris Bosh thereafter. Damon Stoudamire and, of course, Vince Carter left kicking and screaming. They were booed for it, justifiably so. Johnson is on a short list: Morris Peterson, Jose Calderon, Jerome and Alvin Williams.
Patterson could think of one more player that belongs in that group.
"Maybe DeMar?," said the reserve forward. "But no one as much as Amir, just from seeing what Amir had done for the city, seeing that Thriller thing that he did with the zombie walk and just seeing him in the community, seeing him giving back, seeing how the fans and the people in the city appreciated him and everything that he did. Maybe the only one close to him is DeMar, but nobody as impactful as Amir since he was here."
Johnson has made the best of this new opportunity, where he's fit in nicely with one of the youngest teams in the league. The last player to ever be drafted straight out of high school back in 2005, he's used the teachings of the great bigs he played with in Detroit - Ben and Rasheed Wallace, Dale Davis, Antonio McDyess - to help him become a more vocal leader himself. In many ways, the Celtics have adopted his playing personality. They're tough, they're gritty, they never back down.
However, even at 28 years old, injuries have taken a toll on him over the years. Although he's played through countless ankle ailments, he says this is the first time he's battled plantar fasciitis, a painful and lingering foot condition that is clearly affecting him. On Wednesday he was beaten down the court at least three or four times in the first quarter by 35-year-old Luis Scola, who scored 11 points in the frame. Before the game, a few Celtics writers asked him if he's feeling okay, if he was still planning to play. He chuckled. So did the Raptors writers around at the time. Of course he's playing.
The Raptors were right to use that money on DeMarre Carroll, even in hindsight, even with his injury in mind. Change was inevitable and Johnson understood. Still, none of that should diminish his legacy, none of that changes the fact that he'll go down as one of the most beloved players in the franchise's existence.
You can take Amir out of Toronto but you can't take Toronto out of Amir.