Thomas becomes member of exclusive "59 Club"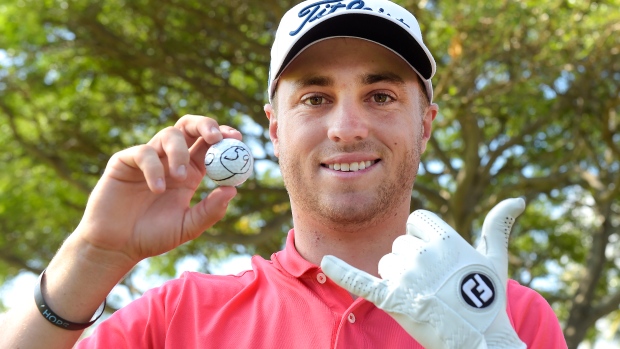 Justin Thomas accomplished a rarity in golf Thursday, joining a select crew of players who've gone sub-60. Thomas' round was bookmarked by eagles on his first and last holes and it marked just the eighth time in Tour history there's been a round under 60.
Every one of those great rounds has its moments and its stories. Al Geiberger, for example, used the same ball for all 18 holes when he became the first person to shoot 59 in 1977. That was virtually unheard of back then when balls were less durable and often went out of round. Players usually changed balls every three or four holes. Not this time.
An old golf writer who was there that day once told me that in his post-round press conference, one of Geiberger's first comments was that if he'd made the putt on 13, he could have been 58.
He was joking, of course, but even after shooting the lowest score in Tour history, he was looking at what might have been. That's golf.
I was at the PGA Tour Qualifying School one year when David Gossett fired a 59. He left the course before talking to reporters, not thinking much of his score, and had to be brought back for a chat of his magical day. Remarkably, even with that great score, he failed to earn his PGA Tour card that year.
And one of the first 58s posted came on the old Canadian Tour by Jason Bohn, who had a putt on his final hole for 57. That round almost never happened. The tournament was held just a few days after the terrorist attack on the World Trade Center and all other professional tours canceled their events that week in the wake of that tragedy. The Canadian Tour only elected to play because with planes grounded, no one could go anywhere. If we're stuck here, we might as well play, was the attitude.
Many times, the great rounds seem to come from nowhere. Last summer, Jim Furyk commented on how much he was struggling with his game just a day before he posted a 58. Of course he's the only player with two sub-60 scores, also having fired a 59.
It's interesting to note that the group of sub-60 shooters doesn't include the likes of Tiger Woods or Phil Mickelson or Jack Nicklaus or Arnold Palmer. Annika Sorenstam might be considered the only exception to this; her 59 the only one in LPGA Tour history. It isn't the greats that have shot the low numbers although every one of them has come close. It shows how just about every golfer on the top tours can get hot, can find the magic and ride it into history.
Now Justin Thomas becomes a member of this exclusive club. With today's talent, no one would be surprised if this membership expands in the coming year.