Thursday's Ice Chips: Leafs send Percy, Leivo and Frattin to Marlies
Check in throughout the day for the very latest from around the NHL, including injury updates, roster moves, and other breaking news.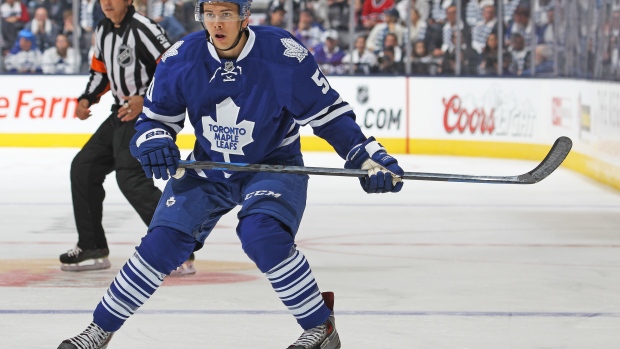 Chicago Blackhawks
Winger Kris Versteeg (hand) will likely be sidelined longer than the original anticipated four week timetable. - Chicago Tribune
Colorado Avalanche
Forward Dennis Everberg has been reassigned to the AHL. - Team Twitter
Columbus Blue Jackets
Defenceman Ryan Murray (knee) could return after the All-Star break.
Forward Artem Anisimov (triceps) could start playing next week.
Forward Jeremy Morin left last night's game with an upper-body injury. - Columbus Dispatch
Forward Josh Anderson was assigned to the AHL. - Team Twitter
Minnesota Wild
Defenceman Justin Falk has been reassigned to the AHL. - Team Twitter
Nashville Predators
Goaltender Marek Mazanec has been sent to the AHL. - Nashville Tennesean
Ottawa Senators
Defenceman Mark Borowiecki (leg) could return after the All-Star break. - Ottawa Citizen
Philadelphia Flyers
Defencemen Brandon Manning and Oliver Lauridsen have been sent to the AHL. - Philadelphia Inquirer and Daily News
Pittsburgh Penguins
Defencemen Derrick Pouliot and Scott Harrington have been sent to the AHL. - Pittsburgh Post-Gazette
San Jose Sharks
Forward Tomas Hertl and defenceman Dylan DeMelo have been assigned to the AHL. - Team Twitter
Forward Barclay Goodrow was also reassigned to the AHL. - Team Twitter
Toronto Maple Leafs
Forwards Josh Leivo and Matt Frattin and defenceman Stuart Percy have been reassigned to the AHL. - Team Twitter