Ticats' Jones handed two-game drug ban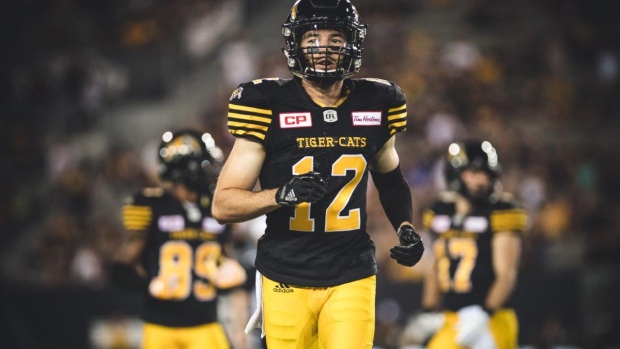 Hamilton Tiger-Cats wide receiver Mike Jones has been suspended two games for violating the league's drug policy. The suspension will take effect immediately.
It was announced that Jones tested positive for Dehydrochlormethyltestosterone metabolite.
Jones said in a statement that he has never heard of the substance and never intentionally consumed it.
"I cannot say exactly how (the substance) was found in my urine, but I am both responsible and accountable for what's in my body," the statement read.
"I want to apologize to the CFL, CFLPA, Hamilton Tiger-Cats, and my family for the way this incident may reflect upon them. I will be sure to take additional steps to ensure I am putting safe supplements in my body so that this never happens again."
The team released a statement on Jones' suspension as well.
"The Hamilton Tiger-Cats fully endorse the Canadian Football League's joint drug testing/substance abuse policy with the CFLPA. We believe in Mike as a person and player, and although his violation is extremely disappointing, we're confident he will take the necessary steps moving forward to ensure this doesn't happen again."
This is Jones' first violation, so he will receive the minimum two-game penalty. A second violation would carry a nine-game ban, a third a one-year ban and a lifetime ban for the fourth.
While Jones will not be able to participate in games for two weeks, he is able to practice and take part in other team activities at the Tiger-Cats' discretion.
In 11 games so far this season, Jones has 25 catches for 267 yards and no touchdowns. He caught two passes for eight yards in Hamilton's Week 13 loss to the Saskatchewan Roughriders.
Jones is in his second season with the Ticats, catching only two passes for 27 yards in 2016.
The Tiger-Cats (2-9) will head to B.C. to take on the Lions (6-6) in Week 14. The Ticats are 0-7 against the West this season.