Till not thinking about potential superfight with McGregor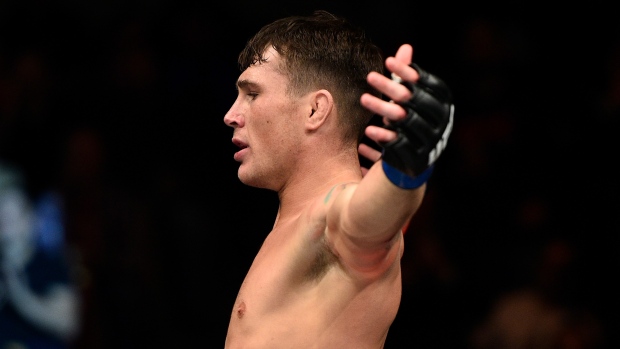 Darren Till and Conor McGregor have a lot in common. Both UFC fighters are challenging for titles in the coming month, have aspirations of becoming three-division champions and project no shortage of confidence.
While McGregor is already a transcendent superstar, Till can help jump-start his brand by capturing the welterweight title when he faces champion Tyron Woodley in the main event of UFC 228 in Dallas on Sept. 8.
There has been no shortage recently of fighters looking to secure a "money fight" against McGregor. Should Till be victorious over Woodley, the matchup would make sense.
McGregor wants to fight at Croke Park in Dublin, which houses 82,000, while Till dreams of fighting at Anfield in Liverpool, which houses roughly 54,000. Plus there is always Wembley Stadium in London, which also houses 82,000. Selling out those venues would be a lofty goal, but Till sold out Echo Arena in Liverpool in less than an hour for his fight against Stephen Thompson and McGregor is a big-ticket attraction wherever he competes.
With McGregor having fought at welterweight before and expressed hopes of capturing a title in a third division, a superfight with Till would be the biggest matchup between two European fighters in mixed martial arts history.
Both Till and McGregor present an unshakeable confidence in their approach to mixed martial arts, but while McGregor channels a lot of his energy towards mental warfare, Till is more concerned with building himself up rather than knocking his opponent down.
"I don't need to put them down. My energy alone will put them down. My presence, the belief they see in me will put them down," said Till. "If a guy wants to talk, then I'll talk back. I just go about things as I go about them. My confidence is unmatched. There is not a man alive right now on this earth who is more confident than me and that's the truth."
While some fighters dream of stepping into the octagon with McGregor, Till says his focus is elsewhere.
"It could happen, but Conor is on a different path," Till told The TSN MMA Show. "I'm not really interested in Conor. I'm not like the rest of these guys who want to call for that money fight, call for that Conor fight. If it happens, yeah it'll happen, but right now Conor has got a big test ahead of him. I believe he's going to win. If in two years or so it happens, it happens. But right now Conor is a lightweight. I'm a middleweight, so it's not something that's even on my mind."
If Till considers himself a middleweight, why does he continue to compete in the welterweight division?
"I've got a few more fights at welterweight. I've got a few more bits of business to take care of at this weight and then I'm moving up, that's my plan," Till said when asked. "Tyron Woodley and then whoever comes after him. I've told you – everyone and anyone."
Till has acknowledged that he is a large welterweight and he has missed weight for two of his six UFC bouts. His ability to make weight has been an ongoing narrative ahead of the Woodley fight.
"My weight is the fight. The fight itself, that's fun time, that's easy," he said. "My big fight is with the weight. So yeah, constantly every day we check weight, we talk about weight, we talk about what right foods we can have and stuff like that. …I train hard, I eat right and I have a big cut and yes, that's my fight. I don't really even think about the fight with Tyron. Everyone asks about that, but my weight is the fight."
In order to monitor his weight, Till moved his camp from Liverpool to Las Vegas in the weeks leading up to the fight to utilize the services available at the UFC Performance Institute.
"It's just got everything under one roof. There are so many guys here helping out," he said. "There's recovery, there's food. You know the facilities are, it's just honestly, I can't put it into words. It's unbelievable being here, especially with my team, it's everything under one roof. …Right now, I'm having a few moody days, but I've been so happy to have been training here and it's been such a big honour from how far I've come. I'm so honored to be here."
The confidence Till carries going into his first title opportunity has long been a part of who he is.
"I don't want to be second best to anyone. I don't want there to be any questions. I just want to put my hard work in," he said. "There's never been a Plan B, just Plan A and Plan A is to just be the best in MMA. My confidence has been with me since I've been a child. I knew it as soon as I entered the gym. I knew it as soon as I took my first punch. I knew it as soon as I gave my first punch. I knew it as soon as my first fight. I just knew it. I just knew there was something inside me. I knew I was different from the rest."
Till's UFC ascent is unparalleled. He was a virtual unknown a year ago, but was able to secure a title shot with wins over Donald Cerrone and Thompson. Till considers a win over Woodley to be the first domino in a much bigger goal.
"I feel like I'm that special person. No one can tell me any different," he said. "So I know in two weeks, I know in two years, I know in four or five years, I'm going to be considered one of the greatest fighters of all time."