Top pick Liljegren turning heads at Leafs development camp
After seeing his draft stock drop dramatically following a bout of mononucleosis last season, Kristen Shilton writes that 2017 first-round pick Timothy Liljegren is making up for lost time at Maple Leafs' development camp.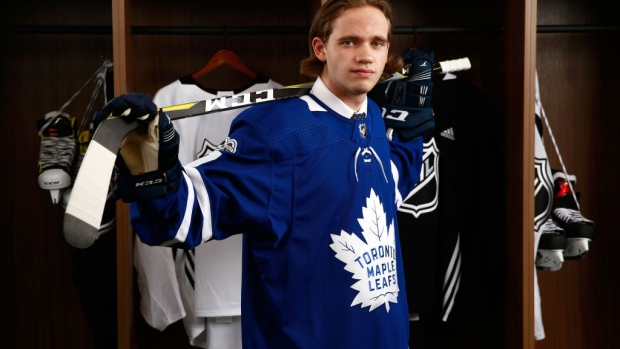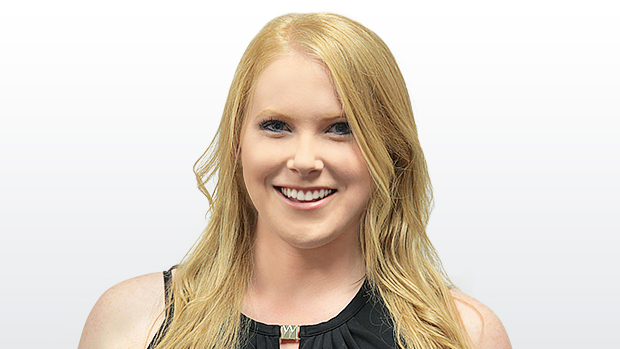 TORONTO – These days, Timothy Liljegren is headlining the Maple Leafs defensive prospect pool as a first-round draft choice with serious NHL potential. But his relationship with the very position he's grown up playing wasn't always so amicable.
Liljegren first took to the ice around age five, drawn to the rink by watching older boys in his neighbourhood playing. Like most kids, Liljegren started off as a forward, and the eventual move to defence didn't go over well.
"At first when I played D, I was kind of pissed," Liljegren admitted. "When you're younger you always want to score goals and being a forward, it was easier to score goals. Later on, I [liked] being on the backend and gaining speed up the ice so I think that's when I started enjoying it."
Coming of age in Kristianstad, Sweden, a town of about 40,000 with no history of producing NHL players, Liljegren probably didn't picture himself one day being drafted as a blueliner to one of the NHL's oldest franchises. His natural talent caught more than a few eyes, and at 14 Liljegren moved 90-minutes away with his mother, Lina, to Angelholm so he could play with the Swedish Hockey League's Rogle BK.
Liljegren continued to impress as he rose through the program's ranks where he was eventually projected to go as high as the top-five in the 2017 draft. That's when adversity struck. Liljegren was diagnosed with mononucleosis last fall, forcing him to miss two months of playing time and then struggled upon returning. He bounced around between four teams in Rogle BK and the Swedish national program, tallying seven points (five goals, two assists) with Rogle BK J20 (a junior team) and five points (one goal, four assists) in 19 games with the main club. Toronto eventually plucked Liljegren off the board at No. 17 in Chicago last month.
"Coming into the season, I had really high expectations on myself," Liljegren said at the time. "It was hard dealing with the mono. But coming back, I let go of those expectations."
The fact he slipped so far in such a short time called into question whether it was just the illness that hurt Liljegren's stock, and not larger flaws in his game that will be exposed at the next level. Leafs' director of player personnel Mark Hunter and general manager Lou Lamoriello have been adamant that's not the case, and it will be up to Liljegren to prove them right.
He's gotten off to a running start at Toronto's development camp, which wrapped up its sixth day on Tuesday. The Leafs have more than a dozen coaches working with the camp's 57 prospects, including former NHLer Stephane Robidas tutoring the defencemen.
"It's good [having Robiadas]," Liljegren said. "There's a lot of really good coaches to show how you do it right. It's really important to work on your edge work and skating [and] I think changing my way of skating a little bit frontwards and backwards and corners and stuff like that, [focusing on it] makes it easier for me."
After four days of on-ice sessions filled with skating and battle drills, Liljegren's Team Clark (comprised almost entirely of Leafs' draft picks) finally participated in a full scrimmage against the free agent Team Sittler on Tuesday.
Despite jumping out to a 2-0 lead in the first half, Team Clark ultimately fell 6-3 to the invitees. And even though there was nothing but bragging rights on the line, Liljegren couldn't help giving the top of his net a whack of frustration as Team Sittler scored an empty-netter to seal the victory.
"It was fun, but the first game is always a bit harder with your timing and stuff," Liljegren said. "I got a bit gassed on the first couple of shifts but after a while you get that feeling back. I had a couple of good passes where I could score, had a couple of shots. I should have scored a couple."
His current skill set (including excellent skating and puck handling abilities) has carried him this far, but Liljegren admitted throughout the week there's a lot of new information to absorb. Sessions with skating coach Barb Underhill have run as long as two hours alone, and trying to apply what he's gathered into the scrimmage didn't come easily.
"You try to do the stuff they teach on the ice, but it's hard to translate into the game right away sometimes because some stuff is totally new for me," he said. "[I have to] get away from my crossovers, to go backwards in a straight line instead of doing crossovers, and there's a few things in the defensive zone too [I'm working on]."
But that in itself is the purpose of development camp. It is an eye-opening experience for many prospects who think they have a handle on what it takes to be successful only to be shown deficiencies they didn't even know they had. Still, Liljegren has made an impression on a few of his fellow 2017 draftees, including defenceman Fedor Gordeev (fifth round, 141st overall), who he was paired with on Tuesday.
"He's amazing," said Gordeev. "Just an amazing puck handler. He sees the ice so well. He's fantastic to play with. Me and Timothy actually became pretty good friends I guess, he came [to Toronto] like a week ago, so we've been training throughout the week and got to know each other pretty well."
Calling development camp "a mix" of trying to have as much fun as possible, while also learning as much as you can, Liljegren has struck a balance by exploring Toronto in his down time. He's gone to a Blue Jays game, walked around Eaton's Centre and is making a trip to the CN Tower. When camp concludes on Wednesday, Liljegren will stick around Toronto for a couple more weeks before traveling to Plymouth, Michigan to play for Sweden in a U-20 tournament.
What happens after that hasn't been confirmed even to Liljegren. The Ontario Hockey League's Niagara IceDogs drafted him 13th overall in the CHL Import Draft in June, but he said he hasn't spoken to anyone there. All signs point to him returning to Sweden for at least another year where hopefully he finds some stability after facing so many challenges last season.
"I feel better every day," Liljegren said. "It's been a good practice week."