Topgolf is coming to Canada
Dallas-based company that has turned the idea of a driving range into an entertainment-based extravaganza announces a partnership with Cineplex.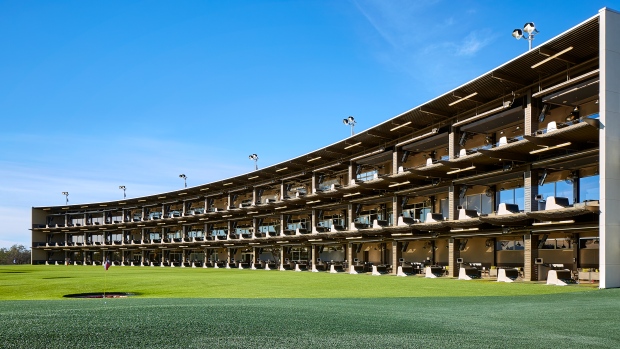 One of the hottest developments in golf is coming to Canada.
Topgolf, the Dallas, Texas-based company that has turned the idea of a driving range into an entertainment-based extravaganza, announced a partnership with Cineplex, the Canadian company best known for its movie theatre complexes.
Together, they plan to create multiple locations in the next few years in large urban areas. Canada represents the fourth country into which the company has expanded.
"Throughout the years, Canada has been the top-requested country among our fans asking us to expand outside the United States," Erik Anderson, Topgolf Entertainment Group's co-Chairman and CEO said in a prepared statement.
Topgolf operates multi-tiered driving ranges with players using micro-chipped golf balls, which they aim at giant targets in the landing area. Instant feedback is provided to the golfer and different games can be played using the system.
However, the atmosphere is much different than a traditional driving range. Each climate-controlled hitting bay includes a lounge area with music, televisions showing live sports, and food and beverage service. In many ways it's like putting a driving range in the middle of a sports bar. It's become a huge hit in the 33 current locations it operates, attracting a diverse demographic of customers.
This year, the company expects to attract 17 million customers, up from four million in 2016. Players don't require any of their own equipment and can play for as short or long a period as desired. The average visit is two hours and more than half of those who tee it up are between 18 and 34.
For Cineplex, which is looking to diversify its operation, the partnership was obvious.
"We're always looking for new opportunities and this seemed like a natural evolution," said Sarah Van Lange, director, communications for Cineplex.
Van Lange said that no Canadian sites have been finalized but that they will be located in large urban centres that have the population density to support it. That likely means you'll see the first ones in the Toronto and Vancouver areas.
She added that each Topgolf location requires 12 acres of land and that the Canadian locations will be year-round operations.
The economic impact of each site could be significant. In the U.S., each location is said to deliver $264 million to the economy with approximately 500 jobs created.
Cineplex, while best known for its movie theatres, also has large operations in food service, redemption games, real estate and more. It recently opened The Rec Room near the CN Tower in Toronto. It's a 40,000-square-foot facility with food, amusement games, virtual reality and live entertainment.