Bats come alive as Jays beat Royals
Troy Tulowitzki, Josh Donaldson and Ryan Goins homered as the Toronto Blue Jays beat the Kansas City Royals 11-8 in Game 3 of the American League Championship Series. Kansas City now holds a 2-1 series lead.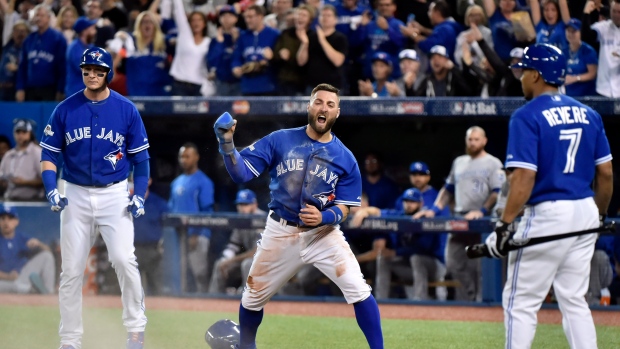 TORONTO - Toronto's power outage ended Monday, allowing the Blue Jays to get one foot out of the hole they dug for themselves in Kansas City.
Troy Tulowitzki, Josh Donaldson and Ryan Goins homered as the Jays battered Royals ace Johnny Cueto en route to an 11-8 Toronto win that cut Kansas City's lead to 2-1 in the American League Championship Series.
The Royals, who outhit Toronto 15-11, rallied for four runs in the ninth but it was too little, too late.
"We desperately needed that breakout," said a relieved Blue Jays manager John Gibbons. "You look at how the game finished up, those runs really came in handy.
"It wasn't an easy game, even though we had a big lead."
The Royals won 5-0 and 6-3 in Kansas City, handcuffing a Jays offence that had led the majors in averaging 5.5 runs a game during the regular season. But the bats came alive in Game 3 in front of a loud sellout Rogers Centre crowd of 49,751.
Tulowitzki, Donaldson and Goins combining for nine RBI on a night where the 11 runs scored set a Toronto franchise record in a home post-season game.
It marked the third time in Jays' playoff history that the team has scored 10 or more runs. The three homers matched a franchise single-game playoff mark.
It also was the first time Toronto has won a post-season game when allowing 15 hits.
Apart from the Royals rally, the lone sour note was Tulowitzki's ejection after taking the field in the eighth, for chirping home plate umpire John Hirschbeck. The Jays shortstop, who had to be held back by bench coach DeMarlo Hale, had just struck out for the second time and wasn't happy about it. Neither was the crowd.
"I think it was obvious I didn't agree with the called third strike. And there were other pitches that were questionable," said Tulowitzki, who felt the ejection was unwarranted.
"Obviously he's been an umpire for a long time. He's a good one at that. And so I am surprised," he added.
After giving up a run to Kansas City in the first inning, Toronto sent eight men to the plate in the second and nine in the third to build a 9-2 lead. Goins, who had driven in two earlier runs, made it an even 10 with a solo shot in the fifth after the Royals added two of their own.
Birthday boy Jose Bautista, who turned 35, made it 11-4 with an RBI single in the eighth. The Royals added two runs on three hits and a sacrifice fly in the ninth off Liam Hendriks, forcing Gibbons to bring in closer Roberto Osuna.
Kendrys Morales then hit a two-run homer to make it interesting.
Osuna pitched despite reports of a broken nail embedded in the middle finger of his pitching hand that was restricting use of his slider.
For Goins, it was an evening of redemption after a fielding blunder that opened the door to the Royals winning rally in Game 2 Saturday. He did damage with the bat and showed off his silky fielding skills.
For Tulowitzki, who is still feeling the effects of a late-season shoulder injury, it was a second straight successful outing at the plate after a playoff slump.
For Cueto, it was simply a night to forget. He was pulled after giving up four runs in the third when he failed to get out the five hitters he faced. He retired just six of the 17 batters he faced.
"They just beat me today," he said through an interpreter.
"I felt great in the bullpen, my pitches were down, I felt great. When I got into the game, God only knows," he added.
Cueto gave up eight runs on six hits with four walks, one hit batsman and two strikeouts in two innings. He threw 69 pitches, of which only 39 were strikes.
In going down in flames, Cueto set a Royals record for runs allowed in a post-season game. And he became the first pitcher in post-season history to allow at least eight earned runs and 11 base-runners in two or fewer innings pitched, according to ESPN Stats.
"He couldn't command the ball down. He was up all night long," said Royals manger Ned Yost. "Just really struggled with his command. Got his pitch count up and just couldn't make an adjustment.
The crowd rode the Dominican right-hander throughout his time in the game and kept it up after he left, chanting: "We Want Cueto."
Cueto was coming off a dominant performance in Game 5 of the ALDS when he retired 19 Astros in a row en route to a 7-2 win. But the Jays worked him Monday, forcing him to throw 50 pitches in the first two innings. And they got to him in the second, scoring three runs to match their total of the first two games.
It got worse in a six-run third, which matched the team record for runs in a single-inning in the post-season. Tulowitzki — with a three-run shot — and Donaldson — with a two-run 458-foot blast —homered as the Jays, who led the majors with 232 home runs during the regular season, found the fence for the first time in the series.
Starter Marcus Stroman pitched 6 1/3 innings in a bend-but-don't-break performance, giving up four runs on 11 hits with one walk and one strikeout.
"It was a battle all day. It was tough," he said of his first pot-season win. "I definitely didn't have my best command. I felt like I was getting into advantage counts and my off speed, I wasn't able to put them away, I was leaving some off speed up in the zone.
Aaron Sanchez, Mark Lowe, Hendriks and Osuna pitched the rest of the way.
Jays knuckleballer R.A. Dickey faces Chris Young in Game 4 on Tuesday.
"We're going to have to come out tomorrow and play just as good if not better because you see the quality of team they have over there," said Donaldson. "They don't stop until the 27th out. They're tough."
Yost took solace from reliever Kris Medlen's five-inning outing, which allowed him to rest other key bullpen members for the coming games.
"Now we've got two more games here, we can go ahead and pour the coals on them," Yost said.
The Jays, who rallied from an 0-2 hole to down Texas in the ALDS, are trying to become just the third team to overcome multiple 0-2 deficits in a single post-season, according to Elias Sports. The Dodgers (1981) and Royals (1985 when they trailed the Blue Jays in the ALCS) both did it.
Toronto is the 26th team in LCS history to fall behind 0-2 since the advent of the best-of-seven format in 1985. The Cubs became the 27th team when they were beaten by the Mets on Sunday night.
Only three of those teams recovered to make it to the World Series — the 1985 Royals (who trailed the Jays), 1985 Cardinals and 2004 Red Sox. All three lost the first two games on the road.
With three homers in these playoffs, Donaldson is tied with Paul Molitor, Joe Carter and Candy Maldonado for most by a Blue Jay in a single post-season
___
Follow @NeilMDavidson on Twitter