Tortorella: 'We were a dumb hockey team'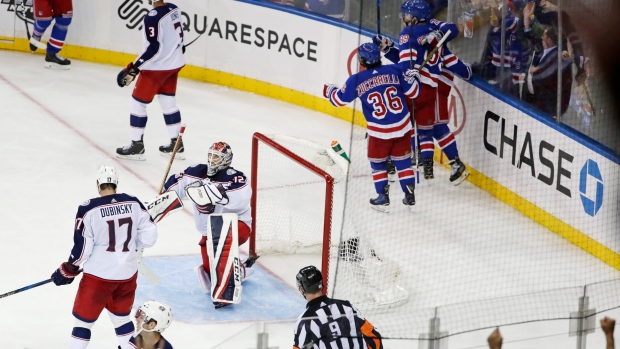 The Columbus Blue Jackets unraveled in the third period of their Monday night 5-3 loss to the New York Rangers, allowing three power play goals in the final frame.
The Blue Jackets saw two one-goal leads erased in the third period off power play goals before Pavel Buchnevich gave New York their first lead of the game on the man advantage with eight minutes to play.
Penalties by Artemi Panarin (high-sticking), Zac Dalpe (elbowing) and David Savard (tripping) allowed the Rangers to come back twice from a goal down and eventually beat the Blue Jackets.
"We don't deserve to win," Columbus coach John Tortorella said after losing to his former team. "When you take stupid penalties, you don't kill them off. We're a dumb hockey team tonight. We (gave) one away."
Panarin's penalty came after he caught Ryan McDonagh with a high-stick while trying to bring his stick over his shoulder. Dalpe received his minor for elbowing when he retaliated on a hit by Steven Kampfer. Savard pulled down Michael Grabner in the offensive zone to set up a third straight power play for New York. In total, the Blue Jackets took five penalties to the Rangers' one.
"We took stupid penalties," Tortorella added. "You don't win hockey games taking penalties like that in the third period."
The loss dropped the Blue Jackets to 9-5-1 on the season and forward Brandon Dubinsky said he hopes the defeat will serve as a learning point.
"We had a good jump there to start the second," Dubinsky said. "We had a lead going into our third on the road and we need to find a way to get the job done, but we didn't do it tonight. It's another lesson as we go through here. It's a long season and something that we can learn from."
The Blue Jackets will be back on the ice Tuesday, hosting the Nashville Predators.