Trade Talk: Canucks list available players
The NHL's Feb. 29 Trade Deadline is approaching and teams are making decisions on whether to buy or sell and decide which players can make the biggest difference and hold the greatest value.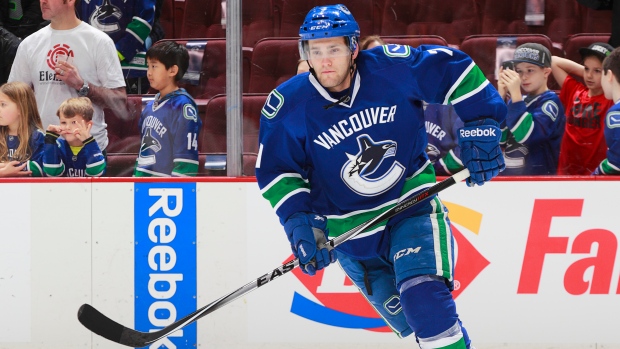 The NHL's Feb. 29 Trade Deadline is approaching and teams are making decisions on whether to buy or sell and decide which players can make the biggest difference and hold the greatest value. Check out today's trade rumours and speculation from around the NHL beat.
Here's a List
The Vancouver Canucks are making it no secret who they're willing to shop at the deadline.
According to TSN Hockey Insider Bob McKenzie, the Canucks have sent a list of available players on their roster to the league's 29 other teams.
On the list, is forward Linden Vey, defenceman Matt Bartkowski, forward Ronalds Kenins, forward Adam Cracknell, forward Chris Higgins, forward Brandon Prust and defenceman Yannick Weber.
Vey and Kenins are both set to become a restricted free agent this summer, while Bartkowski, Cracknell, Prust and Weber are all set to become unrestricted free agents.
Notably, the list does not include pending unrestricted free agents Dan Hamhuis and Radim Vrbata.
The Canucks released a statement earlier this season confirming they were attempting to trade Higgins, who has one year left on his deal.
--
Ready for Taking?
The Winnipeg Jets sit last in the Central Division and are 12 points out of the final wild card spot in the Western Conference. With a second consecutive playoff spot growing increasingly unlikelier by the day, it could be time for general manager Kevin Cheveldayoff to begin accruing assets for the future by trading off current roster players.
Paul Friesen of The Winnipeg Sun reports that one of those players - captain Andrew Ladd - fully expects to be moved by Monday's deadline.
"We haven't been told that," Ladd said of a potential. "But I guess I can kind of see the writing on the wall."
The team and the 30-year-old winger - set to become an unrestricted free agent in July - haven't come to terms on a new deal and aren't likely to, so flipping Ladd makes sense for the Jets, despite how unpopular the decision might be amongst fans.
With Chicago Blackhawks general manager Stan Bowman in the stands for the Jets' game on Tuesday night with the Dallas Stars, speculation is growing that the Blackhawks could look to bring Ladd back. The native of Maple Ridge, British Columbia spent parts of three seasons with the 'Hawks and was instrumental in their 2010 Stanley Cup run.
Ladd has appeared in 59 games this season and has 17 goals and 17 assists.
If Ladd were to be moved, he might not be the only Jet on the move. Paul Wiecek of the Winnipeg Free Press opines that the likes of Tobias Enstrom or Mark Stuart could also be dealt.
--
On a Wing and a Prayer?
The Detroit Red Wings' 153 goals for are 21st in the NHL and the team is looking for an offensive sparkplug heading into the stretch.
The Detroit News' Bob Wojnowski writes that the team needs to decide in a hurry if that help will come internally or through a trade. The problem becomes whether or not trading away picks and prospects for a short-term rental - perhaps a Ladd or Eric Staal - outweighs standing pat.
What complicates matters is the fact that the team's recent deadline deals - for Erik Cole, Marek Zidlicky and David Legwand - yielded little and cost young assets. General manager Ken Holland might become gun-shy over those past transactions and choose to hope for better performances from the likes of Gustav Nyquist and Tomas Tatar, a pair having trouble living up to last year's lofty numbers.
--
Bearing Down?
Boston Bruins general manager Don Sweeney heads into the deadline with a team in the thick of the playoff race, but one with a beaten-up defensive corps. Zdeno Chara and Dennis Seidenberg have lost a step, while Adam McQuaid and Kevan Miller just shouldn't be in the top-four situation that they currently find themselves in.
The team could have a trump card, though, to ameliorate that situation in Loui Eriksson.
CSN New England's Joe Haggerty reports that the team will look to move the 30-year-old winger should an extension not materialize before Monday. Eriksson is second on the team in goals (23) and points (48) and should command at least a first-round draft pick and a prospect if the Bruins were to choose to deal, but Haggerty believes that Sweeney could package Eriksson with picks and prospects of the Bruins' own for something even larger.
Haggerty believes that Eriksson, a first rounder and a prospect could land a young defenceman to help alleviate the burden on the existing group, speculating on Matt Dumba of the Minnesota Wild and Kevin Shattenkirk of the St. Louis Blues.