Trade Talk: Kessel in the Sunshine State?
The Florida Panthers could be interested in Toronto Maple Leafs forward Phil Kessel at the right cost. Check out today's trade rumours and speculation from around the NHL beat including the potential dealings of the open-minded Tampa Bay Lightning.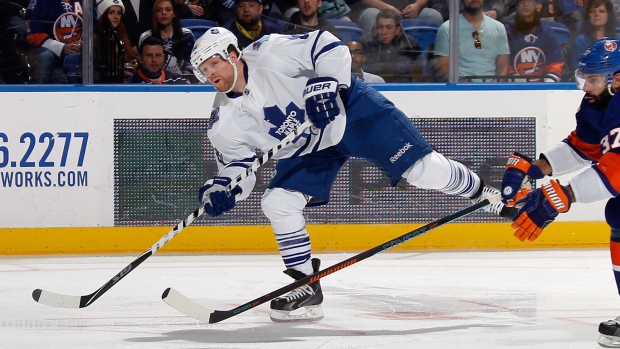 The NHL's Mar. 2 Trade Deadline is approaching and teams are making decisions on whether to buy or sell and decide which players can make the biggest difference and hold the greatest value. Check out today's trade rumours and speculation from around the NHL beat. And follow TradeCentre on TSN and TSN.ca through Deadline Day for all the updates.
Phil the Panther?
The Florida Panthers are reportedly interested in beleaguered Toronto Maple Leafs forward Phil Kessel with one main stipulation.
Florida Sun-Sentinal beat writer Harvey Fialkov tweeted Monday that the Panthers are not willing to part with a "young stud" to get him.
The Panthers have 10 roster players under the age of 25, including rookie D Aaron Ekblad and former first-round picks F Jonathan Huberdeau, F Nick Bjugstad, F Aleksander Barkov, D Erik Gudbranson and D Dmitry Kulikov.
Scout's honour
NHL scouts from around the league were out in full force for Sunday's action.
Chris Kuc of the Chicago Tribune tweeted that Montreal Canadiens general anager Marc Bergevin was listed on the seating chart for the game between the Chicago Blackhawks and the Pittsburgh Penguins, while Los Angeles Times sports columnist Helene Elliott tweeted a much more robust list of the attendees for Sunday's matchup between the Anaheim Ducks and Washington Capitals.
Twelve different NHL clubs, including the Toronto Maple Leafs and two scouts from the Tampa Bay Lightning, were on hand at the Honda Center to watch the Capitals defeat the Ducks.
Playing by ear
The Tampa Bay Lightning are apparently pretty open minded.
Erik Erlendsson of the Tampa Bay Tribune wrote Sunday that the Lightning are reportedly in the market for a defenceman and a top-six forward and will likely be tied to remaining trade bait like D Jeff Petry, D Zbynek Michalek, D Andrej Sekera and D Marek Zidlicky.
Erlendsson writes that in Tampa Bay's current salary cap situation it would make the most sense to take on a rental player, however general manager Steve Yzerman can be unpredictable at times.