Trade Talk: The case against Chara
Would anybody want to take on the age and cap hit of Zdeno Chara? Check out the latest trade rumours and speculation from around the NHL beat including the latest on the floundering Boston Bruins and the stubborn New Jersey Devils.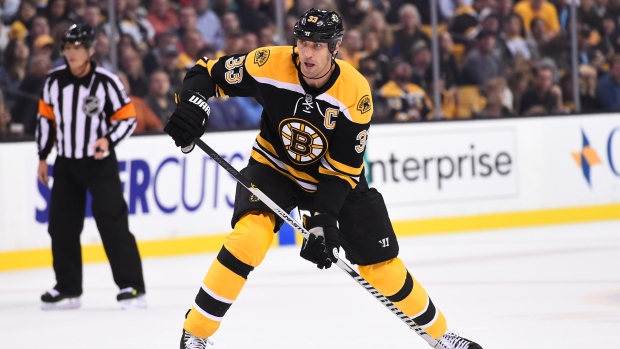 The NHL's Mar. 2 Trade Deadline is approaching and teams are making decisions on whether to buy or sell and decide which players can make the biggest difference and hold the greatest value. Check out today's trade rumours and speculation from around the NHL beat. And follow TradeCentre on TSN and TSN.ca through Deadline Day for all the updates.
Big Empty?
Boston Bruins defenceman Zdeno Chara has come up in possible trade talks as the team continues to stumble through the second half of the season, but Brett Cyrgalis of the New York Post isn't buying the value of the hulking blueliner.
In his column Friday, Cyrgalis points out that Chara is "going to be 38 in March, has tons of mileage on his legs, and, if you look closely, there's a piano slowly developing on his back."
Chara has a $7M cap hit over the next three years and the Bruins are in a salary crunch. Cyrgalis says there could be interest in forward Loui Ericsson ($4.5M for one year) and defenceman Dennis Seidenberg ($4M for three years), however neither have performed well enough to attract any suitors.
Full 180
The Montreal Canadiens have had a slight change in fortune over the last week and as Pat Hickey of the Montreal Gazette wrote Friday, went from looking to add key pieces to filling holes in a hurry.
The Canadiens lost defenceman Sergei Gonchar to a concussion last Saturday and defenceman Alexei Emelin to a shoulder injury on Wednesday, leaving GM Marc Bergevin with a tough taks ahead to replace those bodies. There is no timetable on Gonchar's return and the expectation for Emelin is four-to-six weeks.
Hickey wrote the Canadiens were originally in the market for a power forward and a physical defenceman but will not change their focus to finding enough defenceman and potentially a capable sniper.
Black Eye
The Boston Bruins are miserable right now and as Fluto Shinzawa of the Boston Globe wrote online Saturday, GM Peter Chiarelli is living under a dark cloud these days with the market drying up around his desperate club.
"It's just hard to make a trade," Chiarelli said, as quoted by Shinzawa. "It doesn't just happen. It doesn't happen like that. You need two teams that are willing to exchange ideas, then consummate a trade. I've exchanged a lot of ideas all year. But a lot of teams are still in it. You have to try and find a fit with teams."
"When things aren't going well and there's a perception in the media that there's a dark cloud looming over our heads, it's harder to make trades," he continued. "Guys know when you're at a disadvantage. When that stuff is out there, it's very difficult. But my job is to make the team better. I don't have any excuses. Nobody has any excuses."
Power Play?
Sports Illustrated's Allan Muir reported Friday that the Pittsburgh Penguins would be interested in a veteran defender but would be better off adding another top-six winger.
With Calgary Flames forward Curtis Glencross on the market, Muir says his "size and bite" could be a good fit for the Penguins forward group.
Refuse to Lose
Lou Lamoriello will not go down without a fight.
As NHL.com staff writer Mike G. Morreale wrote on the New Jersey Devils website Friday, the longtime general manager has no intention of a rebuild.
"I don't think you tear it down by any means; that's not in the philosophy of this organization nor do I think that's something that can be done in this day and age," Lamoriello said, as quoted by Morreale. "You don't just simply tear it down because of free agency and the way the draft is structured. It's almost impossible to do if you think like that."