TradeCentre Match Game: Patrick Maroon 2.0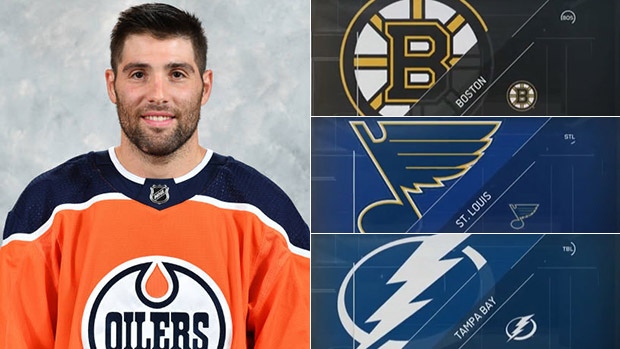 With the National Hockey League's Feb. 26 trade deadline rapidly approaching, TSN Senior Hockey Reporter Frank Seravalli plays TradeCentre Match Game: Proposing a number of potential team fits for players on the TSN Trade Bait Board.
Today, we examine potential new homes for Edmonton Oilers left winger Patrick Maroon.
Match Game 2018
Patrick Maroon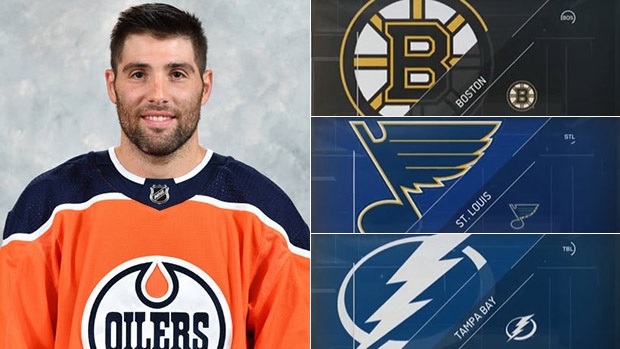 Patrick Maroon
| Team | Pos | Age | GP | G | P | 17-18 Cap Hit | Past 17-18 |
| --- | --- | --- | --- | --- | --- | --- | --- |
| Edm | LW | 29 | 52 | 13 | 27 | $1.5M | UFA |
Boston Bruins: Something is brewing between the B's and Oil. Oilers vice-president of hockey operations Craig MacTavish and Bruins director of player personnel John Ferguson Jr. have been spotted scouting each other's team in recent days. The Bruins are seeking veteran help on the wing. They also have picks and prospects to deal as their sprint to No. 2 overall in the NHL standings suddenly has them in contender mode.
St. Louis Blues: The Blues are believed to have already made one run at Maroon, but the offer clearly didn't meet Edmonton's expectations. GM Doug Armstrong is in the market for a top-six winger and he could certainly circle back on Maroon, since the Blues have been connected to most of the big fish out there. We've seen the impact player Maroon can be when he's motivated. Would a return home bring out the best in Maroon again? His $1.5 million hit doesn't require much finagling for the cap-strapped Blues and he could even be a candidate to re-sign.
Tampa Bay Lightning: Coach Jon Cooper helped put Maroon on the map ¬– and vice versa. Maroon spent two seasons with Cooper in the NAHL from 2005 to 2007, moving with the Bandits from Texarkana to St. Louis. Maroon was Cooper's top scorer those two years, leading the Bandits to Cooper's first Robertson Cup in 2007. That led to Maroon becoming a sixth round NHL pick of the Philadelphia Flyers that summer - and eventually an opportunity for Cooper to move up to the USHL. A reunion may be in order in Tampa Bay for another run at a championship.
Play The TradeCentre Match Game
Where will Patrick Maroon go?