TSN.ca CFL Draft Profile: Adam Konar
Tony D'Archi, TSN.ca Staff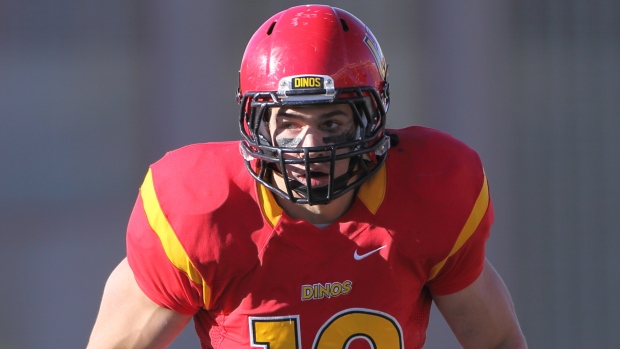 For many football players, the choice to pursue the game as a living comes from a love of first playing it. And for those whose father played the game, the exposure at a very early age makes it something they want to pursue. Adam Konar of the Calgary Dinosaurs falls into the latter group.
"He's been the number one influence on me through my whole life," Konar said of his father Kevin. "Just hearing about him play and just seeing all this football stuff that he has through the house also had a big influence on me wanting to play. Whenever I need something, whenever I need some advice I will just call him. I would talk to him before every game of the year pretty much and he would give me words of advice and tips and pointers I could work on. It's been really nice having him there to call up."
Like Adam, Kevin Konar was a linebacker. He played his entire eight-year career for the BC Lions from 1980-1989. His career was noteworthy enough to get inducted in to the Lions Wall of Fame in 2008. His son Adam is hoping to follow his father and make a career for himself in the CFL.
"That would be awesome," Konar recently told TSN. "I have dreamed about playing in the CFL since I was younger. To get this opportunity and be a part of this draft process is really exciting for me and I'm just excited to see if I can make it on to a team."
Konar will most certainly be drafted and at least have a chance to make a CFL team this summer. The Dinos middle linebacker had an excellent 2014 season with nearly 40 tackles, an interception and a forced fumble. He was named a first team all-Canadian in 2014 and made the CFL Scouting Bureau Winter Rankings Top 20, rated the 16th best college prospect in Canada.
"I'm happy to be on the list to begin with because just being on that list gets your name out there," Konar explained. "Just being on the list is good. You have to go to the combine and prove yourself anyway so just being on the list definitely was a big thing."
The route Konar took getting to this point was a roundabout one. He started playing university ball for UBC but after his first season was deemed academically ineligible to play. He went into Junior Football, playing in the CJFL the following season to continue playing the game. Watching all this was former Dinos coach Blake Nill. Nill would bring Konar back to the CIS in 2013 and the academic support provided by the school allowed him to keep his marks up.
"They have (a lot) of academic support at the school which was a big influence on me. They had it really organized which is what I needed," Konar said. He also made sure to note the influence of his former coach. "He (Nill) had a huge influence for sure. Just bringing me out here was big. He just gives you a lot of advice and he's pretty straight with you. He's a big players coach. You could pretty much ask him anything you wanted. He's had a lot of influence on my career and really helped in all the success I've had."
Along with being influenced by Nill, Konar also learned from former Dino players who have made the jump to the CFL. He lived with current Tiger-Cats defensive lineman Linden Gaydosh and current prospect and teammate Sukh Chungh. Konar said it was a funny house to live in but it also had benefits, especially now.
"There are a lot of former players that are kind of still around," Konar explained. "He (Gaydosh) was one of the older guys that I've seen going through the draft process so seeing them go through the process has helped out."
At 6'2" and 225 pounds, Konar is a prototypical CFL middle linebacker. His former coach thinks CFL teams will like what they see from his former charge.
"I described Adam to most scouts this year as the next Sam Hurl in the CFL. What makes him so attractive is the speed in which he plays at," Nill (now the Head Coach at UBC) told TSN. "Adam does not hesitate; he will make a quick read and move at full speed. He has all the physical tools to be a CFL linebacker right now. Adam will be able to play on all special teams and will eventually play on the defensive side of the ball once he transitions to the pro level."
Our next prospect profile will be on Montreal linebacker Byron Archambault, the 17th ranked prospect in the 2015 CFL Draft.