TSN.ca MLB Rumours Blog: All eyes on Stroman
Welcome to TSN.ca's MLB Rumours Blog. As the July 31 trade deadline quickly approaches, keep up to date with the latest news from around the league.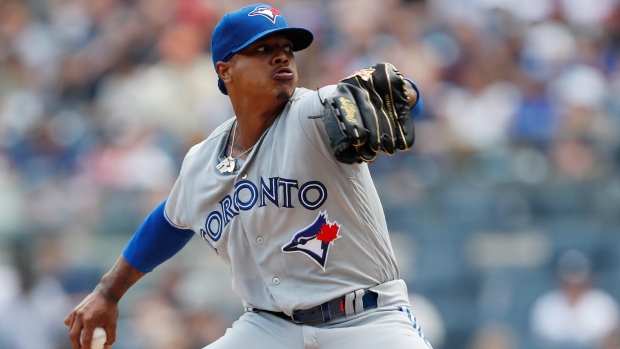 Welcome to TSN.ca's MLB Rumours Blog. As the July 31 trade deadline quickly approaches, keep up to date with the latest news from around the league.
Scouts all over Stroman
When Marcus Stroman took the mound Friday night in Detroit he did so in front of a number major league scouts, all with a good seat for his dominating seven inning shutout.
The MLB's Jon Paul Morosi reports that eight different teams had scouts in attendance as Stroman struck out five over the course of his 101 pitches.
Of those eight teams, the New York Yankees were the only team with multiple scouts at the game, with one being former Cubs general manager Jim Hendry, a top advisor to Yankees GM Brian Cashman.
The 28-year-old could make two more starts for Toronto before the deadline, however, it's a possibility that one of those starts gets pushed back for precautionary reasons.
---
Padres pushing for Bauer?
Despite Cleveland's recent six-game winning streak that has put them in a wildcard spot and just three games behind the Minnesota Twins for the division lead, pitcher Trevor Bauer continues to be a topic of trade conversation.
Morosi reports that although other teams remain interested in Bauer's services, the Padres have emerged as "serious suitor" for the starter, as they have the young position players to send back in a deal to Cleveland.
But why consider moving a piece of your rotation in the midst of a playoff push?
Well, for Cleveland it's a numbers game. With Bauer under control until 2020, Morosi reports that if the team holds on to Bauer, between his expected pay increase through arbitration, Corey Kluber's $17.5 Million club option and Carlos Carrasco the team would have around one-third of their 2020 payroll locked up between three pitchers.
---
Nationals looking to add 'veteran leadership' in bullpen
Washington Nationals general manager Mike Rizzo recenlty spoke with MLB Network Radio on Sirius XM and among topics discussed was his plan for the deadline.
"Something may pop up that makes sense for us, that we're not really thinking about." Rizzo said, "But our priority is going to be pitching, probably bullpen arms that could give us some veteran leadership."
In that same interview, Rizzo mentioned that the team is looking to add players with control beyond this season, something that Ken Rosenthal of The Athletic pointed out is true about relievers Sam Dyson, and Shane Greene.
---
Tigers have high asking price for Boyd
With several teams showing interest in Tigers LHP Matthew Boyd the team has set their asking price.
Jon Heyman of the MLB Network is reporting that Detroit wants an "established young MLB star - not just prospects." in a deal for the 28-year-old.
Boyd was acquired by the Tigers in 2015 in a deal that saw himself, Jairo Labourt and Daniel Norris get moved out of Toronto for David Price.
In five seasons with Detroit the lefty has logged 580 innings, with a 4.87 ERA and remains under team control until 2023.
---
Red Sox among teams with eyes on Abreu
According to Phil Rogers of Forbes, the Boston Red Sox are one of a few teams that are keeping a close eye on Chicago White Sox first-baseman Jose Abreu.
Boston's apparent interest in Abreu goes back several years according to a 2017 report by Jon Heyman indicating that the two teams were in 'active talks' over the slugger.
Two years later, it looks like the Red Sox could be circling back on to those talks as both Steve Pearce and Mitch Morland have spent a large part of the season on the injured list.