TSN.ca's 2014-15 NHL Season Preview: Calgary Flames
With the regular season right around the corner, TSN.ca profiles each NHL team leading up to puck drop. First up is the Calgary Flames - a rebuilding franchise with promising young players like Johnny Gaudreau. Catch up on their off-season moves and the issues they face this season, as well as their analytical breakdown by TSN's Scott Cullen.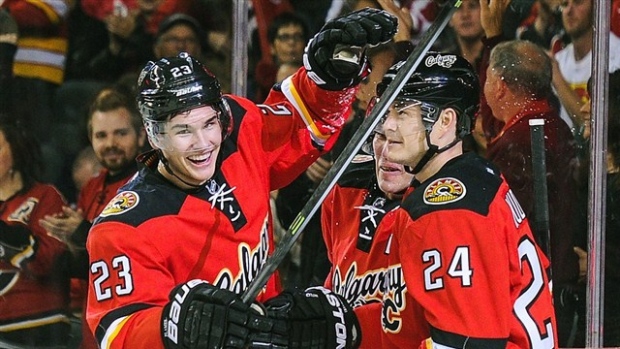 With the regular season right around the corner, TSN.ca profiles each NHL team leading up to puck drop. First up is the Calgary Flames - a rebuilding franchise with promising young players like Johnny Gaudreau. Catch up on their off-season moves and the issues they face this season, as well as their analytical breakdown by TSN's Scott Cullen.
Division: Pacific GM: Brad Treliving Head Coach: Bob Hartley
2013-14: 35-40-7 (6th in Pacific) Playoffs: Did not qualify
Goals For: 202 (23rd) Goals Against: 238 (24th) PP: 15.7% (24th) PK: 81.7% (18th)
That Was Then: The Flames knew the 2013-14 season was going to be an uphill climb.
A year removed from dealing away long-time captain and franchise face and Jarome Iginla, seeing the retirement of netminder Miikka Kiprusoff and just months removed from devastating floods that put the Saddledome partially under water; rebuilding was certainly on their mind at all levels.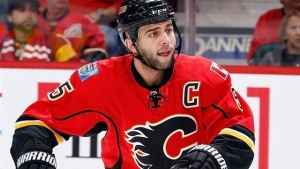 Mark Giordano was named the 19th captain in team history led a cast of new faces alongside veteran holdovers like Mike Cammalleri and Curtis Glencross.
The team got a boost straight out of training camp with 2013 sixth-overall pick Sean Monahan stepping right off the draft floor and into the line-up. The former Ottawa 67 suited up in the team's season opener and scored his first goal in the team's second game of the season.
The Flames went 5-5-2 to start the year, spending much of October above .500. But injuries took their toll with Glencross and Giordano both going down for several weeks.
In December, Brian Burke - brought in at the start of the season as president of hockey operations - started putting his plan into motion for the front office and fired GM Jay Feaster and assistant GM John Weisbrod. Burke took over for the duration of the season.
The home losses then piled up and the Flames set a new record for consecutive home defeats with seven between Dec. 27 and Jan. 16. Despite Giordano receiving some Norris Trophy votes and Jiri Hudler putting up solid numbers (54, his second-highest single-season point total), Calgary finished with the fourth-worst record in the league.
Scott Cullen's Analytics
Flames 2013-14 Stats by Quarter
| Games | GPG | GAA | SH% | SV% | SAF% | PTS% |
| --- | --- | --- | --- | --- | --- | --- |
| 1-20 | 2.70 | 3.50 | 8.4 | .892 | 48.0% | .375 |
| 21-41 | 1.90 | 2.48 | 6.7 | .918 | 43.7% | .452 |
| 42-62 | 2.29 | 2.71 | 7.3 | .914 | 50.0% | .500 |
| 63-82 | 3.05 | 2.75 | 9.8 | .907 | 47.8% | .550 |
| NHL AVG | 2.67 | 2.67 | 7.8 | .922 | 50.0% | .562 |
Key: GPG= goals per game, GAA= goals-against per game, SH%= even-strength shooting percentage, SV%= even-strength save percentage, SAF%= score-adjusted Fenwick percentage (differential of shot attempts faced vs. shot attempts, excluding blocked shots, adjusted for game score),PTS%= percentage of available points.
Analysis:
Games 1-20: Poor goaltending by Ramo and Berra undermined the season's start.
Games 21-41: Possession game plummeted to 43.7% and scoring/shooting dried up.
Games 42-62: Possession game improved - driven by Giordano, Brodie, Backlund.
Games 63-82: Scoring/shooting improved to season-best marks.
Key 2014 Additions: LW Brandon Bollig, D Deryk Engelland, G Jonas Hiller, LW Mason Raymond, RW Devin Setoguchi
Key 2014 Subtractions: D Chris Butler, C Mike Cammalleri, LW T.J. Galiardi, C Blair Jones, G Joey MacDonald, D Shane O'Brien, D Derek Smith, C Ben Street
This Is Now: The rebuilding continues, but now it's Brad Treliving's job after Burke selected the former Coyotes' assistant to be the eighth GM in club history.
Cammalleri's second tenure with the Flames came to an end, as the 32-year-old opted to sign with the New Jersey Devils in unrestricted free agency. The Flames hope that new additions Mason Raymond - who enjoyed a renaissance campaign with the Toronto Maple Leafs last season - and Devin Setoguchi are able to pick up the scoring slack on the wing.
The good news up the middle is that the future may be set. It just might take a couple years still to fully reap the rewards of two high-end young centres.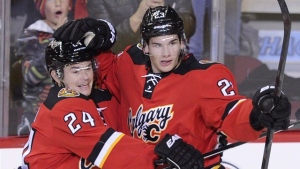 Monahan had a good rookie season, logging in 15:59 in average ice-time and scoring 22 goals in 75 games. The Flames need him to build on that if they hope to move up the standings.
The Flames landed another gem in the draft in June, taking Sam Bennett fourth overall. The Kingston Frontenacs centre was ranked second in TSN Director of Scouting Craig Button's final draft ranking and third in Bob McKenzie's consensus ranking. Whether he can follow Monahan's lead and crack the line-up out of camp remains to be seen, but after 91 points in 57 games in the OHL last season he may be given a fair chance to do so.
In goal, veteran Jonas Hiller arrives via free agency and the former Anaheim Duck enters camp as the Flames' top option in net.
The team also added some size and grit to its line-up, acquiring Brandon Bollig from the Chicago Blackhawks on the draft floor. Bollig comes with a winning pedigree, having already won a Stanley Cup. He and newly-acquired muscle Deryk Engelland (who signed a three-year, $8.7 million contract) will be integral in keeping the opposition honest against a young roster with Monahan, Sven Baertschi and Markus Granlund still finding their feet in the league.
The rest is up to the veteran holdovers. If Hudler can have another strong season and if Giordano can stay healthy and continue to provide strong leadership, the Flames might win a few more games than they should.
Calgary is still very much a team with its eyes on the future. But the closer their young core gets to competing early, the brighter the future will be.
TSN Calgary reporter Jermain Franklin's Five Key Storylines heading into training camp:
1. What impact will Johnny Gaudreau (a.k.a. 'Johnny Hockey') have in his rookie NHL season?
The 21-year-old Boston College standout and 2014 Hobey Baker Award winner, who scored a goal in his only NHL game last season, has dominated at every level on his path to the NHL. Size - Gaudreau is just five-foot-nine and 150 pounds - has not held him back so far, but will it in the world's biggest and best league? Bennett is looking to force his way into the lineup as Monahan did last season.
2. Is Jonas Hiller still a No. 1 NHL goalie?
The Flames signed Hiller to a two-year deal that pays him $1.75 million more than Karri Ramo this season, yet they insist it will be a full competition for the top goaltending position. Hiller is motivated to prove he's still a starter after losing the No. 1 position in Anaheim first to Frederik Andersen during the regular season and again to rookie John Gibson in the playoffs.
3. Will Bob Hartley continue to have his players focused?
Despite finishing 27th in the league last season, the Flames earned a reputation for being a tough team to play against. The Flames were competitive because they gave their maximum effort every night. Can Bob Hartley continue to motivate this team or will the message get stale if the losses pile up for another season?
4. How will the new acquisitions fit in?
Forwards Mason Raymond, Devin Setoguchi and Brandon Bollig, defenceman Deryk Engelland and goaltender Jonas Hiller are Calgary's key summer additions. Bollig and Engelland add size and toughness while Raymond is being counted on to supply speed and offence to soften the blow of losing top goal producer Mike Cammalleri.
5. How will new GM Brad Treliving put his stamp on the team?
Treliving faces a huge challenge in his first job at the helm of an NHL team after seven seasons with the Phoenix Coyotes. Calgary has missed the playoffs for five straight years, the third-longest such streak in the league (tied with Carolina and Columbus and behind only Edmonton's eight and the Jets' franchise's seven).
DEPTH CHART
Forwards
| Left Wing | Centre | Right Wing |
| --- | --- | --- |
| Curtis Glencross | Mikael Backlund | Jiri Hudler |
| Mason Raymond | Sean Monahan | Joe Colborne |
| Johnny Gaudreau | Matt Stajan | David Jones |
| Brandon Bollig | Lance Bouma | Brian McGrattan |
| Paul Byron | Markus Granlund | Devin Setoguchi |
| Sven Baertschi | Sam Bennett | Ben Hanowski |
Defence
| | Left | Right | |
| --- | --- | --- | --- |
| | Mark Giordano | T.J. Brodie | |
| | Kris Russell | Dennis Wideman | |
| | Ladislav Smid | Deryk Engelland | |
| | Tyler Wotherspoon | John Ramage | |
| | Mark Cundari | Keegan Kanzig | |
| | Patrick Sieloff | Sena Acolatse | |
Goaltenders
Jonas Hiller
Karri Ramo
Joni Ortio
Craig's List
A list of the Flames' top prospects as ranked by TSN Director of Scouting Craig Button.
A-Level Prospects
| No. | Name | Pos. | 2013-14 Club |
| --- | --- | --- | --- |
| 1 | Johnny Gaudreau | LW | Boston College (HE) |
| 2 | Sam Bennett | C | Kingston (OHL) |
| 3 | Markus Granlund | C | Abbotsford (AHL) |
| 4 | Mark Jankowski | C | Providence (HE) |
| 5 | Mason McDonald | G | Charlottetown (QMJHL) |
B-Level Prospects
| No. | Name | Pos. | 2013-14 Club |
| --- | --- | --- | --- |
| 6 | Morgan Klimchuk | LW | Regina (WHL) |
| 7 | Emile Poirier | RW | Gatineau (QMJHL) |
| 8 | Tyler Wotherspoon | D | Abbotsford (AHL) |
| 9 | Max Reinhart | C | Abbotsford (AHL) |
| 10 | Joni Ortio | G | Abbotsford (AHL) |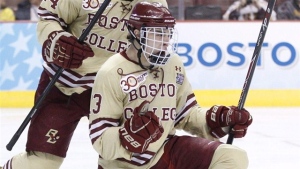 Fantasy - Cullen's Player to Watch - Johnny Gaudreau
Any rookie forward that is poised to get regular playing time can be interesting from a fantasy perspective, but Gaudreau is no ordinary rookie. The Hobey Baker Award winner as the best player in college hockey last year, Gaudreau scored 80 points in 40 games as a junior for Boston College.
Using typical league equivalency calculations, 21-year-old Gaudreau should be projected for 50-plus points as a rookie, this on a team that returns one player (Hudler) that scored more than 50 points last season. There are concerns about Gaudreau's size and whether that will hinder his adjustment to the pro game, but if he has an adequate supporting cast to help generate offence, Gaudreau is one of the few Flames with high-end offensive potential.