TSN.ca's Canada 150: Iconic baseball moments
In honour of Canada's 150th birthday, TSN.ca looks at the iconic moments in Canadian sports history. Here's a look at memorable times from baseball.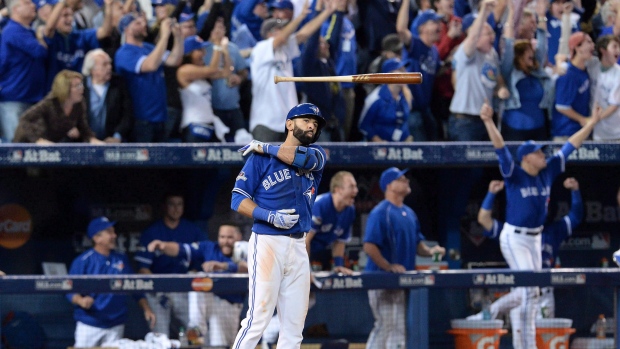 In honour of Canada's 150th birthday, TSN.ca looks at the iconic moments in Canadian sports history.
Here's a look at memorable times from baseball:
--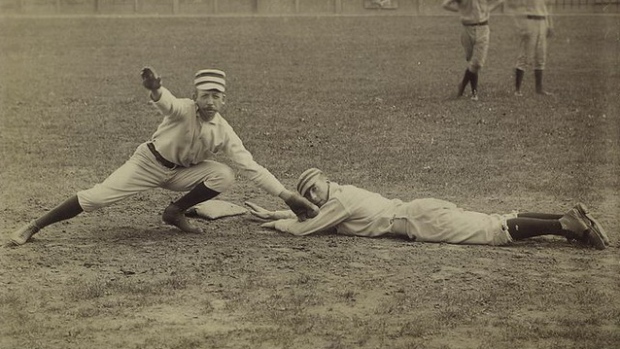 Summer 1883 – Toronto's Arthur "Foxy" Irwin, an infielder for the Providence Grays of the International League, broke two of his fingers during a game. Because he didn't want to miss any playing time, Irwin outfitted a leather driving glove with padding to allow him to continue on with the injury. Irwin began to use the glove even after his fingers had healed and within only a few short years, Irwin's glove became a standard in the game of baseball. Irwin died in 1921 in an apparent suicide at sea. After his death, it was discovered he was living a double life with two families. He was 63.
--
September 5, 1904 – Babe Ruth hits his first professional home run as a member of the Providence Grays at Hanlan's Point Stadium at Toronto Island. Ruth also pitched that day as his Grays downed the Toronto Maple Leafs 9-0. Ruth allowed only one hit and struck out seven. Though Ruth went on to hit 714 major league home runs, his homer in Toronto would be the only one of his minor-league career.
--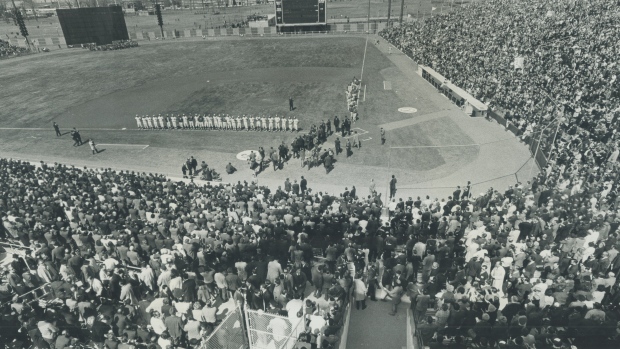 April 14, 1969 – The expansion Montreal Expos play their first home game at Jarry Park in an 8-7 win over the St. Louis Cardinals. Left fielder Mack Jones led the way with a five RBI day, including a three-run home run. Dan McGinn, in relief of Larry Jaster, got the win. The Expos would win only 52 games in their debut season, finishing last in the National League East, 48 games behind the New York Mets.
--
April 7, 1977 – Toronto Blue Jays play first home game at Exhibition Stadium in a 9-5 win over the Chicago White Sox. After starter Bill Singer only lasted 4.1 innings, Jerry Johnson came in to get the franchise's first win and Pete Vukovich locked down its first save. Offensively, Doug Ault led the way with two home runs and three RBI. The Jays finished last in the American League East that year at 54-107.
--
October 7, 1981 – Montreal Expos host the Philadelphia Phillies in Game 1 of the National League Division Series at Olympic Stadium, the first time an MLB playoff game was played in Canada. Because of the 1981 player's strike, the season was divided into two halves with the team leading the division prior to the strike given a playoff spot, as well as the team who finished in first after play resumed. Steve Rogers would outduel Steve Carlton in Game 1 as the Expos would take the series in five games to advance to the National League Championship Series against the Los Angeles Dodgers.
--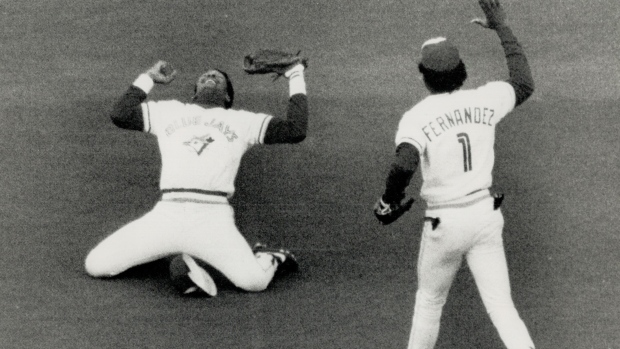 October 5, 1985 – In the season's penultimate game and with Doyle Alexander on the mound, the New York Yankees' Ron Hassey flew out to George Bell in left field as he memorably collapsed to his knees as the Toronto Blue Jays won 5-1 to claim the team's first American League East crown with a 99-62 record. The Jays would go on to fall to the eventual World Series champion Kansas City Royals in seven games in the American League Championship Series.
--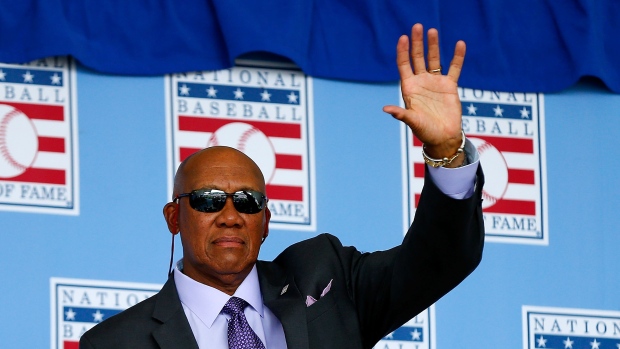 July 19, 1991 – Chatham, Ontario's Ferguson Jenkins becomes first Canadian inducted into the Baseball Hall of Fame in Cooperstown, New York. Jenkins pitched for 19 seasons with the Philadelphia Phillies, Chicago Cubs, Texas Rangers and Boston Red Sox and was the 1971 National League Cy Young Award winner. A three-time All-Star, Jenkins finished with 284 career wins.
--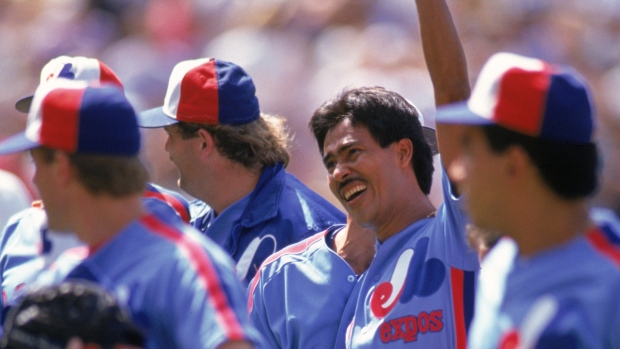 July 28, 1991 – "El Presidente, El Perfecto!" was Dave Van Horne's memorable call as Dennis Martinez threw a perfect game in the Montreal Expos' 2-0 win over the Los Angeles Dodgers. I was only the 13th perfect game in MLB history and first in three seasons. A beloved figure in Montreal, Martinez won 100 games in his eight seasons with the Expos.
--
November 14, 1997 – Colorado Rockies outfielder Larry Walker becomes the first Canadian to win a Most Valuable Player award, claiming the National League award over the New York Mets' Mike Piazza. Walker finished the year batting .366 with 49 home runs, 130 RBI and an OPS of 1.172. It was the first MLB award won since Fergie Jenkins' 1971 National League Cy Young.
--
October 14, 2015 – In the bottom of the seventh inning of a wild Game 5 of the 2015 American League Division series, Toronto Blue Jays and Texas Rangers found themselves tied 3-3 after the Rangers began the inning with three straight errors. With one out and men on the corners, outfielder Jose Bautista smashes a three-run home run off of Texas Rangers reliever Sam Dyson and proceeds to celebrate with what is now known as "The Bat Flip." The Jays would go on to win the game 6-3 and advance to the American League Championship Series after coming from behind following a 2-0 series deficit. Like they did in 1985, the Jays fell in the 2015 ALCS to eventual World Series champions, the Kansas City Royals.