TSN Hockey Preview: Montreal Canadiens
With the puck almost ready to drop on the 2016-17 season, TSN's hockey reporters and contributors provide a comprehensive season preview of all seven Canadian teams. Read up on the opening night analysis of the Montreal Canadiens.
Scott Cullen, John Lu, Frank Seravalli and Travis Yost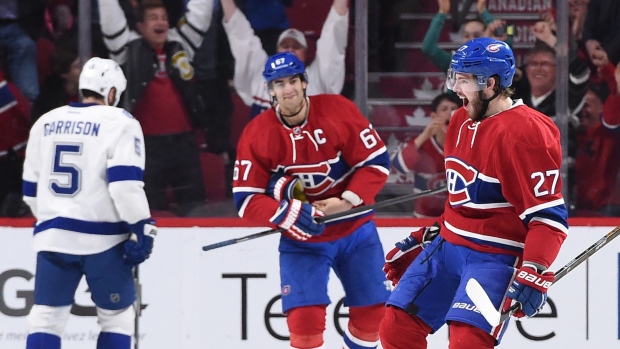 After the Montreal Canadiens made the widely panned P.K. Subban-for-Shea Weber trade this summer, the heat is going to be on general manager Marc Bergevin and head coach Michel Therrien. Fortunately for them, even after that trade, the Habs should be better in 2016-17.
First and foremost, a healthy Carey Price makes a massive difference, something along the lines of 40 to 50 goals over the course of a full season when compared to Mike Condon, who was thrown to the wolves after Price's injury last year. So, that alone ought to lift the Canadiens to being a playoff-calibre club.
But there were other changes too. Getting Alexander Radulov brought a needed skill upgrade at a bargain term. The Habs also added Andrew Shaw and shipped out Lars Eller, which may not make a major difference, but it certainly represents a stylistic change. Shaw's tenacious game does seem to fit Bergevin's vision - for better or worse.
So does the acquisition of Weber, a thumper on the blueline with a rocket from the point. But Weber has been consistently on the wrong end of shot differentials in Nashville over recent seasons and, at 31, if he's lost some mobility, it's not coming back. Ask Andrei Markov, who can still get by with guile, but is also exposed from time to time when he has to deal with speedy young forwards.
But there are reasons to be hopeful about the defence. When healthy, Jeff Petry played well last season, while Nathan Beaulieu continues to make progress and first-rounder Mikhail Sergachev might sneak onto the roster.
One of the laments of the Canadiens' management after missing the playoffs last season was that character was lacking. That should place some pressure on captain Max Pacioretty and veteran centre Tomas Plekanec. The reason for optimism up front stems from the arrival of Radulov, the development of Alex Galchenyuk and the relentlessness of Brendan Gallagher. Getting a surprise contribution out of a young forward (Daniel Carr? Michael McCarron?) would help solidify Montreal's forward depth.
The Canadiens' brass seems convinced that they need to be grittier, and that would have prevented last season's collapse. When the Habs are better this season, how much will be attributed to the impact of newcomers playing a more physical game and how much will land on Price as the primary difference-maker?
Off-Season Headlines
June 27: Canadiens acquire Shaw and sign him to six-year contract
June 29: Habs acquire Weber from Nashville for Subban
July 1: Radulov returns to NHL on one-year deal with Montreal
Three Key Canadiens Questions
1. The Price is right now?
Two years from now Carey Price's age will match his uniform number and he'll potentially be an unrestricted free agent. At the Canadiens annual charity golf tournament last month, owner Geoff Molson said that re-signing Price is a big priority. In order to do so, the Canadiens would be well-served to win now – or at least demonstrate that they are trending toward a championship in the next two seasons – lest start considering the possibility of life after their MVP. The Canadiens have already disclosed that Price will play fewer games – in the range of 60 per season – to keep him fresher and healthier. A prudent measure, considering the 2015 Hart and Vezina Trophy winner comes into this season at a high level after backstopping Canada to a World Cup. If that trend continues for the next two seasons, then the NHL's fifth-highest paid goalie is in for a major raise. But in which uniform and for how many years?
2. Hair of the Dog?
Classic rock fans know the chorus from Nazareth's signature song: "Now you're messin' with a son-of-a-b***h." Can you picture head coach Michel Therrien stepping to the podium post-game and uttering that line? It sure would beat the cliché, "We're a team that's tough to play against," which has been the hopeful vision of Therrien and GM Marc Bergevin for four years. Hard to imagine this edition of the Canadiens being (Saint) flannel soft with Weber and Shaw in the lineup. When two of Jonathan Toews' most memorable Tweets from this past summer were to bid the former Predators' captain a fond farewell from the Central Division and to lament the departure of Shaw, it was a significant endorsement of the moves that should make the hackles on the Canadiens' backs more threatening this season.
3. "Power play" or decline the penalty?
For two straight seasons, the Canadiens have sported the NHL's 25th-ranked power play. And on March 19 last season against Ottawa, the Habs' power play made franchise history by yielding three short-handed goals in a game. Enter associate coach Kirk Muller, who's been tasked with fixing a momentum-killer, a liability and source of frustration. Radulov showed in the pre-season how he can deal from the half wall, sneak down from the point and find open shooting lanes. Weber – who led NHL defencemen in power play goals (14) last season – will have just over a week of the pre-season and remainder of training camp to prepare for his new team's man advantage duties. But given his experience and heavy, accurate shot, it shouldn't take long to adjust. If Therrien sticks to deploying his top two lines as power play units, then the Canadiens will be icing be their two most creative forwards – Alex Galchenyuk and Radulov – in consecutive man advantage shifts.

2016-17 Montreal Canadiens

Button's Top 2016-17 Prospects
1. Artturi Lehkonen (21) – LW/L (Frolunda – SHL)
- Speed, skill and smarts. Outstanding for SHL champion Frolunda last season.
2. Michael McCarron (22) – RW/R (Montreal – NHL, St. John's – AHL)
- A big man with good skills. Complements the forward group well.
3. Daniel Carr (24) – LW/L (Montreal – NHL, St. John's – AHL)
- An offensive weapon with a real determination in his game.
Button's Top Long-Term Prospects
1. Mikhail Sergachev (18) – D (Windsor – OHL)
- Complete defenceman. Comfortable in any type of game.
2. Noah Juulsen (19) - D (Everett – WHL)
- Smoothing out his game with good skill and physical play.
3. Will Bitten (18) – RW (Flint – OHL)
- Highly intelligent with good skills. Finds ways to be successful.
4. Nikita Scherbak (20) – RW (St. John's – AHL)
- Growing pains last year but offensive skill is undeniable.
5. Charles Hudon (22) – LW (St. John's – AHL)
- Has been a solid AHL player. Trying to establish NHL credentials.
Travis Yost's Analytic Storyline
There's going to be an awful lot of analysis surrounding the Shea Weber/P.K. Subban swap and the long-term impact it will have on both organizations, but for the immediate season, nothing is more important than getting a healthy Carey Price back in net. His 93.1 per cent all situations save percentage over the last three seasons is the league's best by a reasonable margin – other elite goaltenders, like New Jersey's Cory Schneider, New York's Henrik Lundqvist, and Boston's Tuukka Rask are giving up about a goal more per 100 shots against. That kind of advantage is worth a lot of goals, and a lot of wins, for a guy who is expected to play 60-70 games this season.