TSN Hockey's Top 50 NHL-affiliated prospects
Toronto Maple Leafs blue chipper William Nylander has all the essential skills that put him on top of TSN Hockey's Top 50 NHL-affiliated Prospects list by TSN Director of Scouting Craig Button.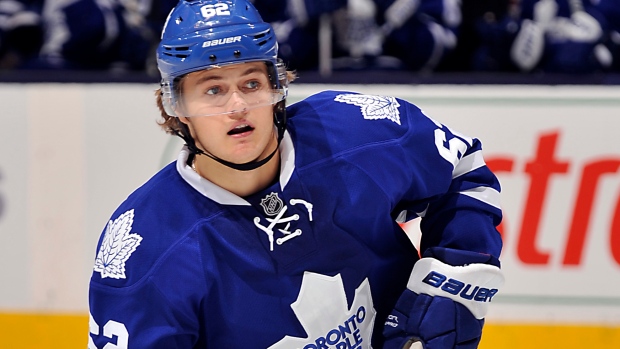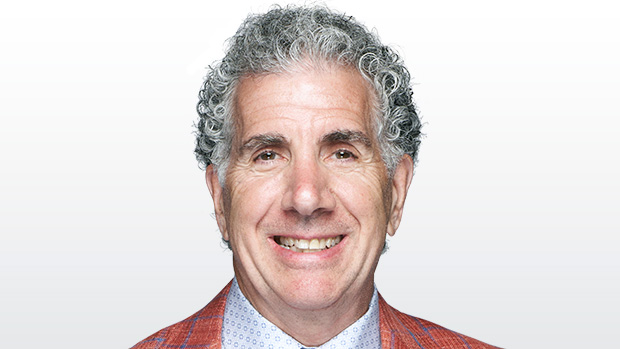 William Nylander scored on his first shift at the World Junior Championship, serving notice that the tournament would be his platform to shine among his peers. Unfortunately, his tournament ended less than 15 minutes later after he took an illegal hit from a Swiss opponent. What could have been will never be known.
In just over a year since joining the Toronto Marlies and playing in the AHL as teenager, Nylander has produced 29 goals and 72 points in 67 games played. Toronto Maple Leafs' head coach Mike Babcock recently said, "I'm dying for somebody to score." Death, taxes and Nylander producing points are certainties, so while the Leafs continue along a path of patient development, Babcock can take comfort in knowing that scoring prowess is in the system.
Nylander has all the essential skills to contribute offensively at the NHL level, but his imagination, creativity and tremendous poise separates him and puts him in an elite class of talent. That mix of skills puts him on top of TSN Hockey's Top 50 NHL-affiliated prospects list.
Max Domi has been a terrific rookie for the Arizona Coyotes after earning the No. 1 spot on the list last year. Two Coyotes prospects come in at spots two and three this year. Dylan Strome and Christian Dvorak are excellent centres who can play any situation in the game. It's a tenet of successful team building that strength down the middle is mandatory. The prospect cupboard for the Coyotes is well stocked with five players in the top 50, including the dynamic and dangerous Conor Garland of the Moncton Wildcats (22) who was the MVP in the QMJHL last season and is the runaway scoring leader this season.
Fourth on the list is defenceman Ivan Provorov of the Brandon Wheat Kings. The Philadelphia Flyers prospect is an outstanding player and his time in the NHL doesn't look to be far off. In fifth is Winnipeg Jets' prospect Kyle Connor, who is tied for the scoring lead in the NCAA with the Michigan Wolverines as a freshman. Connor could accomplish what Jack Eichel did last year, winning the Hobey Baker Award for best college player as a freshman.
While there is only eight prospects in the top 50 who belong to Canadian organizations, three of the top six and six of the top 20 are property of Canadian clubs. With players such as Jared McCann, Jake Virtanen, Sam Bennett, Connor McDavid and Nikolaj Ehlers all playing as teenagers in the NHL, there is no lack of young and promising talent amongst the Canadian teams.
Top 50 NHL-Affiliated Prospects
RK
Name
Age
NHL Team
2015-16 Team
GP
G
P

1

William Nylander, C/LW

19

Tor

Toronto (AHL)

30

15

40

2

Dylan Strome

, C

18

Ari

Erie (OHL)

38

26

76

3

Christian Dvorak, C

20

Ari

London (OHL)

42

40

90

4

Ivan Provorov

, D

19

Phi

Brandon (WHL)

44

12

50

5

Kyle Connor

, LW/RW

19

Wpg

Michigan (NCAA)

25

20

44

6

Mitch Marner, RW

18

Tor

London (OHL)

40

30

83

7

Sebastian Aho

, C/LW

18

Car

Karpat (SM-Liiga)

36

13

30

8

Jimmy Vesey

, LW

22

Nsh

Harvard (NCAA)

23

18

17

9

Zach Werenski

, D

18

Clb

Michigan (NCAA)

23

6

19

10

Timo Meier

, LW/RW

19

SJ

R-Noranda (QMJHL)

35
20
53

11

Ilya Samsonov, G

18

Was

Magnitogorsk (KHL)

17

2.13

.923

12

Shea Theodore, D

20

Ana

San Diego (AHL)

31

4

17

13

Vladislav Kamenev

, C

19

Nsh

Milwaukee (AHL)

27

8

19

14

Mike Reilly, D

22

Min

Iowa (AHL)

40

5

21

15

Thatcher Demko

, G

20

Van

B. College (NCAA)

26

1.64

.940

16

Jacob Larsson

, D

18

Ana

Frolunda (SHL)

37

4

13

17

Mikko Rantanen, RW

19

Col

San Antonio (AHL)

31

17

41

18

Adrian Kempe

, LW

19

Los

Ontario (AHL)

35

8

20

19

Colin White

, C/RW

19

Ott

B. College (NCAA)

26

16

35

20

Brock Boeser

, RW

18

Van

N. Dakota (NCAA)

26

18

31

21

Pavel Buchnevich

, C/RW

20

NYR

St. Petersburg (KHL)

16

3

7

22

Conor Garland

, RW

19

Ari

Moncton (QMJHL)

48

31

107

23

Travis Sanheim, D

19

Phi

Calgary (WHL)

34

8

43

24

Joel Eriksson Ek

, C

19

Min

Farjestad (SHL)

34

8

14

25

Jake Walman

, D

19

Stl

Providence (NCAA)

24

13

26

26

Julius Honka, D

20

Dal

Texas (AHL)

51

8

32

27

Jakub Vrana, RW/LW

19

Was

Hershey (AHL)

13

7

16

28

Mathew Barzal

, C

18

NYI

Seattle (WHL)

42

18

63

29

Travis Konecny

, RW

18

Phi

Sarnia (OHL)

16

12

28

30

Brayden Point, C

19

Tam

Moose Jaw (WHL)

31

25

58

31

Matt Murray G

21

Pit

Wilkes-Barre (AHL)

27

2.05

.932

32

Riley Barber

, RW

22

Was

Hershey (AHL)

48

15

34

33

Ville Saarijarvi, D

18

Det

Flint (OHL)

41

10

19

34

Artturi Lehkonen

, LW

20

Mtl

Frolunda (SHL)

42

15

29

35

Kevin Fiala, LW/RW

19

Nsh

Milwaukee (AHL)

37

7

23

36

Nick Schmaltz

, C

20

Chi

N. Dakota (NCAA)

22

3

27

37

Jason Dickinson, LW/RW

20

Dal

Texas (AHL)

50

13

35

38

Philippe Myers

, D

19

Phi

R-Noranda (QMJHL)

49

14

35

39

Alex Nedeljkovic, G

20

Car

Niagara (OHL)

15

2.45

.913

40

Anthony Beauvillier

, C/LW

18

NYI

Shawinigan (QMJHL)

31

25

53

41

Esa Lindell, D

21

Dal

Texas (AHL)

49

9

28

42

Thomas Chabot

, D

19

Ott

Saint John (QMJHL)

31

8

29

43

Evgeni Svechnikov, RW

19

Det

C. Breton (QMJHL)

38

25

61

44

Christian Fischer

, RW

18

Ari

Windsor (OHL)

49

24

64

45

Ryan Hartman, RW

21

Chi

Rockford (AHL)

41

11

14

46

Zachary Senyshyn, RW

18

Bos

S.S. Marie (OHL)

50

33

49

47

Ryan MacInnis, C

19

Ari

Kitchener (OHL)

43

26

61

48

Ivan Barbashev, C

20

Stl

Chicago (AHL)

41

8

22

49

Michael Dal Colle, LW

19

NYI

Kingston (OHL)

44

23

56

50

Niklas Hansson, D

21

Dal

HV71 (SHL)

34

6

14
Top 5 Prospects from each Canadian NHL Team
RK
Name
Age
NHL Team
2015-16 Team
GP
G
P

1

Jon Gillies, G

22

Cgy

Stockton (AHL)

7

2.31

.920

2

Mark Jankowski

, C

21

Cgy

Providence (NCAA)

28

12

28

3

Rasmus Andersson

, D

19

Cgy

Barrie (OHL)

48

7

47

4

Andrew Mangiapane

, LW

19

Cgy

Barrie (OHL)

42

34

68

5

Brandon Hickey, D

19

Cgy

Boston U (NCAA)

26

5

8

1

Laurent Brossoit, G

22

Edm

Bakersfield (AHL)

26

2.70

.921

2

Ethan Bear

, D

18

Edm

Seattle (WHL)

54

12

51

3

Anton Slepyshev, LW

21

Edm

Bakersfield (AHL)

24

6

8

4

Caleb Jones

, D

18

Edm

Portland (WHL)

54

8

34

5

Ziyat Paigin, D

21

Edm

Sochi (KHL)

35

9

26

1

Artturi Lehkonen

, LW

20

Mtl

Frolunda (SHL)

42

15

29

2

Noah Juulsen

, D

18

Mtl

Everett (WHL)

45

5

21

3

Morgan Ellis, D

23

Mtl

St. John's (AHL)

49

11

28

4

Michael McCarron, RW/C

20

Mtl

St. John's (AHL)

47

14

16

5

Nikita Scherbak, RW

20

Mtl

St. John's (AHL)

21

5

8

1

Colin White

, C

19

Ott

B. College (NCAA)

26

16

35

2

Thomas Chabot

, D

19

Ott

Saint John (QMJHL)

31

8

29

3

Andreas Englund

, D

20

Ott

Djurgarden (SHL)

36

2

6

4

Matt Puempel, LW

23

Ott

Binghamton (AHL)

29

13

24

5

Gabriel Gagne

, RW

19

Ott

Shawinigan (QMJHL)

17

7

13

1

William Nylander, C/LW

19

Tor

Toronto (AHL)

30

15

40

2

Mitch Marner, RW

18

Tor

London (OHL)

40

30

83

3

Andreas Johnson, LW

21

Tor

Frolunda (SHL)

42

17

37

4

Andrew Nielsen

, D

19

Tor

Lethbridge (WHL)

53

14

55

5

Dmytro Timashov

, LW/RW

19

Tor

Shawinigan (QMJHL)

41

19

73

1

Thatcher Demko

, G

20

Van

B. College (NCAA)

26

1.64

.940

2

Brock Boeser

, RW

18

Van

North Dakota (NCAA)

26

18

31

3

Hunter Shinkaruk, RW

21

Van

Utica (AHL)

40

18

34

4

Tate Olson

, D

18

Van

Prince George (WHL)

49

6

41

5

Guillaume Brisebois

, D

18

Van

A-Bathurst (QMJHL)

39

6

20

1

Kyle Connor

, LW/RW

19

Wpg

Michigan (NCAA)

25

20

44

2

Jack Roslovic

, RW

19

Wpg

Miami-Ohio (NCAA)

27

10

21

3

Eric Comrie, G

20

Wpg

Manitoba (AHL)

35

3.13

.907

4

Josh Morrissey, D

20

Wpg

Manitoba (AHL)

47

3

14

5

Brendan Lemieux, LW

19

Wpg

Windsor (OHL)

21

19

31