TSN, RDS announce new media rights agreement for Champions League, Europa League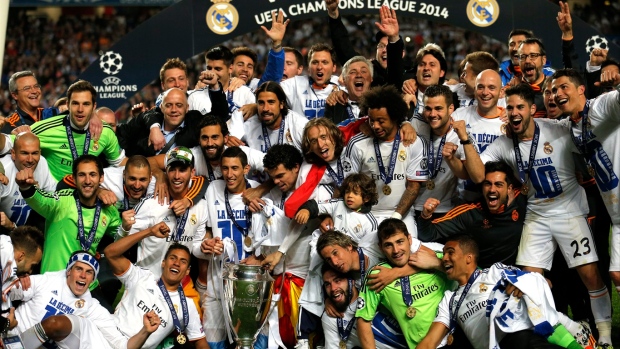 TSN and RDS announced a multi-year broadcast rights agreement with UEFA on Friday, making Canada's number one English and French specialty networks the primary Canadian broadcasters of the crown jewels of club soccer – the UEFA Champions League and UEFA Europa League – beginning in 2015. The multi-year agreement will see TSN broadcast more than 190+ games, including up to 16 group stage games weekly, extensive coverage of the knockout phase, as well as the UEFA Europa League final and the UEFA Champions League final. RDS will deliver live coverage of three of the leagues' best matches each week.
The agreement with UEFA, European soccer's governing body, ensures comprehensive coverage of global superstars competing on club soccer's biggest stages across TSN's suite of five national feeds and RDS's slate of specialty channels: RDS, RDS2, and RDS Info.
"TSN's five-feed lineup is the perfect canvas to deliver the international spectacle that is the UEFA Champions League and UEFA Europa League, and we're thrilled to showcase multiple games across our five feeds on the tournaments' riveting matchdays," said Shawn Redmond, Vice President of Programming and Marketing, TSN. "The addition of these prestigious tournaments to our strong soccer lineup, which already includes UEFA Euro 2016, FIFA World Cup, BPL, and MLS coverage, means that fans of the beautiful game can turn to Canada's Sports Leader for the highest-profile games for years to come."
TSN and RDS subscribers can also access live streaming and on-demand viewing of the networks' UEFA Champions League and UEFA Europa League coverage through TSN GO and RDS GO.
In addition, the deal includes rights for live coverage of the UEFA Champions League and UEFA Europa League on TSN Radio stations across the country.
TSN and RDS will also feature a robust slate of complementary programming focusing on the biggest stars and key storylines from the UEFA Champions League and UEFA Europa League, including features and highlight shows. Fans can visit TSN.ca and RDS.ca for complete scores, news, highlights, and analysis of both tournaments.
TSN and RDS's agreement with UEFA will also see beIN Sports Canada deliver a significant package of games to their subscribers for both UEFA Champions League and UEFA Europa League, including live matches and highlight packages.
beIN SPORTS subscribers will be able to view more than 55+ UEFA Champions League matches across its TV network and subscription-based live streaming platform, beIN SPORTS CONNECT, beginning in August with the play-in matches and continuing through to the final match.
beIN SPORTS and beIN SPORTS CONNECT subscribers will also be able to watch more than 90+ UEFA Europa League matches throughout the tournament, also including the final match.