Tulo: 'I'll pack my bags and go home' if I can't play SS in 2019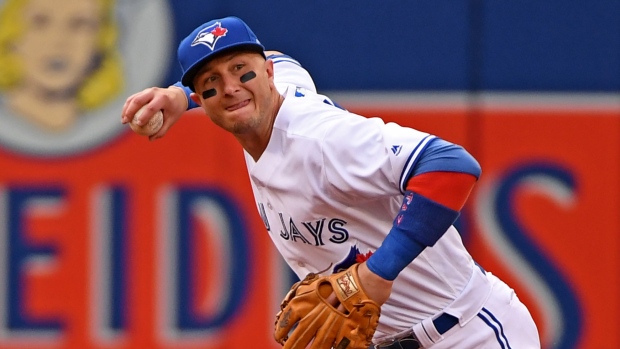 TORONTO — Troy Tulowitzki won't play this season, but he fully intends to assume his position at shortstop in the Toronto Blue Jays infield in 2019.
The 33-year-old was injured on July 28, 2017 after stepping on the foot of Los Angeles Angels first baseman C.J. Cron, damaging Tulowitzki's ligament creating a compression fracture in his right ankle that required surgery to repair.
He underwent a second surgery in April to remove bone spurs from both heels.
"It's been a tough year to say the least. I went out to Florida, was out there on those back fields almost every day trying to go and it just didn't respond the way I needed it to come back and play everyday," Tulowitzki said.
"I have every intention to be healthy (for spring training). I'm going to put a lot of work in the off-season, I know I'm going to train at my college (California State University at Long Beach) a lot, try to get in games and do things. I'm excited for it, honestly."
In Tulowitzki's absence, the Blue Jays have used Lourdes Gurriel Jr. and Aledmys Diaz at shortstop. Additionally, prospect Bo Bichette is progressing through the minor leagues as the club continues to build depth at the position.
Tulowitzki, a veteran of 12 big league seasons split between Toronto and Colorado, says he welcomes the competition in spring training.
"It really doesn't matter to me, you don't get to this point without competing," he said in the Blue Jays dugout at Rogers Centre ahead of Sunday's game against the Philadelphia Phillies. "I don't make that decision. That's why we have coaches, that's why we have managers — they'll tell you what's going on. My job is to go out there every single day and win games. Find a way to beat you.
"I welcome anything. If there's someone that's better than me, I'll be the first one to say it."
Despite the injuries, and competition mounting, Tulowitzki has no interest in playing another position to remain in the lineup.
"I just said I'm a shortstop. If someone's better than me, I'll pack my bags and go home," Tulowitzki said. "I do think I bring a lot more than what you see out there too and that's part of baseball, there's stuff behind the scenes that go on, there's things I try to help teammates with."
Tulowitzki has two years remaining on his contract that will pay him $20 million in 2019 and $14 million in 2020 plus a $15 million club option for 2021 with a $4 million buyout.