UFC Notebook: Cejudo stops Dillashaw to retain title in Brooklyn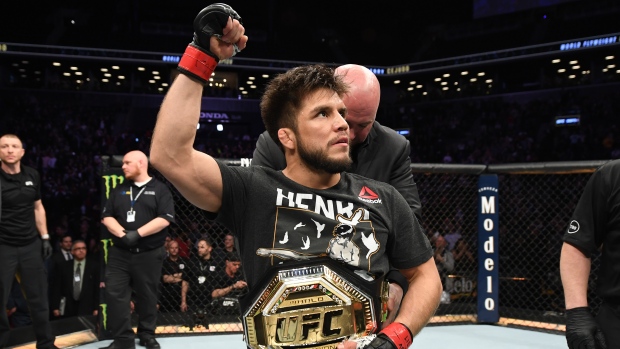 Cejudo stops Dillashaw in 32 seconds
UFC bantamweight champion TJ Dillashaw was looking to make history by becoming the first athlete in UFC history to win two championships simultaneously after moving down a weight class, but flyweight champion Henry Cejudo had other plans at UFC Fight Night in Brooklyn.
Despite only having one finish in his UFC career, Cejudo emphatically defeated Dillashaw, one of MMA's top pound for pound fighters, just 32 seconds into the first round.
Cejudo dropped Dillashaw and then overwhelmed him with strikes en route to his first successful flyweight title defence.
Following the win, Cejudo asked for the opportunity to move up a weight class to challenge for Dillashaw's bantamweight title, while Dillashaw argued that he was robbed of the opportunity due to an early referee stoppage.
"The work that I put into it, the work that my coaches put into it, that's way too much for it to be stolen from me in 30 seconds when I'm on a single leg," Dillashaw told TSN following the loss. "You've got to be a good loser, but I didn't lose, man, that's what hurts."
UFC president Dana White was unsure of what the next step would be for both competitors and agreed with Dillashaw that the stoppage was premature.
"I thought it was an early stoppage too and listen, I don't want to take anything away from Cejudo, Cejudo went in there and went after him, busted him up really quickly, if you look at TJ's face, it was headed in that direction, but how many times in the UFC have we seen where the fighter can turn it around," White told TSN following the main event. "The fight was absolutely stopped early, but Cejudo was on his way to finishing the fight."
Hardy disqualified in UFC debut
Former NFL All-Pro defensive end Greg Hardy made his much anticipated UFC debut in the co-main event of UFC Fight Night in Brooklyn when he faced Allen Crowder.
The two Dana White Tuesday Night Contender Series alumni had some great exchanges, but the fight came to an unfortunate early conclusion when Hardy landed an illegal knee to the head of his downed opponent, resulting in a disqualification loss for the polarizing ex-football star.
"This sport is grueling and learning the process and taking care of the rules and understanding everything is a process that I've got to go through and figure out," Hardy told TSN following the loss. "When it happened and they called it, I didn't know what was going on and then I found out that it was 100% against the rules, so my mistake and I one hundred percent take responsibility for it."
It was the first loss of Hardy's four fight professional career.
Cerrone calls out McGregor after win
It was the 40th bout of the long career of Donald "Cowboy" Cerrone and he made the most of his return to the lightweight division with a second round knockout victory over up and coming prospect Alexander Hernandez.
Following the win, Cerrone called out superstar Conor McGregor after rumours were swirling that he would be Cerrone's next opponent.
"For a fight like that Donald, I'll fight you. Congratulations," McGregor wrote on Twitter in the aftermath of the bout.
UFC president Dana White said that if it was the matchup that people wanted to see, he would try to make it happen.
Attendance and Bonuses
UFC Fight Night in Brooklyn at Barclays Center drew an announced 12,152 attendees for a gate of $1.23 million (USD).
Fight night bonuses were awarded to Cerrone and Hernandez for their back and forth contest and a second performance bonus was awarded to Cerrone as well as the flyweight champion Cejudo. Cerrone earned an additional $100,000, while Hernandez and Cejudo earned an additional $50,000.